August 02, 2010
AirFest 2010: Thunderbirds, Run 'Em Up!
(continued from the first post)
Even though I knew I was in a great position, I didn't realize until just a few minutes ago really
how
good it was. Here, take a look at this:
Obviously the duck isn't to scale, but that really does clear up where I was located: just over a half-mile from the end of the runway. About 100 people and myself were lined up on the east side of 251, down to about where that farm area starts. I couldn't have planned it better if I had tried... and the best part is, I DIDN'T plan it, it just worked out that way. Should have brought some sunscreen, but such is the price of spontaneity.
When I arrived, there were some acrobatic planes doing their thing. Then they finished up, and we waited for the main event to begin. And waited. And waited. I figure that the big dark cloud moving NW to SE over the airport had something to do with the delay As we were waiting, an older man and his wife pulled in. They'd driven up from Peoria, nearly four hours, to catch the show. "Your timing is great, they should be starting any minute!" No sooner had I said that when a roar came from airfield; not one of high-performance engines, but of thousands of people cheering. THEN came the loud whistling scream of six Pratt & Whitney F100-PW-229 engines, followed closely by a cloud of white smoke and...
...The Diamond roared by. Actually, this isn't quite The Diamond yet, as #4 is still getting into position, but it soon would be. While I, and everybody else, were agog watching The Diamond fly overhead, the two Solos, #5 and #6, took off and went dead vertical, gone from view in an instant. Meanwhile, the four planes of The Diamond changed shape...
...and went by in the "Close Follow" formation, which transitioned back to The Diamond over the airfield. As soon as they cleared, #6 whipped by over my head for a knife-edge pass of the crowd. Alas, that picture is nothing but a faintly Falcon-shaped blur as he went by too fast for my camera to adjust focus. However, the lead solo, #5, was coming right towards us in a level slow roll, followed by a rapid climb-out to his right, smoke streaming all the way.
Around here, I lost track of what maneuver is which... and I don't really care. Onwards for the
really
cool pictures!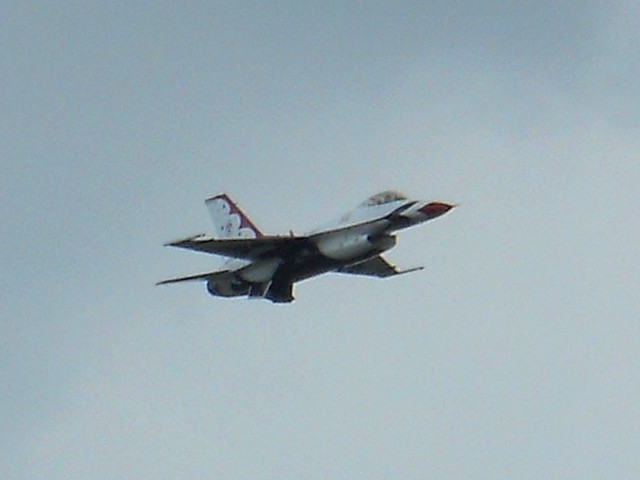 I'm fairly sure this is Thunderbird 6, as his tail markings
aren't
upside-down. That's one of my favorite little bits of trivia: the lead solo spends so much time inverted that the number on his tail is painted so it appears rightside-up to the spectators.
Eventually the whole team gets together and does a few passes.
Y'know, I do believe I find this sort of maneuvering to be more impressive than any solo stuff. The skill it takes to be so very close to the rest of the team while flying around 500mph... well.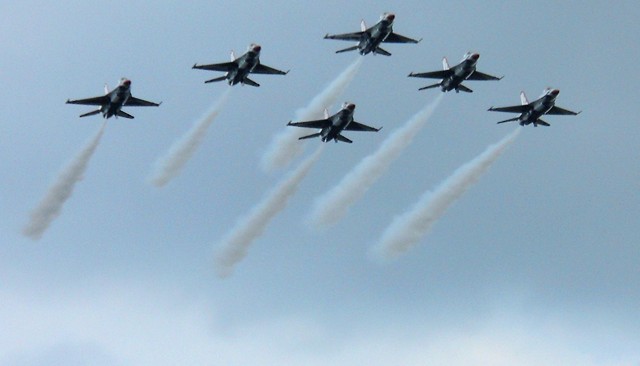 Now that's just showing off. Which is, by definition, their job. I was quite pleased when I got back to Pond Central and saw those two pictures come up on the screen.
I had set my camera for continuous shooting for much of the show; just hold down the button and it'll shoot one picture every .6 seconds. So those three pictures cover less than two seconds of time... and I couldn't quite keep them all in frame. They were
movin
'! Of course, they don't just do that sort of thing flying straight and level...
No, that'd be too easy.
Now, without a doubt, this next shot is my favorite to come off the memory card: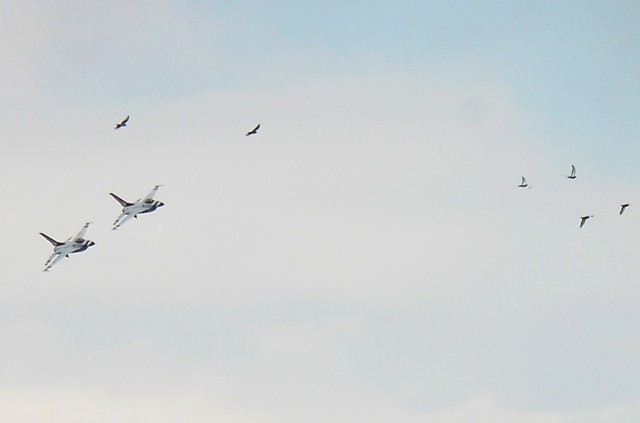 Didn't plan it, didn't realize the birds were there, it just worked out that way. Often it is better to be lucky than good. Of course, it's always better to be both, but I can only aspire to that goal.
Eventually all the fun had to end, and it hardly felt like 40 minutes had gone by at all. The Thunderbirds lined up for landing, and again, they were coming nearly directly over my head. Despite that, it was close to impossible to keep them in focus: even at landing speed, they're still moving at quite the clip. After missing the first five, I did get a glamour picture of Thunderbird #6
And make no mistake: while they may be quieter than the F/A-18 from earlier, there's no way the F-16 can be considered quiet at low speeds. It's a whole different type of loud, though. Where the Hornet is a
basso profundo
that you feel in the center of your chest, the Falcon has a power drill sort of whine that reverberates between your ears.
Again, better lucky than good.
A profound thanks go out to the Thunderbirds for their performance... more than a few times I simply geeked out and watched instead of taking pictures. If you get a chance to see them, or the Blue Angels, or the Red Arrows, or the Snowbirds, or Blue Impulse, or any other flight team, take the time to do so. It was definitely worth the sunburn I'm suffering from right now!
SPECIAL BONUS PICTURE:
The next day was Sunday, the last day of the AirFest. Instead of going down to the spot I had before, I decided to stay at Pond Central. In the past, the team usually flew right over the apartment complex, but this year they seemed to be going more North-South, instead of East-West, which would have brought them my way. Which is not to say they weren't visible at all...
If happy little Thunderbirds fly / why oh why can't I...
Posted by: Wonderduck at 09:00 PM | Comments (7) | Add Comment
Post contains 967 words, total size 7 kb.
1
A profound thanks go out to the Thunderbirds for their performance... more than a few times I simply geeked out and watched instead of taking pictures. If you get a chance to see them, or the Blue Angels, or the Red Arrows, or the Snowbirds, or Blue Impulse, or any other flight team, take the time to do so.
But not the Italians
.
Posted by: Steven Den Beste at August 02, 2010 11:50 PM (+rSRq)
2
A few years ago I drove up to Seattle with the family to check out the Boeing Museum of Flight. We were totally unaware that the Blue Angels were scheduled to do a show in Seattle that weekend, and they were using the Boeing runway as their staging point. So after a wonderful few hours in the museum we come out to find the parking lot adjoining the runway overflowing with people, and the Blue Angels just taxing out for takeoff, maybe 200 feet away from us. Needless to say, we did not hop into our car and drive off.
The show itself was centered on the water a mile or so off, with a hill blocking our view, so we didn't get to see the most spectacular stuff, but the activity on and around the runway was more than interesting enough. In particular, six hornets thundering down the runway on afterburner right in front of us where we could feel the roar and see the shockwaves forming in their exhaust was pretty thrilling. Unfortunately they did not do the JATO takeoff of the C-130 for some reason.
The famous picture of a Blue Angel Hornet flying low to the water, with the shockwave reaching to the surface as it passes nearby boats was taken at this performance, we could just BARELY see that portion of the show and we could see the spray but not the aircraft at that point.
Posted by: David at August 03, 2010 11:23 AM (oyblT)
3
In 2002 Ukrainians killed more than Italians in Rammstein (85 vs 67).
Posted by: Pete Zaitcev at August 03, 2010 11:36 AM (/ppBw)
Posted by: Ed Hering at August 03, 2010 04:36 PM (gLbEB)
5
David, the reason you didn't see Fat Albert do a JATO takeoff is because the US military has been running out of JATO units for a while. In fact, the last use of them was a 2009 Blue Angels show... after that, they were all used up.
Posted by: Wonderduck at August 03, 2010 05:07 PM (iJfPN)
6
Here's a link about JATO's end: http://www.codeonemagazine.com/article.html?item_id=9
Posted by: Pete Zaitcev at August 03, 2010 09:39 PM (/ppBw)
7
Good info, but that probably wasn't the reason in my case, as it was in either 2006 or 2007 that we saw things, and certainly everyone in the crowd around seemed to expect it. I suspect that they either had some last minute issue, or simply decided that since the show proper was out over the water and the crowd around the airfield was more or less impromptu that it wasn't part of the schedule for that particular show.
Posted by: David at August 04, 2010 05:35 PM (oyblT)
Comments are disabled. Post is locked.
32kb generated in CPU 0.0143, elapsed 0.1019 seconds.
47 queries taking 0.0913 seconds, 283 records returned.
Powered by Minx 1.1.6c-pink.