July 18, 2014
Another Year, Another Business Trip!
Longtime readers of The Pond know that I'm the manager of The Duck U Bookstore. Every summer, the company assembles all of its managers to pass along the game plan for the coming school year. In odd-numbered years,
this is at the National Conference in Orlando
. In the even-numbered years, regions of stores get together at where-ever is local for them. Two years ago, my region (Wisconsin, Minnesota, NoDak and one single store from Illinois)
met in LaCrosse for talking, grilled food, a surprise train, and a chainsaw sculpture
. This year was a regional meeting in the cosmopolitan city of... Milwaukee.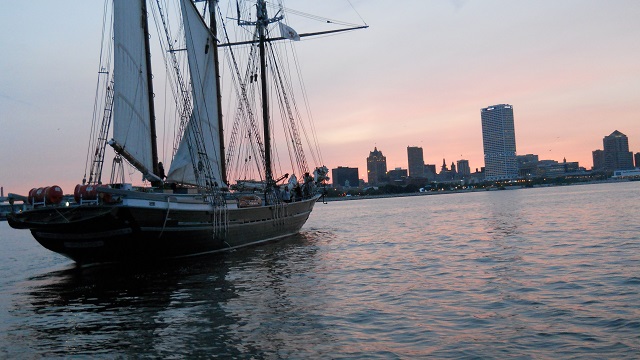 pictured: Milwaukee's most modern mode of conveyance
Actually, I was quite surprised by how attractive a city Milwaukee is, particularly downtown in the "Riverwalk" area. An area, I might add, I experienced in detail as the Thursday dinner for the meeting was on a riverine cruise boat named the
Brew City Queen II
. I neglected to ask what happened to the first of her name. Anyway, a pleasant two hour cruise down, then up, the Milwaukee river, then out onto Lake Michigan for a short while, then back. I will honestly say that sipping on a beverage of choice while gliding up the river listening to
smooth jazz
is quite a pleasant way of spending an evening.
But of course I was joined on the expedition by that inveterate traveler Wanderduck. The first manager trip was via land. The second, the airplane was our transport. It only figures that the sea should be how we got around this time.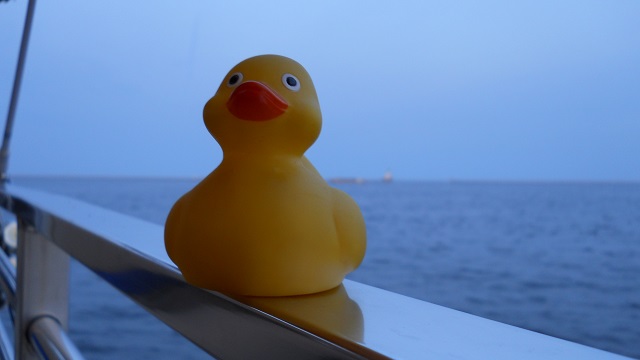 It was much more water than he'd ever seen at once... he was more than a little nervous when we cleared the breakwater off Milwaukee's harbor and the
BCQII
took on an unpleasant little corkscrewing roll. I'd heard of times when ships would take on positive values in pitch, yaw and roll simultaneously, but never dreamed I'd experience it on a partyboat. While I wasn't sick, nor even vaguely discomfited, it was a disconcerting feeling to say the least. Wanderduck desperately wanted to be away from the edge, not wanting to end up too close to Lake Michigan. Truth be told, I felt much the same way... I didn't want him to end up in Lake Michigan either. No matter how cool Cap'n Bob was, I suspect he'd frown on my pleas to circle back and try to recover an overboard rubber duckie.
Bright Lights, Little Duckie
All in all, I'd recommend such a cruise to any group of people in a situation such as this. Good times were had by most, the food and drink were tasty, and Wanderduck made a bunch of new fans... what's not to like?
Posted by: Wonderduck at 11:04 PM | Comments (2) | Add Comment
Post contains 455 words, total size 3 kb.
1
Wanderduck! *wild applause*
ON A TOUR BOAT no less.
Posted by: GreyDuck at July 19, 2014 08:45 AM (CUkqs)
2
Glad you had a good time, and it's good to see Wanderduck again!
The SF writer Michael Flynn is currently writing a book partially set in early Sixties Milwaukee, which I gather was one of his old stomping grounds. I get the general feeling that Milwaukee's city-rep suffers primarily from being close enough to Chicago to get unfavorably compared to it.
Posted by: suburbanbanshee@gmail.com at July 21, 2014 04:21 AM (iXS2r)
Comments are disabled.
25kb generated in CPU 0.0103, elapsed 0.0628 seconds.
47 queries taking 0.0554 seconds, 278 records returned.
Powered by Minx 1.1.6c-pink.