June 23, 2013
A Duck Attends Conference!
Every few years, the company I work for throws a big event. Every store manager, all 930-plus of us, and a couple hundred home office personnel, in one place for four days, learning about the strategic plans for the company, undergo training, and network network network! This year's event was in Orlando, FL, which meant one thing: Wanderduck was comin' with! Wanderduck, as longtime readers may remember, is the rubber duckie that comes on trips with me. He's a traditional yellow duckie, small enough to be easily portable, but still large enough to show up nicely on a photograph. So Wednesday morning rolled around, and off we went!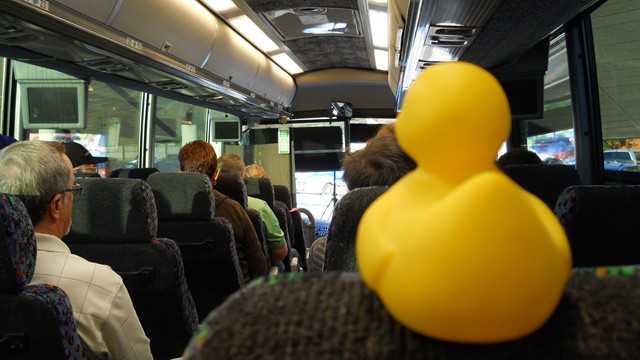 The first leg of the journey was from Duckford to
Chicago O'Hare International Airport
. While easily drivable, being only about 70 miles or so, I surely didn't want to leave my car in long-term parking there... it'd cost something like $80! Instead, we piled onto a bus and off we went! As a note, people complain that airline seats are uncomfortable? By comparison, they're sheer luxury in comparison to bus seats. Plus, those aisles are about 18" wide. Ugh. After a 90 minute trip (lots of roadwork)...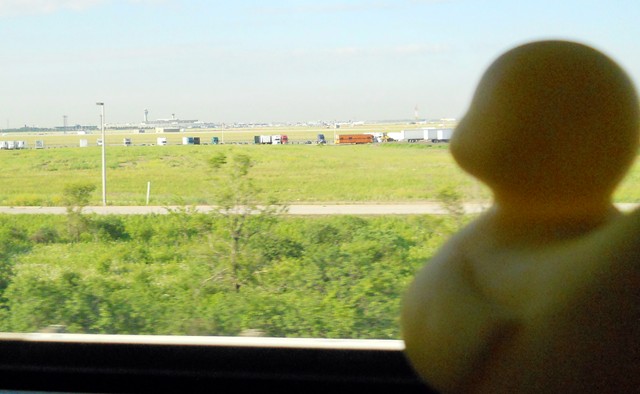 It's O'Hare! If you want a better look at the control towers, click for a bigger version. Once off the bus, we dropped off our bag and headed through security. I'm fairly sure I've seen more people in line for, say, concerts, but on the whole I'd rather not do that very often. It took nigh on a half-hour to get through. However, I had plenty of time to make it to my gate... or so I thought. The problem is that the airline I was flying
had their own terminal building
. I was in the right place, exactly where I should be, but had to trek underneath the airport to get there.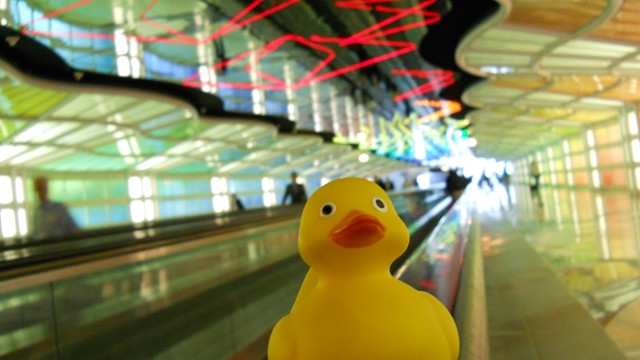 Artistically, I love this walkway. Neon tubes and art-deco glass brick wallpieces with lights behind them... it's gorgeous. AND it's all undergrond. Physically? Not a fan. It's a couple hundred yards long, it's not overly well air conditioned, but it looks nice. By the time I made it to the other end, I was NOT in a good mood... the slidewalks weren't working. Oh, and my gate was at one of the ends of the terminal building. But eventually I made there with five minutes to spare.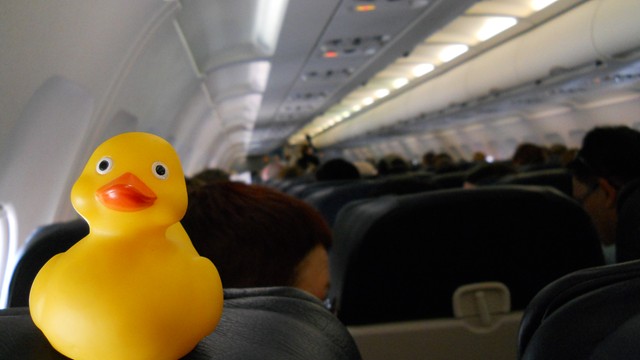 Welcome aboard! "They want me in a pressurized metal container?" As it turned out, about a quarter of the flight was made up of store managers though few of us knew that. The plane was remarkably comfortable, I've got to say.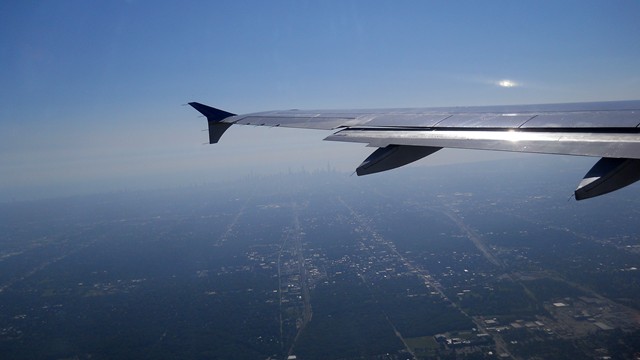 Airborne! If you click for larger, you'll see the skyline of Chicago off in the distance through the haze.
It seems appropriate that
this blog
shows a picture of
Midway Airport
, don't you think? On the way home, I got to see a plane landing at Midway whilst we flew overhead... kinda cool!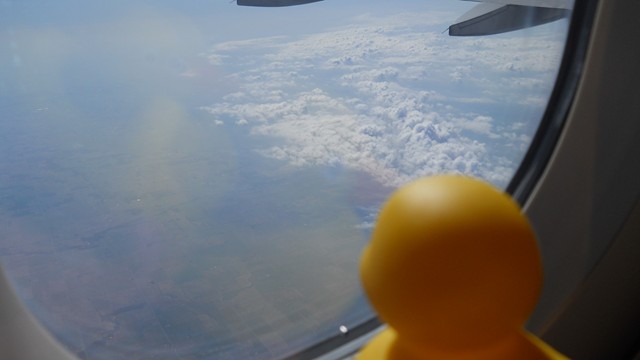 But then the clouds formed up and I didn't see the ground until...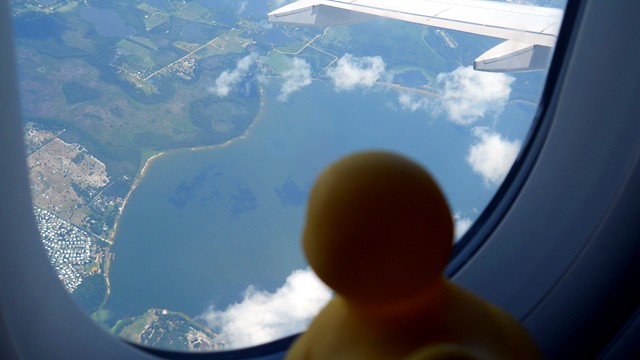 ...FLORDIA! You can tell it's Florida, because I said so, that's why. Trust me, it's Florida. Landing was somewhat adventuresome, with a rather bouncy approach and a very firm thump upon the runway... as in "let's bend the landing gear" firm. Oh, we didn't, of course, but one of the experienced travelers near me let out a yelp.
That night was the introductory speech and dinner, which I didn't want to bring Wanderduck to... he tends to go a little overboard at times... so I've got no pictures of then. In fact, I've got few pictures of any of the conference as a whole. Thursday was something of a blur. The conference was at the
Dolphin Hotel
in Orlando.
I don't mind telling you, this place is friggin' huge. The conference center is the orange and blue structure behind and to the right of the triangle-thingy. So is everything
else
behind the triangle-thingy. We filled it. It was all ours. We also nearly filled the hotel itself. I'm not used to all the walking involved... from my room to the main ballroom was nearly three blocks. The room was great, by the way... I wish I could have brought the bed home with me. Thursday night was a free night, and while about half the attendees went to Mouseland, I decided that I didn't have the energy. So Wanderduck and I did room-service.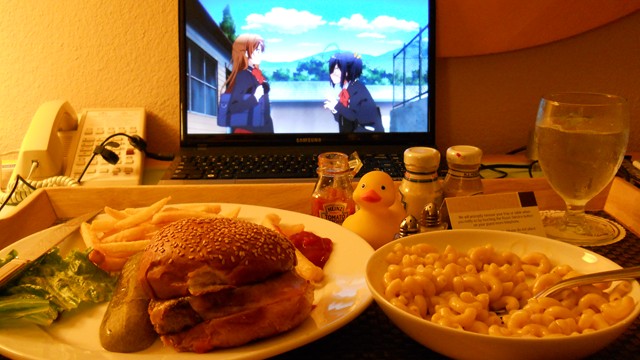 That was a
good
burger, and the mac & cheese was surprisingly tasty. A good way to spend a night with throbbing feet, let me tell ya. Friday was spent in small topic breakouts, but first...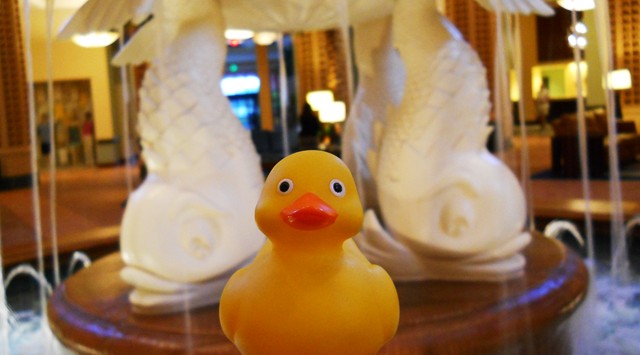 ...yep, it's a fountain in the lobby of the hotel. A BIG fountain. Big enough that the lobby is
always
humid. Did I mention the skylight? In Florida? Not a good combination... it must cost a gazillion dollars just to a/c the lobby, let alone the rooms. Before the breakouts began, there was a "start-of-day meeting."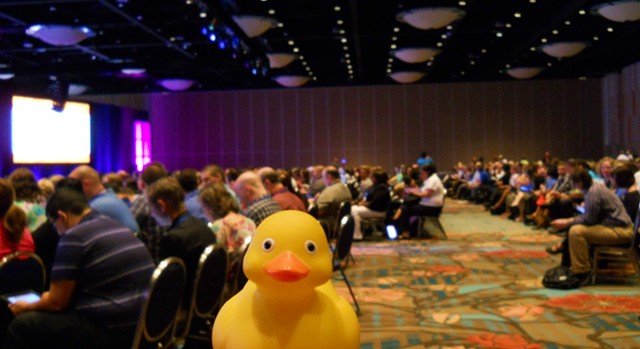 This picture is taken from just left-of-center in the grand ballroom. Yup, there's another half-a-room behind me, all filled with store managers. You may notice that there's a lot of visible iPads... the company gave us all iPads for the duration of the event instead of the traditional binderful of paper. Worked a lot better, but it really confirmed that I don't ever want to own an iPad.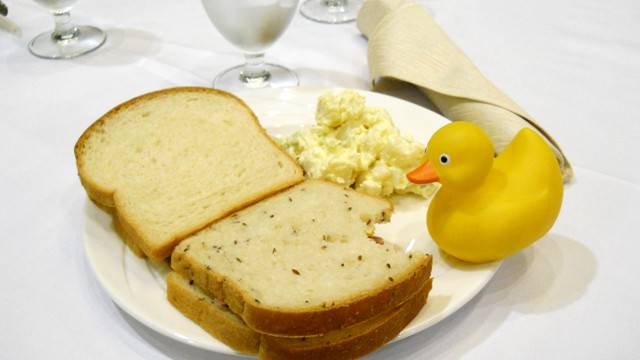 Lunch, and a pleasant, if weak, rye bread.
I've got some other pictures, not appropriate for public consumption. Alas, I have no pictures of the trip home. The plane was older, not as comfortable, and the weather was not as calm. We were only rarely out of the clouds, and once we DID get above them, they were dull: a flat grey-white plain. I made it home around 7pm on Saturday, exhausted and glad to be back. "Be it ever so humble..."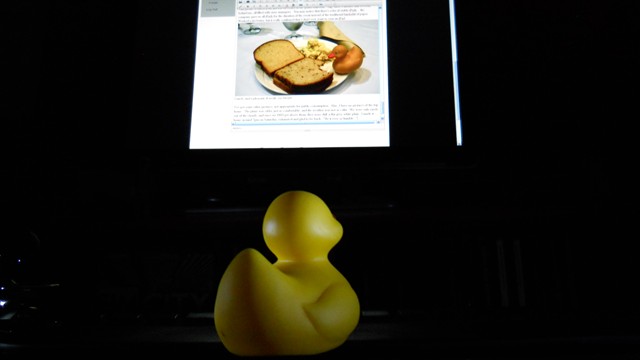 ...and so here we are.
Posted by: Wonderduck at 09:15 PM | Comments (6) | Add Comment
Post contains 986 words, total size 7 kb.
1
For once, you post a blog set somewhere I've been! Yep, I recognized that slidewalk thingy at O'Hare....
That Orlando hotel looks pretty nice, barring the potential lobby sauna.
Posted by: Suburbanbanshee at June 23, 2013 09:52 PM (cvXSV)
2
It's a fantastic hotel. If you ever visit MouseWorld, I'd really recommend it... assuming you don't mind spending an arm and a leg, and if you can get a room. I had a single room (I'm 45 years old; I don't need to share a room anymore!), so I paid half the special discount price the company got for rooms... and that
still
came to ~$100/night.
And that was the business discount for a company big enough to nearly fill the hotel, use all the convention space, and that has been there a number of times before.
But I just tried to see if there were any rooms available for Wednesday thru Saturday this week, for example, and there was nothing. Same for next week, and the next... and so on. One room for one night (monday to tuesday) was available, though.
Posted by: Wonderduck at June 23, 2013 10:15 PM (g95hs)
3
Glad you're home safe and sound, and hooray for Wanderduck seeing some action!
Posted by: GreyDuck at June 23, 2013 11:25 PM (CUkqs)
4
What was that anime you were watching?
Posted by: Mauser at June 24, 2013 01:21 AM (cZPoz)
Posted by: Wonderduck at June 24, 2013 06:49 AM (g95hs)
Posted by: Pixy Misa at June 24, 2013 09:21 PM (PiXy!)
Comments are disabled. Post is locked.
30kb generated in CPU 0.0128, elapsed 0.431 seconds.
47 queries taking 0.4222 seconds, 282 records returned.
Powered by Minx 1.1.6c-pink.