January 17, 2010
Yuno's Got A New Duck(s In Anime)!
Big news!
Yuno's got a new duckie
!
-
Hidamari Sketch x Hoshimittsu

,
ep02
This makes three different duckies we've seen accompany her into the bath. I think we can actually begin to count her amongst the ranks of the collectors! And here's the thing: it's a new
style
of duckie, to boot: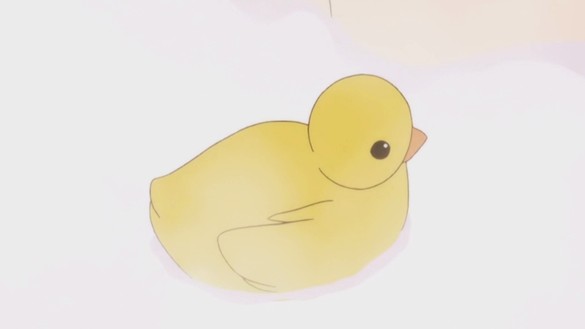 Her previous duckies have a much larger open bill, painted eyes and more detail to the tailfeathers, like so: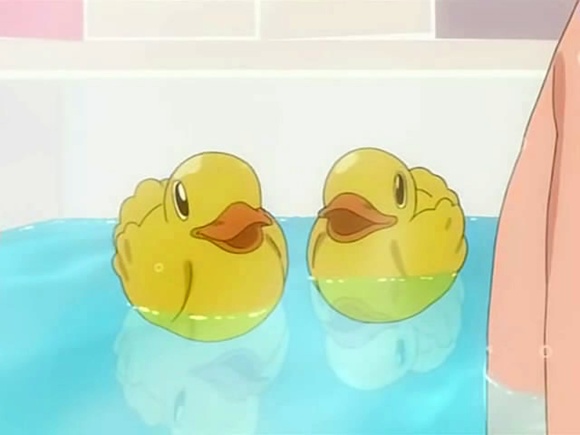 -
Hidamari Sketch x 365
, ep05
...so it's pretty clear that she's gotten a new one. Or the animators drew it wrong. But I'm going with the first guess, because it fits my reality better!
And here's the neat part. If she DID get a new duckie, the other two are somewhere in her apartment, because Yuno's not the type who could throw away a duckie.
Posted by: Wonderduck at 11:19 PM | Comments (3) | Add Comment
Post contains 142 words, total size 1 kb.
1
I just have to wonder how many otaku in the world geek out over rubber duck appearances in anime. That's awesome.
...and much less creepy than drooling over the sideboob. Which, y'know, some more conventional otaku would. Not me though.
Yeah, me.
Posted by: Ed Hering at January 18, 2010 12:02 PM (i9Ka0)
2
Haha, wow! Nice find on those duckies! =D
(and the sideboob was also awesome, like the previous comment mentioned)
Posted by: Jesus159159159 at January 18, 2010 12:33 PM (NPbwo)
3
Yuno definitely looks bustier in this picture than in previous ones, but she also looks taller. Did she have a growth spurt? (Is she young enough to still be having growth spurts? ISTR she's a high school junior, but I could well be wrong on that.
Posted by: Peter the Not-so-Great at January 18, 2010 06:55 PM (c62wM)
Comments are disabled. Post is locked.
20kb generated in CPU 0.03, elapsed 0.0954 seconds.
53 queries taking 0.077 seconds, 220 records returned.
Powered by Minx 1.1.6c-pink.