June 08, 2015
You Don't See THAT Every Darn Day...
So I was browsing the Flickrs earlier today, looking for fodder for computer desktops, when I stumbled upon this:
"Engines of Change" indeed... or, more likely, change of engines. Union Pacific UPY2644 is a RP20BD, which is itself a rebuild of an older General Electric B23-7. The original unit was Southern Pacific 5111, built in 1980, one of 15 owned by Southern Pacific. It was acquired, along with the rest of SP's fleet, when Union Pacific took control of SP's assets in 1996.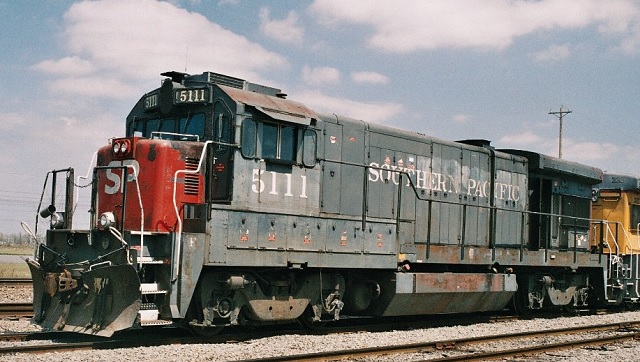 The conversion took place in early 2007 at a company called "SuperSteel" in New York. These RP20BDs seem to make their home in Texas, based out of San Antonio, Houston and Fort Worth. As switchers, they probably don't venture too far away from those yards so you'll probably not want to hustle down to your nearest Union Pacific right of way to see them go by... Avatar, Ubu, and Ben, however, should grab their cameras.
UPY2644 in more intact days.
The RP20BDs are what's called a "genset" unit. Instead of one big power unit, they have instead three smaller power generators that can be used (or not used) as needed. These save on fuel and cut way down on emissions/pollution in the process. I can only assume that 2644 either is having a major service performed on it, or it finally wore out and is in the process of being scrapped. Either way, I can't claim to have seen a picture like that one at top before. Kinda disturbing.
Posted by: Wonderduck at 11:40 PM | Comments (1) | Add Comment
Post contains 259 words, total size 2 kb.
1
I'm not 100% ready to say this is a fact, but
this page
from the government and
this one
from Union Pacific would seem to confirm my visual hunch that the genset switch engines are quite modular -- bolt 'em down, hook 'em up, and go make up trains -- and that that was an intentional decision for easier maintenance. [Some, most, all] of these conversions might even be able to work with just one genset installed.
Speaking of maintenance, it's nice to see that the color scheme all too typical of rolling stock from the Southern Pacific's later years -- graffiti and rust -- is getting spruced up...
Posted by: Ad absurdum per aspera at June 10, 2015 08:57 PM (470Py)
26kb generated in CPU 0.0635, elapsed 0.1876 seconds.
49 queries taking 0.1656 seconds, 279 records returned.
Powered by Minx 1.1.6c-pink.