December 28, 2016
WoWs: Just Battleship Things
Are you guys familiar with the old joke involving a battleship and a lighthouse?
World of Warships
lets you repeat it yourself!
I actually really appreciate these little touches the game throws in. They didn't have to put a lighthouse in the game, or a little town complete with moving milk truck, or things like that, but they did, and it makes it much more fun. My favorite has to be on the map called "Polar", which has a dirigible floating around it. The first time I got that map and saw it, I yelled "DIRIGIBLE!!!" in chat, and started giggling. Then I went out and did something like 120k damage. Ever since, I can't start playing that map until I see the dirigible. I've even had my entire team looking for it. Most of 'em had never seen the dirigible before, can you believe? To be fair to them, there are other things to be looking at. Things like...
Kongo! Yes, I've managed to earn myself a couple of ARP ships. Funny how that happened... I wasn't even trying, and when I reached the "yay" point the game didn't happen to mention it. It wasn't until later when I reorganized my ship carousel that ha-ha! there they were. "They?" Why yes, "they." Not only Kongo(
-desu
), but...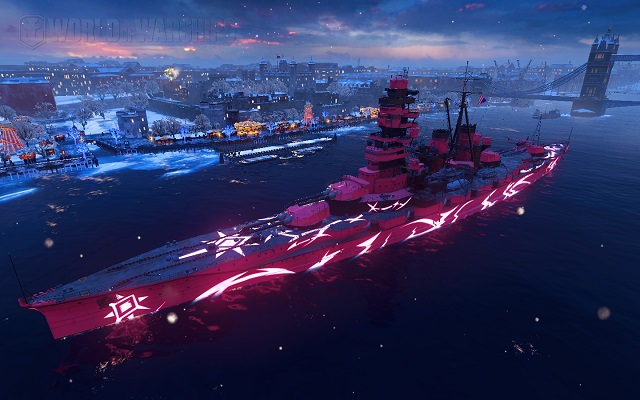 Hiei! I've actually had better luck with Hiei than Kongo, even though they are exactly the same ship, just with a different paintjob. I can only assume it's because da red wunz go fasta. Which make it the exact opposite of...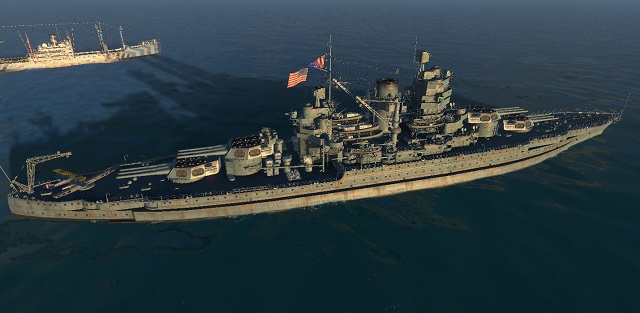 ...the
New Mexico
, which is not red. Nor is it fast. It wouldn't be fast if you threw it off a cliff. There's nothing it can't turn into flinders and scrap metal, though. I've had soem very good games with the NMex, including one match pvp match where I deleted two enemy cruisers with two consecutive broadsides. Maybe they'll learn not to give a battleship their entire side as a target next time. Even better, the NMex can take a pounding and keep going. I've seen it bounce
Nagato
and
LOLorado
rounds like they were marshmallows. Which is good, because I'm not entirely skilled in the esoteric world of battleship combat yet. Gimme something with torpedoes any day.
Posted by: Wonderduck at 11:55 PM | Comments (9) | Add Comment
Post contains 380 words, total size 3 kb.
Posted by: David at December 29, 2016 01:07 AM (9UHFZ)
Posted by: Mauser at December 29, 2016 03:13 AM (5Ktpu)
Posted by: GreyDuck at December 29, 2016 08:36 AM (rKFiU)
Posted by: Will at December 29, 2016 08:43 AM (oKfpi)
Posted by: ubu at January 02, 2017 11:19 PM (UlsdO)
Posted by: Avatar_exADV at January 03, 2017 09:28 PM (/lg1c)
Posted by: Mauser at January 05, 2017 12:02 AM (5Ktpu)
Posted by: ubu at January 05, 2017 05:26 PM (SlLGE)
Posted by: Mauser at January 05, 2017 07:52 PM (5Ktpu)
33kb generated in CPU 0.0186, elapsed 0.2315 seconds.
49 queries taking 0.2227 seconds, 287 records returned.
Powered by Minx 1.1.6c-pink.