March 01, 2009
Watching The Classics
My stepfather, Ph.Duck, is a good guy. Every now and again, however, Momzerduck and I trip over the
strangest
cultural blind-spots.
You see, Ph.Duck was born to a pair of missionaries (one Swedish, one American) in Nepal, and (mostly) raised in India. He's lived about half of his years there, though not all at one time. As a result, we'll discover unexpected gaps in his knowledge of American culture, mostly entertainment-based. For example, up until about five years ago, he'd never seen
Star Wars
. Momzerduck and I might go off on a riff from, say, a
Monty Python's Flying Circus
sketch, and he'll just look at us like we've gone completely insane.
He's a huge fan of the opera (and classical music in general), and they recently went to see
Tristan und Isolde

at the Chicago Lyric Opera
. A few days before, I said the only operas I've ever seen were by Warner Brothers. He gave me a blank look... and I had to explain.
He had never seen some of the classic Bugs Bunny cartoons
!
So this past Friday, after dinner, we all sat down to watch...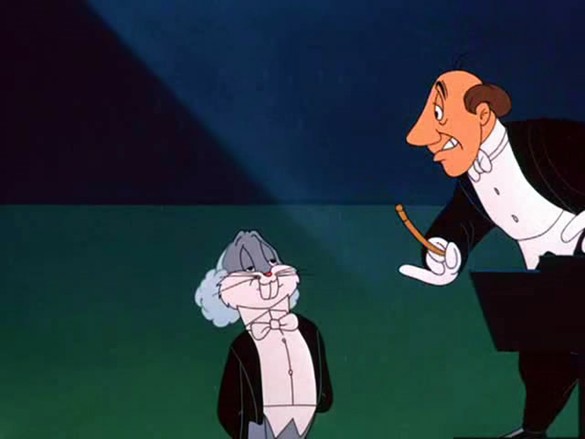 "Leopold!"

Long-Haired Hare
. Ph.Duck chuckled at the
Stokowski
reference.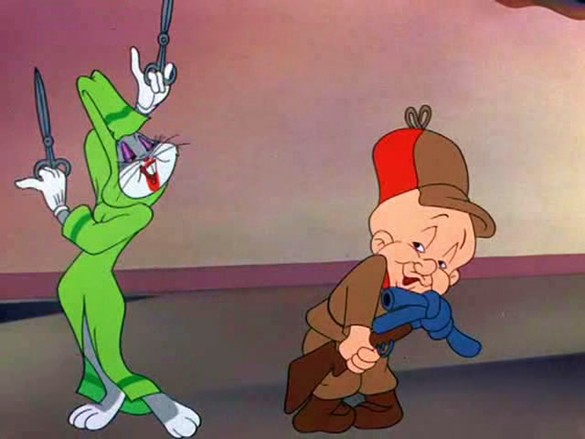 Rabbit of Seville
. He laughed a lot during this one (particularly during the "snake charmer" bit, where Bugs makes an electric razor fly after Elmer)... rightfully so, considering that it was voted #12 on the list of the
50 greatest cartoons of all time
.
And then, the legendary, the greatest opera of all time:
"Oh, Bwunhilda, you're so wuvvly."

What's Opera, Doc?
Incorrectly voted the greatest cartoon ever (that honor belongs to
Duck Amuck
, which was voted #2), it was the first cartoon in the
National Film Registry
. Ph.Duck seemed amused by the short, but I was hoping for something... well, more. Laughter. Amazement. Something.
So I was downcast because of his lack of reaction, thinking that maybe he saw them as making fun of opera, instead of the more correct honoring the artform through parody. Until tonight, that is, where Momzerduck mentioned to me that she had heard him singing in the shower... "I'm going to kill the wabbit!"
Mission successful.
Posted by: Wonderduck at 09:46 PM | Comments (3) | Add Comment
Post contains 362 words, total size 3 kb.
1
The best magic spell of all time:
"North winds blow! South winds blow! Typhoons! Hurricanes! SMOG!"
Posted by: Steven Den Beste at March 02, 2009 12:23 AM (+rSRq)
2
You know, I hadn't seen that last one until quite recently. My D&D group was boggled that I wasn't following their "spear and magic hellllllmet!" jokes...
That's actually a good question.
What is the geek canon?
What are the things which I need to have seen, read, heard, etc. in order to communicate with my fellow geeks?
Posted by: Avatar at March 02, 2009 01:20 PM (7TgBH)
3
Entry #1 is "Monty Python and the Holy Grail".
Posted by: Steven Den Beste at March 02, 2009 04:29 PM (+rSRq)
Comments are disabled. Post is locked.
25kb generated in CPU 0.0147, elapsed 0.0822 seconds.
47 queries taking 0.0722 seconds, 279 records returned.
Powered by Minx 1.1.6c-pink.