March 10, 2009
Very Cool Stuff From "Santa".
As most of my regular readers are aware, I've long been fascinated by the War in the Pacific. For thirty years (at least), I've been a voracious reader of anything I could get my wings on related to that conflict. While I've been interested in anything that happened in those years, over time I've also narrowed my focus down onto the
Battle of Midway
.
As I read the incredible book
Shattered Sword
, I became aware of something called
The Battle of Midway Roundtable
(BOMRT). Calling itself "an international forum focusing on the 'Incredible Victory' at Midway, the turning point of the Second World War in the Pacific," it's something of a clearinghouse for information on Midway.
The most important part of BOMRT, however, is without a doubt the weekly newsletter. Members ask questions, which are then answered by other members... and the breadth and depth of the knowledge available is immense.
Currently on the member list are 45 veterans who were actually present at the Battle of Midway, ranging from a Marine on the atoll, to PBY pilots, to Dauntless pilots and gunners, to crewmen from all three US carriers, to the lone TBF Avenger pilot and crewman to survive that plane's baptism of fire (Bert Earnest and Harry Ferrier, flying from Midway as part of the detachment from
Hornet
's VT-8, both of whom are covered extensively in the book
A Dawn Like Thunder
).
One member of the BOMRT has gained the nickname of "Santa Claus". Annually, Ted Kraver goes to a
major used book sale
and picks up a bunch of military history books. He then gives them away to other members of the BOMRT as a 'thank you' for the past year's worth of insight and experiences.
This year, I was one of the lucky recepient of one of Santa's gifts: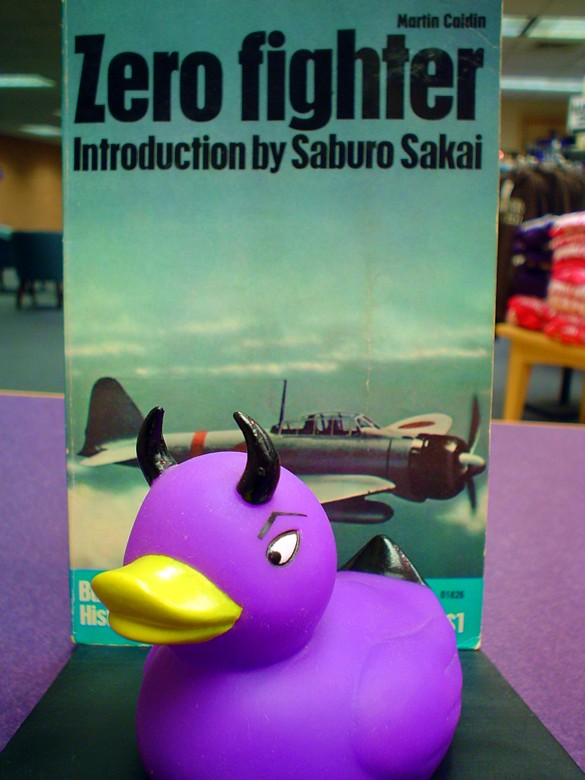 Zero Fighter

by
Martin Caidin
and
Saburo Sakai
... not the duck.
The duck is the mascot of the Duck U. Bookstore.


Thank you very much,
Ted
Santa! I'm looking forward to devouring this one. Incredibly cool of you.
Membership to the
BOMRT
is free, by the way, and if you have any interest in the Pacific War you owe it to yourself to join. Why wait? Do it now!
Posted by: Wonderduck at 09:34 PM | Comments (7) | Add Comment
Post contains 376 words, total size 3 kb.
Posted by: Andy Janes at March 11, 2009 02:33 AM (1xA29)
2
I just saw this story and thought of you...
I'm not sure how to take that, Andy...
Posted by: Wonderduck at March 11, 2009 08:27 AM (tMdKd)
3
It's a story involing ducks, thought it would amuse you (not trying to insinuate anything)
Posted by: Andy Janes at March 11, 2009 01:42 PM (q9hVp)
4
That is a very good book indeed. It is interesting to "see" Saburo Sakai's perceptions change as the war progresses.
Posted by: toad at March 11, 2009 04:00 PM (zcbXo)
5
I'm pulling your leg, Andy... don't worry 'bout it.
Toad, I'm still in the Chinese portion of the book, when everything is Unicorns farting Rainbows. From what I've read of and about Sakai, though, he wasn't afraid to speak the truth, so I'm looking forward to that.
Posted by: Wonderduck at March 11, 2009 06:17 PM (tMdKd)
6
He is indeed honest. At the beginning he and his fellow aviation students were selected in part for their excellent eyesight. They would practice finding stars in the daytime for instance. As the war drags on he makes a mistake in aircraft identification and screws the pooch in a major way. He makes no excuses.
Posted by: toad at March 13, 2009 01:21 PM (zcbXo)
7
Mistaking an Avenger for a Wildcat wouldn't be that hard to do, but it did cost him rather severely, yes.
Posted by: Wonderduck at March 15, 2009 05:37 PM (tMdKd)
Comments are disabled. Post is locked.
26kb generated in CPU 0.07, elapsed 0.1692 seconds.
53 queries taking 0.1294 seconds, 276 records returned.
Powered by Minx 1.1.6c-pink.