December 27, 2009
The "Win A Book From Wonderduck" Contest!
Last year around this time, I stumbled upon and purchased a copy of
A Dawn Like Thunder
by Robert Mrazek. This book, an oral history of Torpedo Squadron 8 off the USS
Hornet
, amongst others, may have been the best piece of military history to come out in 2008. Certainly it was the best that I read! I liked it so much, I
reviewed it here
, only the second book review I've ever done here on The Pond. Well, my uncle JoeDuck gave me a copy of the trade-paperback version of
A Dawn Like Thunder
for Christmas! A fantastic gift indeed, but I surely don't need two copies of the book... but here's YOUR chance to Win A Book From Wonderduck!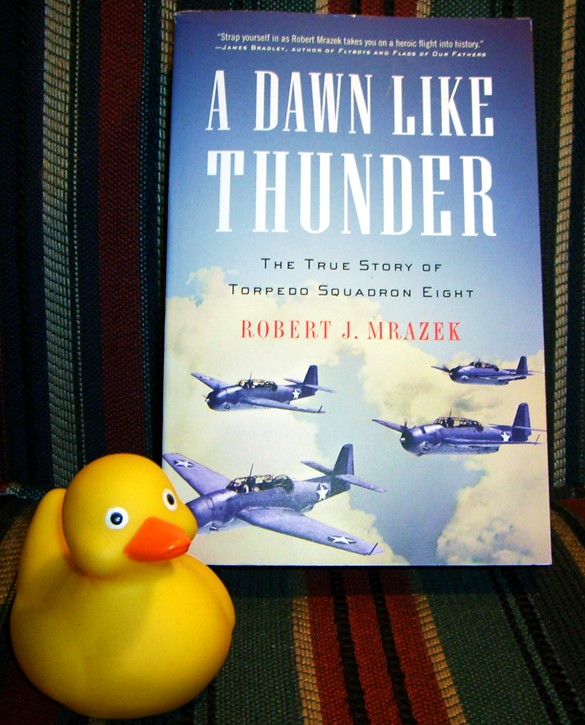 The book in question. Duck not included.

Tell me why I should send you a copy of this book for your library! You can write it on your blog if you have one (just include a link to the post here), or you can write it here if you don't. Feel free to accompany the post with charts, graphs, pictures, bribes, ducks, whatever you think it'll take to win the contest! As long as it's legal. One entry per person. Do not taunt happy fun ball. Entries must be in by 1159pm (Pond Time) on January 2nd, 2010. I will be the sole judge of this contest and my decision is final. Other than that, there are no rules! Go wild!
I'm looking forward to this!
UPDATE: I forgot to mention that I'll handle the shipping, so no fear that way. As long you've got a location that FedEx ships to, that is. US residents only, I'm afraid, as I can't handle the cost of shipping this to, say, Australia. Sorry,
Pixy
.
Posted by: Wonderduck at 09:39 PM | Comments (3) | Add Comment
Post contains 300 words, total size 2 kb.
1
How does this book compare to "Sole Survivor"?
Posted by: Steven Den Beste at December 27, 2009 11:55 PM (+rSRq)
2
Well, it's
much
better written. It also doesn't just follow one person (Gay), it deals with many, many pilots and ground crew. It's an exciting history of what may be the single most decorated air unit in US history, and is almost certainly the most decorated Naval Air unit.
It covers Midway, with an emphasis on the detachment that flew Avengers from the Atoll itself, and Guadalcanal. VT-8 was pretty much disbanded after that.
Posted by: Wonderduck at December 28, 2009 12:16 AM (ffKVz)
3
I think the book would make an absolutely spiffy companion volume to Shattered Sword: The Untold Story of the Battle of Midway and Sunburst: The Rise of Japanese Naval Airpower 1909-1941. Both are very interesting volumes with a non-traditional approach to the subject matter (I recommend them).
But that's MHO...
Posted by: The Old Man at December 30, 2009 08:40 AM (TcNy+)
Comments are disabled. Post is locked.
24kb generated in CPU 0.0323, elapsed 0.6209 seconds.
47 queries taking 0.6076 seconds, 279 records returned.
Powered by Minx 1.1.6c-pink.