December 23, 2008
The Tenth Day of Duckmas 2008
On the tenth day of Duckmas, Wonderduck gave to me...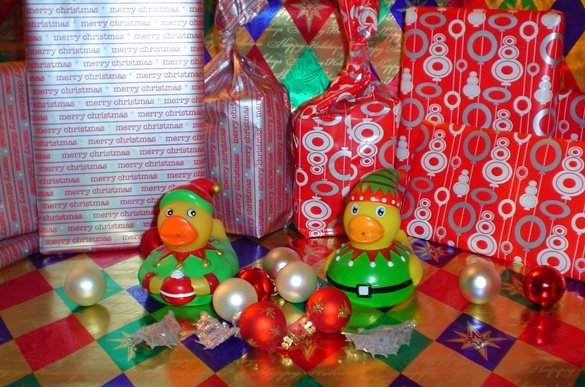 ...elf duckies wrapping presents for the tree!
...an Angelduck with icicles...
...two Chanukah duckies!
...two reinduckies in a birdbath...
...a Santaduck in a blizzard...
...a Santaduck at the mallllllllll...
...a snowboarding duckie...
...
Rudolph the Red Nosed Reinduck
...
...
two snowducks
...
...and
a duckie in a fir tree
!
I'll tell you, having some elves to do the wrapping comes in handy... I just wish they could have done the shopping for me, too! Now, if I had a meido duckie, I'd be all set... Momzerduck and Ph.Duck are coming over on Christmas day, and I've gotta do some cleaning.
Except I'm feeling miserable... if I'm lucky, it's just stress. If I'm not, I've got an ick... and there's nothing worse than a duck with the ick.
Posted by: Wonderduck at 04:05 PM | No Comments | Add Comment
Post contains 137 words, total size 2 kb.
Comments are disabled. Post is locked.
22kb generated in CPU 0.04, elapsed 0.2168 seconds.
45 queries taking 0.1885 seconds, 257 records returned.
Powered by Minx 1.1.6c-pink.