September 26, 2012
The Perfect Food
I've heard people describe caviar as the best thing ever. There are some who believe that a Chicago-style pizza is better than anything. Or perhaps your tastes run towards fresh-grilled New York Strip and potatoes? Fresh lobster dunked in garlic butter has been known to trip some triggers in the gastronomic world, no? Or maybe something International is more your style? Some
pot au feu
, mayhap? The delicate taste of sushi or sashimi has many followers, as does the stronger tandoori chicken from India. Pastas and the like from Italy? A good sauce makes all the difference. Or maybe it's something I haven't even mentioned. I'm here to tell you that it all pales in comparison to the greatest food in the world. Ladies and gentlemen, allow me to present to you...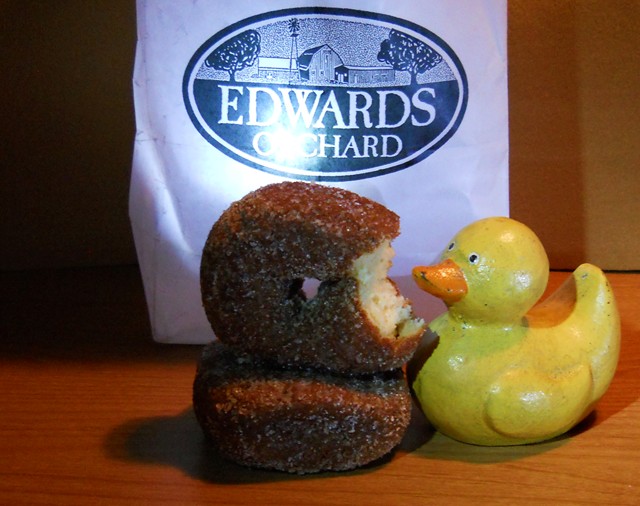 ...apple cider donuts from Edwards Apple Orchard in Poplar Grove, IL. "Eddie's," as I've always called it, has been an annual staple of my life for decades, as have their apple cider donuts. Believe me when I say this... I would happily eat these things every day morning, noon and night. Which is why I limit myself to just a single bag of them every year, and I don't even eat all of that: I give some away. Today, Ph.Duck stopped into the Duck U Bookstore bearing a dozen still-warm donuts. I ate one, gave away six, leaving me with five.
Five glorious pieces of heaven. Okay, three now, but it's the thought that counts. Om nom nom nom nom...
Posted by: Wonderduck at 07:21 PM | Comments (6) | Add Comment
Post contains 255 words, total size 2 kb.
Posted by: Steven Den Beste at September 26, 2012 07:40 PM (+rSRq)
Posted by: GreyDuck at September 26, 2012 08:56 PM (xbP2x)
Posted by: cxt217 at September 26, 2012 09:46 PM (fYUtJ)
Posted by: Mauser at September 27, 2012 06:25 AM (cZPoz)
Posted by: Tom Tjarks at September 28, 2012 12:32 PM (1NXkJ)
Posted by: Vaucanson's Duck at September 28, 2012 06:04 PM (OFJiW)
Comments are disabled. Post is locked.
24kb generated in CPU 0.03, elapsed 0.0943 seconds.
53 queries taking 0.077 seconds, 281 records returned.
Powered by Minx 1.1.6c-pink.