November 25, 2011
The Never-Ending Re-Install II
Great googly moogly. I started this latest reinstallation of my computer's operating system around 10am Friday morning.
Six freakin' hours
later, I had finally... FINALLY... completed all the downloads, updates, installs and reboots. Never mind such things as loading up the usual suite of programs, of which only Firefoxy is now installed. I had to take a frickin' nap, I was so exhausted! Or maybe it was because Thanksgiving was exhausting, one of the two.
UPDATE
: In the comments, Steven asks what the above picture is. Would you believe it's a water tank? It's part of the Metropolitan Area Outer Underground Discharge Channel, just outside of Kasukabe, Saitama, Japan. Built to prevent flooding of the city during typhoons, there's also five containment silos and about 6.5km of tunnels involved. Combined with the pumps in the 177m x 78m x 25m water tank, it can move 200 tons of water per second into the Edogawa River. I first became aware of it from
Ga-Rei Zero
, where it's the location of the climactic scene of Ep01. See the below picture from how it looked there!
...and then the Schoolgirl In Black kills everybody.
There won't be a post about the Brazilian Friday Practice because, quite honestly, it was the same as always. If something significant had occurred I'd let you know, but other than a chance of rain sneaking in for Sunday, a sighting of Racey The Owl, and Force India going completely insane...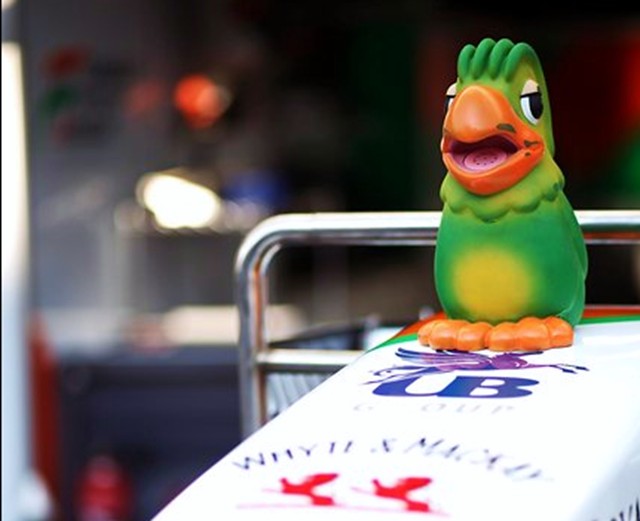 Force India's mascot for the race. I should send them a rubber duckie.

...nothing really happened. So I'm going back to finish restoring my computer to full operating status, and I'll see you all for Quals in the morning!
UPDATE: Does anybody have the uTorrent 2.2.1 installer sitting around on their hard-drive? The version I have is 2.0.4, and it won't update... and I've heard bad things about 3.0. Lemme know in the comments!
Posted by: Wonderduck at 07:21 PM | Comments (5) | Add Comment
Post contains 320 words, total size 3 kb.
Posted by: Steven Den Beste at November 25, 2011 09:11 PM (+rSRq)
Posted by: Wonderduck at November 25, 2011 10:17 PM (2YMZG)
Posted by: Gerberette at November 26, 2011 08:11 PM (5DC9/)
Posted by: Wonderduck at November 26, 2011 08:53 PM (2YMZG)
Posted by: cxt217 at November 27, 2011 10:32 AM (CignP)
Comments are disabled. Post is locked.
25kb generated in CPU 0.1208, elapsed 1.341 seconds.
47 queries taking 1.3336 seconds, 281 records returned.
Powered by Minx 1.1.6c-pink.