January 28, 2016
The Most Eagerly Anticipated
The year is 1994. Our Hero, horribly damaged by his failed expedition to grad school, has found himself a job where his (at the time) nigh-on encyclopedic knowledge of music actually has a use: he's a shift nabob in the music department at BigBlueBoxStore. For once I'm going to brag about myself here: we were easily the best music store in town, and I was arguably the main reason why. Between my radio experience, my personal collection, and a willingness to listen to anything except Country (
and even some of that, too!
), I could help just about any customer find something they'd like. The other members of the music department would always come to me if their customer had managed to stump them on a song title... "Hey, Wonderduck, the song goes '
Juliet, the dice were loaded from the start...
', who is that?"... and chances were pretty darn high I'd get it right.
Remember, kids, this was before Google.
Or the internet, really.
I had been hearing rumors from various radio and music trade pubs (
Billboard
used to be the cat's meow, lemme tell ya!) that there was a movie coming out based on a comic book which sounded promising, but it was the soundtrack that had those of us in the music department drooling. There was no way the purported lineup could be real. Stone Temple Pilots, Pantera, Rage Against The Machine, MLWTTKK, Henry Rollins, the Violent Femmes, and The Cure? And there's no way Nine Inch Nails could really be part of it.
Right?
After a really really lousy day at work today, I got myself some fast food (first cheeseburgers in two months!) and settled in front of the TV to watch... something. I practically didn't care what, just as long as it didn't have anything to do with claims processing. After scanning through my list of recorded shows (who would have thought that
Red Vs Blue
would be on television?), I settled on a movie I hadn't seen in years:
The Crow
.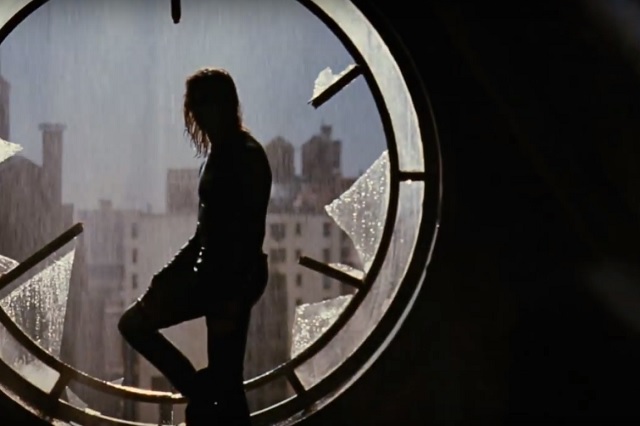 Suddenly, all those memories of BigBlueBox came rushing back. Nobody believed me when I first talked about the soundtrack's artist lineup. Eventually the movie was announced as coming out in May, but for whatever reason the Powers That Be decided to release the CD / cassette in March.
Know what? I have no idea where I was trying to go with this, other than "holy crap, Nine Inch Nails first song in two years" and "wow, sold 100 copies of the CD in one day." Screw it. Here's the NIN song:
...which is actually a cover of a
Joy Division
song.
This could have been an epic post, I think, if it hadn't've happened nearly half a lifetime ago and my memories weren't hazy. But it did, and they are. Still love the soundtrack, though.
Never mind.
Posted by: Wonderduck at 10:41 PM | Comments (4) | Add Comment
Post contains 477 words, total size 3 kb.
Posted by: GreyDuck at January 29, 2016 08:20 AM (rKFiU)
Posted by: Ad absurdum per aspera at January 29, 2016 03:46 PM (Xqqhu)
Posted by: Wonderduck at January 29, 2016 06:27 PM (KiM/Y)
Posted by: Ben at January 29, 2016 07:58 PM (S4UJw)
29kb generated in CPU 0.0101, elapsed 0.1043 seconds.
49 queries taking 0.0967 seconds, 282 records returned.
Powered by Minx 1.1.6c-pink.