December 24, 2011
The Eleventh Day Of Duckmas 2011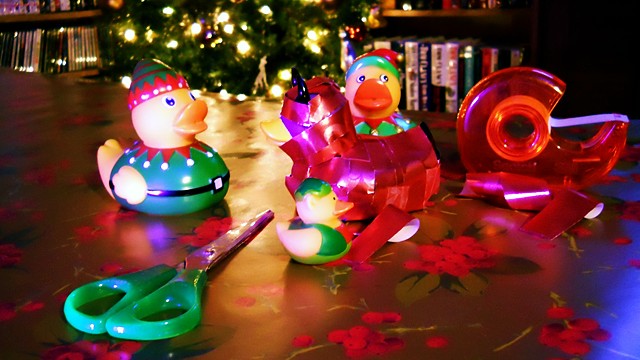 Did you know it takes 49 minutes to wrap a rubber duckie? I know that sounds unlikely, but that's how long it took to get the purple devil duckie ready for this picture. Fortunately, wrapping easy,
simple
shapes, like boxes, tesseracts and klein bottles takes much less time than wrapping a duckie, so I should be able to get everything ready for Christmas.
I don't know about you, my readers, but I do have a little tradition when it comes to gift-wrapping. I do it late on Christmas Eve, mug of hot chocolate (complete with immersed candycane) at the ready, whilst listening to WGN-AM out of Chicago. In the past, the overnight team has a high school choir in the studio with them, so I wrap while they sing and banter. It just occurred to me, however, that I won't be able to do that this year, as the overnight show is only on weekdays, and they have someone else on the weekend. Woe is I.
It's kind of amazing how fast the Twelve Days of Duckmas has gone this year. While much more challenging than normal due to the lack of winter weather (and I'm probably the only person in Duckford
complaining
about the lack of snow), I think it's turned out okay. Hopefully you've gotten a kick out of it; the Twelve Days is just about the only time of year I can really be artistically
creative
, so I enjoy it quite a bit. Even if it does disrupt normal blogging here at The Pond.
Big finale on Sunday... see you then!
Posted by: Wonderduck at 01:06 AM | Comments (4) | Add Comment
Post contains 270 words, total size 2 kb.
Posted by: Mauser at December 24, 2011 02:47 AM (cZPoz)
Posted by: Wonderduck at December 24, 2011 08:19 AM (f/6aJ)
Posted by: Don at December 26, 2011 07:49 PM (NvpYw)
Posted by: Wonderduck at December 26, 2011 08:31 PM (f/6aJ)
Comments are disabled. Post is locked.
23kb generated in CPU 0.03, elapsed 0.1772 seconds.
47 queries taking 0.1566 seconds, 264 records returned.
Powered by Minx 1.1.6c-pink.