July 03, 2019
That Pitcher Is Getting Shelled!
The Google Doodle for today is a rather fun little baseball game!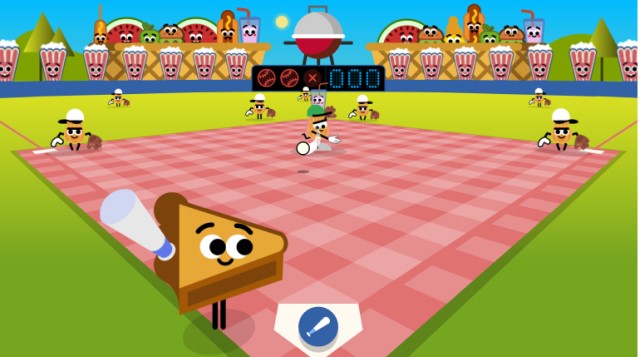 Your job is to hit the ball. The only way to make a strike is to swing and miss, three strikes and the game is over. To make it easier the pitcher, who I'll name "Yu Darvish", tips his pitches... watch the color of his cap, and woe betide you when it turns red. I've scored 57 runs and hit a homer over 1700 feet. (edit: 2002 feet off a redcap. I'm so proud.)
Lemonade is a great left-handed power source, btw.
edit: this seems appropriate, considering the holiday tomorrow.
No, I won't condemn anyone for putting ketchup on a hot dog. This is the land of the free. And if someone wants to put ketchup on a hot dog and actually eat the awful thing, that is their right. It is also their right to put mayo or chocolate syrup or toenail clippings or cat hair on a hot dog. Sure, it would be disgusting and perverted, and they would be shaming themselves and their loved ones. But under our system of government, it is their right to be barbarians.
-Mike Royko, Chicago legend.
Posted by: Wonderduck at 11:35 AM | Comments (3) | Add Comment
Post contains 202 words, total size 1 kb.
1
Ketchup and Mustard on a plain Oscar Mayer wiener on a cheap bun is about the only way to eat them. Calling that a hot dog is the *real* crime.
At a minimum, get an all-beef 1/4 lb. wiener, cut a few slits cross-ways on one side, no more than halfway through; put them on the top oven rack and broil on hi. Usually about 6 minutes if the oven is already heated, longer if not. Turn over right as they start to bubble and char; heat the other side for no more than another minute.
Serve with nothing, but preferably with at least yellow mustard. Preferably made up with your favorite regional condiments and accessories. Do it right, because I guarantee the wiener will be just about perfect.
Posted by: Ben at July 08, 2019 12:50 PM (osxtX)
2
It's like I don't even know you anymore, Ben. I thought I taught you better than that.
Vienna Beef frank, bun with poppy seeds. Mustard, chopped onions,
neon green pickle relish
, two halves of a tomato slice on one side of the dog, a quartered pickle spear on the other. The whole shebang covered with celery salt. Sport peppers are if you want the full-blown "dragged through the garden" experience... I generally don't get them myself. I admit, I am weak. Ketchup is acceptable for children and people from Wisconsin.
The bun is steamed, usually. The dog is either steamed or water-simmered. You can grill them, in which case it's a "char-dog." Truthfully, during the summer, that's really the way to do it.
And THAT'S how you do a good hot dog.
Posted by: Wonderduck at July 08, 2019 02:51 PM (EXhwA)
3
I was just trying to be inclusive. Personally I'm looking forward to my next trip to The Ballpark and getting a "Chicago-Style" foot long which follows the recipe properly. And being German, I'm a bit partial to sauerkraut and brown mustard on my hotdogs, occasionally...
ALTHOUGH...I do personally and perpetually prefer grilled dogs to steamed or boiled...
Posted by: Ben at July 08, 2019 03:04 PM (osxtX)
27kb generated in CPU 0.0139, elapsed 0.1025 seconds.
49 queries taking 0.0935 seconds, 281 records returned.
Powered by Minx 1.1.6c-pink.