August 05, 2018
That Made Me Happy!
So I was wandering around the web earlier Saturday, just going where it took me, wound up reading some of the Fluff for Warhammer 40K again. I've discovered a WH40K writer/audiobook reader combination that I'm fascinated by of late (Aaron Dembski-Bowden and Jonathan Keeble and the
Black Legion
series), so I've been spending a lot of time in the 40K universe recently. Fun to visit, but I wouldn't want to live there... and if I did, I expect it'd be a very short life with a very violent end. That's just the way things are there.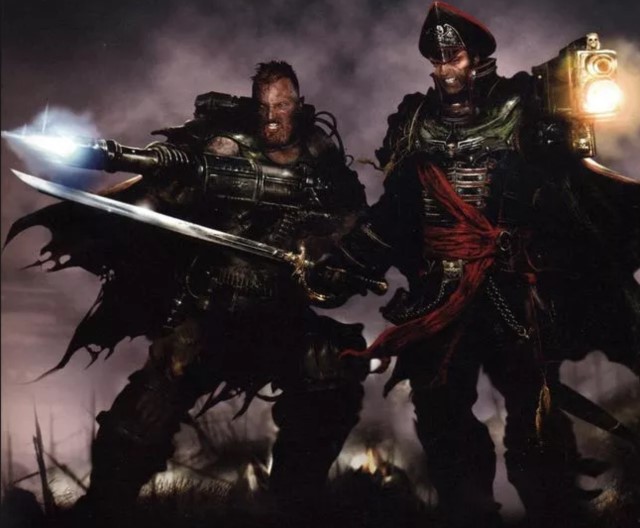 Remember, these are the good guys.
Anyway, after reading more than I really ever wanted to know about the Necrons ("We're gonna need a bigger can opener..."), I somehow found myself reading about spaceflight, which took me to yootoob for some fun times watching
booster-cam footage
. While doing that, I realized I had never seen good footage of a real "Korolev's Cross", just
KSP-based
versions. So I went looking, and discovered something I didn't know existed.
As it turns out,
Korolev
is the B-side of a remix disc of
Sputnik
by Public Service Broadcasting. Clearly it belongs on their album "The Race For Space", but it's not on mine.
What a great thing to discover on a day off: a new PSB song!
Posted by: Wonderduck at 03:26 AM | Comments (1) | Add Comment
Post contains 223 words, total size 2 kb.
1
Aw man, previously-unreleased B-sides are my... well, not bread-and-butter maybe. But some kind of food staple. Sticky rice? Sure, we'll go with that.
Thus does the
Sputnik
single go on my wishlist!
Posted by: GreyDuck at August 06, 2018 07:15 AM (rKFiU)
24kb generated in CPU 0.03, elapsed 0.1747 seconds.
49 queries taking 0.1526 seconds, 244 records returned.
Powered by Minx 1.1.6c-pink.