November 17, 2008
SuperAguri Sighting!
During tonight's episode of
Top Gear
(Season 12, episode 03, for those reading sometime in the future), the lads were given a challenge: make what is essentially a minivan as quick as a
Mitsubishi Evo 10
... on a budget of 9000 quid.
After new brakes, a new suspension, removing the roof and windows and replacing them with thin plastic, servicing the engine and putting on new tires (or tyres as they would call them), they were still about eight seconds off the pace of the Evo around the Top Gear track.
Then Jeremy Clarkson said, "Hammond, did you say you bought a spoiler the other day?"
"Well, at a charity auction, yes."
"What type of one?"
"A Formula 1 cars', actually."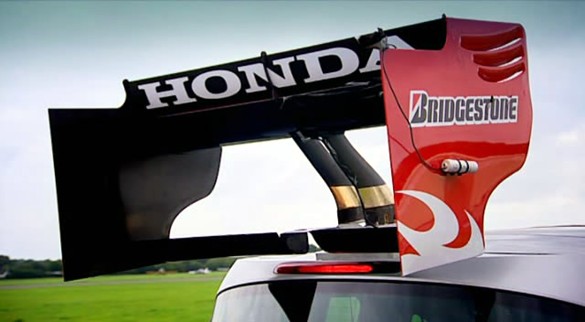 Yep. That's the rear wing off a SuperAguri F1 car.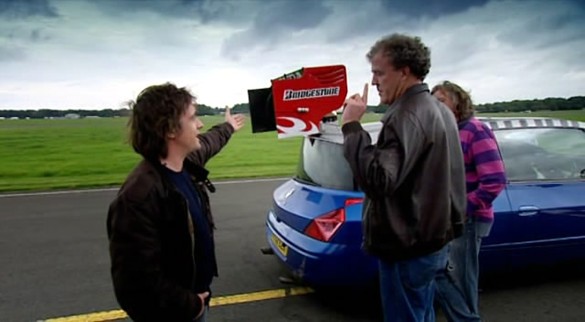 It
added
a second to the time.
Seems appropriate, that.
Posted by: Wonderduck at 12:31 AM | Comments (4) | Add Comment
Post contains 143 words, total size 1 kb.
Posted by: Steven Den Beste at November 17, 2008 01:34 AM (+rSRq)
Posted by: Wonderduck at November 17, 2008 02:15 AM (hplPV)
Posted by: Mallory at November 17, 2008 07:55 AM (WJ2qy)
Posted by: GreyDuck at November 17, 2008 08:50 AM (o5Lvb)
Comments are disabled. Post is locked.
23kb generated in CPU 0.0127, elapsed 0.1088 seconds.
47 queries taking 0.1003 seconds, 280 records returned.
Powered by Minx 1.1.6c-pink.