July 15, 2010
Summer Days
Wednesday was probably the hottest day of the summer here in Duckford. It got over 90ºF for what felt like the thirty-first day in row, but it was the oppressive humidity that really made it miserable. Eh, it's summer in the upper Midwest, what do you expect, right? That's the nature of the beast.
Wednesday night, it only got down to 77º, and though I didn't think it would be possible, the humidity got
worse
. When I dragged myself into bed at midnight, it was still over 80 and the dewpoint was 76, according to the National Weather Service's station at the Duckford International Airport, which is just a couple of miles from Pond Central.
Then Thursday happened. It was 86 and still thickly humid by noon... simply miserable. Here's the bad part: that temperature was recorded
inside the Duck U. Bookstore
! Yep, still no air conditioning. Even with a fan blowing directly on me, because of the humidity I was still soaked with sweat. Other people work in that sort of heat every day, I know... construction workers, for example... but they're paid more than me, and it's pretty much part of their job.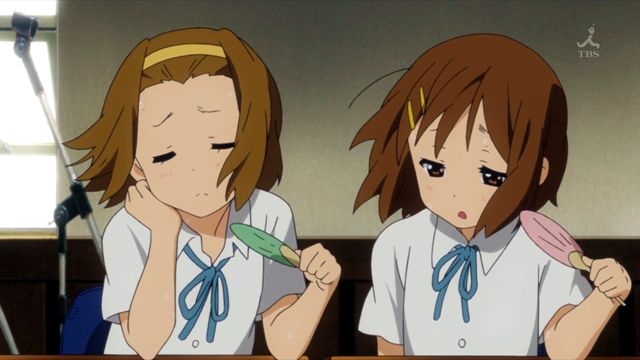 Not so much for members of the Light Music Club

At 1215pm, the Bookstore closed for the day, the first time in the 6+ years I've worked there that we've shut down because it was hot. Snow? Of course. Rain? Yep yep, mostly because of power failure. Heat? Never before. Most of the U's offices either closed or moved to the newest campus building, which has it's own air conditioning system, for the day. Of course, it's not like we could pick the store up and go there ourselves.
Hopefully the new a/c system for the U will be turned on Friday, as the Ops staff plan. Cross your wingtips we don't blow any transformers or something like that...
UPDATE, FRIDAY 7/16
: It was cooler at the Duck U Bookstore, but not because the a/c was turned on. Instead, it's because it actually got down to the low 60s overnight and a lot of the humidity went away. Still, I'm glad I wasn't working today, and the a/c might still be fired up today. It'd make working tomorrow a lot nicer...
ANOTHER UPDATE, SAME DAY
: They did try to turn the new chiller units on at Duck U this afternoon. ComEd, bless their little hearts, told them that the transformer would be able to handle it. Nope! Transformer
trashed
damaged, new one scheduled for arrival on Tuesday. Might even get the day off on Tuesday, because most of the campus is powered through that transformer, including the IT center, which means no internet and no phone service when they replace it. We'll find out on Monday.
Posted by: Wonderduck at 11:34 PM | Comments (4) | Add Comment
Post contains 463 words, total size 3 kb.
Comments are disabled. Post is locked.
25kb generated in CPU 0.04, elapsed 0.1756 seconds.
47 queries taking 0.1508 seconds, 269 records returned.
Powered by Minx 1.1.6c-pink.