August 22, 2010
Strike Witches 2 Loves Me
I just finished watching ep07 of
Strike Witches 2
, and while that particular episode was extraordinarily silly, it was the preview for ep08 that made me sit up and take notice. Certainly this was nice: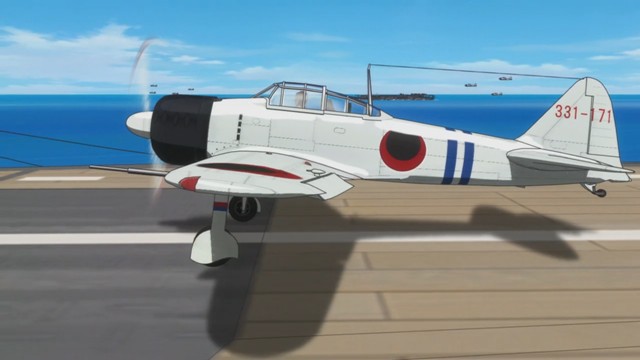 I mean, who doesn't like a good Mitsubishi Navy Type 0 fighter once in a while, right? Probably an A6M2, considering the year the show is set in.
But that wasn't what made me drool in anticipation. No, this one quick shot was what did it:
We already knew the
Yamato
was going to be showing up, so no surprise there. No, it's the other two ships in this screencap that got me excited. I am tentatively identifying them as the
Zuiho
on the left and the
Shoho
on the right. Note the lack of islands on the flight-decks, which do not appear to stretch the full length of the hull. While that alone doesn't preclude them from being one of the IJN's escort carriers (like the
Unyo
or
Taiyo
), which also have those same traits, you'll note on the lefthand carrier there is a wire mesh-like object extending out from the starboard side.
There's a similar object on the other carrier as well, though it's mostly hidden behind the
Yamato
. That's actually the ship's radio masts, which could be cranked down for flight operations. I don't
think
the escort carriers needed such a system. The true giveaway, though is that both ships look like they have "wings" off the stern end of their flight decks. That was a feature that allowed pilots to check their positioning out of the corners of their eye as they landed, and the Japanese CVEs didn't have those, but the
Zuiho
and
Shoho
did. We'll just need to wait for ep08 to be released to be sure... but I feel pretty confident.
Ladies and Gentlemen, this is what it's like being a Pacific War otaku.
Posted by: Wonderduck at 11:53 PM | No Comments | Add Comment
Post contains 321 words, total size 2 kb.
Comments are disabled. Post is locked.
23kb generated in CPU 0.0105, elapsed 0.2805 seconds.
45 queries taking 0.2741 seconds, 275 records returned.
Powered by Minx 1.1.6c-pink.