December 26, 2011
Some Post-Xmas Thoughts
Now that the 12 Days of Duckmas is over and done with, I just want to chat about a couple of unimportant things. Think of it as conversation over hot chocolate and scones... or a good reuben and a Sprite, if you're looking for something more dinner-like.
First up, I'm going to do something that almost never happens: I'm going to praise my broadband company. I have no idea who they are, as my internet connection is through Pond Central's apartment complex, but a few days ago they sent us a flyer saying that they were going to perform "maintenance on our modems" that would take about an hour. I can only assume that the maintenance was successful:

See, I used to max out around 170kB/s down, 25kB/s up. That's fast enough to essentially stream a 300mb anime episode, more or less... a half-hour or so to download 24 minutes. If there were two or more things downloading, you might as well go take a nap while they trickled down to your hard-drive. But now? That 650kB/s is actually a little on the
slow
side! 800kB/s has been common, or even faster when broken between two d/ls: I saw one file with 490kB/s with a second getting 440kB/s. Uploads have been sitting around 100kB/s. I just want to giggle about it, it's so much fun!
Speaking of fun...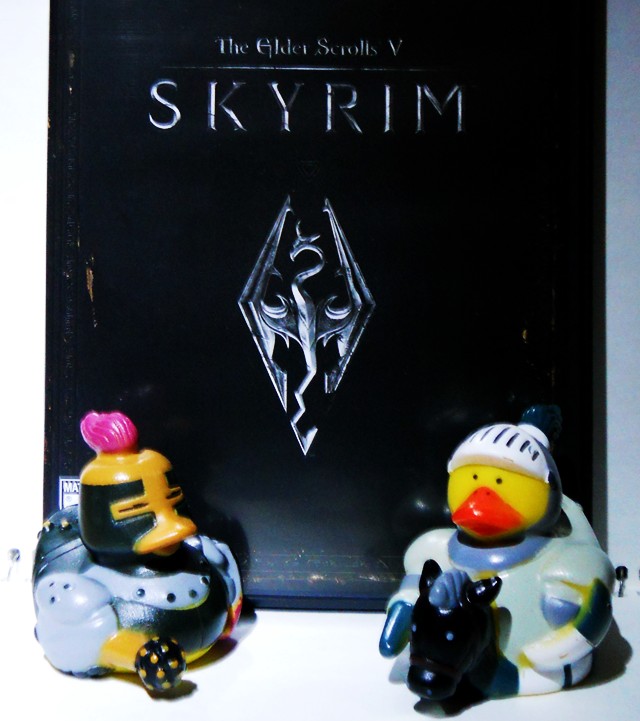 I haz a
Skyrim
! Blogging might be somewhat light. Okay, light
er
. I've played a couple of hours so far, and even at "medium" graphics settings, it's
gorgeous
. Or more correctly, it is on those rare occasions when there isn't a blizzard going on. Which is cool in and of itself, as weather was NOT a part of the game's predecessor
Oblivion
. I've sank maybe 300 hours of playtime into
Oblivion
, and I can easily see myself doing the same with
Skyrim
. Once I get a little bit of the game under my belt, I'll do something a little more formal for The Pond than this, but initial reactions are "wow" and "holy crepe!"
Okay, that's all. Back to
Skyrim
for me... after I eat something.
UPDATE
:
This is the most beautiful game I've ever seen.
Posted by: Wonderduck at 06:15 PM | Comments (4) | Add Comment
Post contains 366 words, total size 3 kb.
1
Oh, seeing this post after completing & posting Thursday's comic is
priceless.
Bwahahaha...
Posted by: GreyDuck at December 26, 2011 10:36 PM (eHm8o)
2
That's just cruel, GD... gonna keep us waiting until Thursday? Mean.
Posted by: Wonderduck at December 26, 2011 10:47 PM (f/6aJ)
3
The comic posts when the comic posts, you know.
As for Skyrim itself: For all the game's flaws (and they are legion), I will say that they clearly paid for a top-notch art director who earned every penny of their considerable salary to make sure that this game looks positively stunning. It's not that the graphics technology in play is itself all that revolutionary ("2D sprite" grassoids, for instance) or that the color palette is much more varied than other games (it isn't) but what's there is used so cleverly and (dare I say it) artfully that you just don't mind when you can see the seams up close.
Half the times I've been surprised by an ambush have been on account of just wandering the landscape, not paying attention to the threat profiles but instead merely gazing at the scenery. It's that kind of game.
Posted by: GreyDuck at December 27, 2011 05:59 PM (3m7pZ)
4
Bit off topic, but in terms of amazing artwork, and Ducks....
http://real-sonkes.deviantart.com/art/Darkwing-Duck-274201997
This and the two links in the description are some very Badass takes on Darkwing Duck. Does he count?
Posted by: Mauser at December 28, 2011 07:43 AM (cZPoz)
Comments are disabled. Post is locked.
25kb generated in CPU 0.09, elapsed 0.3153 seconds.
47 queries taking 0.2561 seconds, 264 records returned.
Powered by Minx 1.1.6c-pink.