July 29, 2010
Smile For The Camera!
About a week ago,
I asked y'all for recommendations
about a digital camera. Well, I've made my purchase, and the winner is the Nikon Coolpix L22, in red so it matches my cellphone (note: while it does match my cellphone, that's not the reason I got it in red. They didn't have black in stock). It's not quite as hands-on as I'd prefer, but it was about $60 less than one that let me set the shutter speed manually. I can live without that feature for $60, and I suspect that once I get into the users guide, I'll find there's plenty I'll be able to fiddle with.
It's 12MP with a 3.6x zoom... here's an example of its capabilities: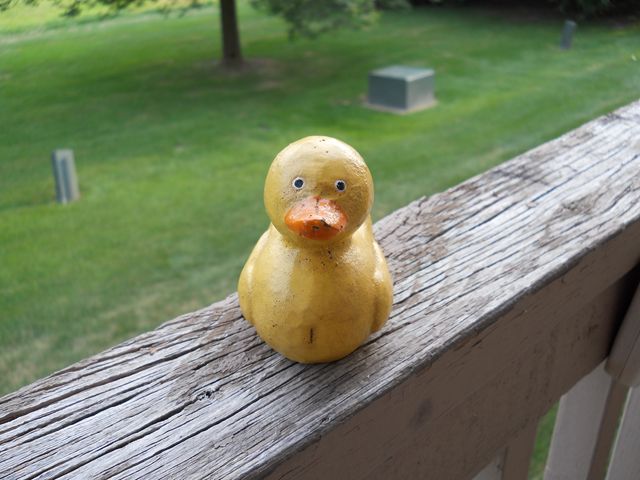 Hi, Rusty II!

This is a 4000x3000 picture, reduced down to 640x480, or a factor of 6.25. 2.7mb in size. Pretty good quality, that. Now, here's a 640x480 crop from the original, full-sized, picture:
If ever there was a picture that let you know that Rusty II isn't your normal yellow duckie, this is it. He's actually cast iron, weighs maybe 1.5 pounds, and you can see the little pits and dimples that occurred when he was cast.
Oh, and that's at normal zoom from about
three
two feet away, under overcast skies. Like all point-and-shoot cameras I've ever used, it has a problem focusing on on something that's much closer. (...but see the UPDATE below!)
Me likey!
UPDATE:
Two things.
1) I've discovered something called "macro zoom." Goodbye problems focusing on things close in. Here's a macro zoom shot, 4000x3000, reduced to 640x480:
That's from about half a foot away, more or less. Now here's the 640x480 crop from the full-resolution pic:
Yes, that's his left eye. I probably won't be getting THAT close very often... kinda creepy, actually.
2) My media card reader may not be able to deal with a 4GB SD card. Whoops.
Posted by: Wonderduck at 06:11 PM | Comments (4) | Add Comment
Post contains 321 words, total size 2 kb.
Posted by: GreyDuck at July 29, 2010 08:02 PM (7lMXI)
Posted by: Avatar at July 29, 2010 09:29 PM (pWQz4)
Posted by: Steven Den Beste at July 29, 2010 10:56 PM (+rSRq)
Posted by: digicolleen at August 12, 2010 10:57 AM (DUCCO)
Comments are disabled. Post is locked.
24kb generated in CPU 0.0161, elapsed 0.2187 seconds.
47 queries taking 0.2115 seconds, 280 records returned.
Powered by Minx 1.1.6c-pink.