October 07, 2009
F1 News Bits
There's been some doings around the F1 world since Japan, so let's take a look!
*KUBICA TO RENAULT
: Robert Kubica, current driver for BMW, was announced today as the replacement for HWMNBN on the Renault roster next season. WIth BMW's dropping off the grid next year, Koobs has been looking for a drive. Realistically, Renault was probably the best he could have hoped for; McLaren technically has two drivers already, as does Ferrari and Brawn, though Brawn will probably drop Barrichello and might lose Button to contract woes. Other than Renault, Toyota was another possibility, though there's a question as to whether they'll be in the sport in 2010. Kubica, who was considered the best young driver in F1 until the arrival of Seb Vettel, has a historical tie to Renault, getting his first ever F1 test in 2005 with the team. Considering the scandals the team has had recently, the arrival of the Pole can't do anything other than help.
*MASSA TEST APPROVED
: Last week saw Felipe Massa get behind the wheel of a kart; next week may very well see him get behind the wheel of a F1 car. The FIA, with the unanimous approval of the other nine teams, has granted Ferrari and Massa a test session in the F2007, the same car that Slappy Schumacher drove in
his
aborted comeback. Massa, recovering from a terrible injury suffered in Hungary, is still saying that there's a chance he'll be back at Abu Dhabi, the final race of the season. And speaking of Abu Dhabi:
*ABU DHABI APPROVED
: The new Yas Marina Circuit at Abu Dhabi was given the green light today by Charlie Whiting, the FIA's official Race Director. Without his blessing, the track could not host a F1 event, but it's been cleared for the November 1st series finale. Looks like an interesting layout, too: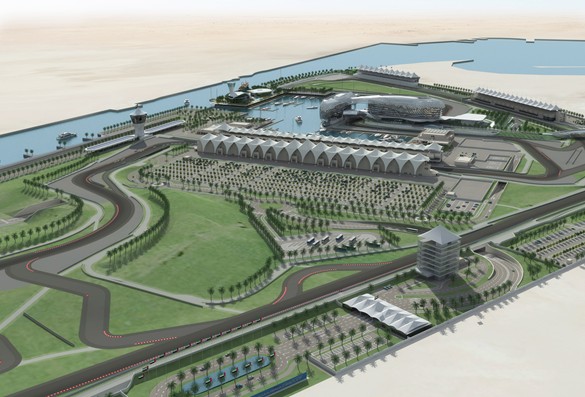 They're still doing the landscaping, but it's all expected to be completed in time for the final race weekend.
Finally, I was grocery shopping a few days back and bumped into a tower display of die-cast cars. Mostly they were sports cars, Beetles, and the like, but mixed in with the dull vehicles were F1 racers! Of course, I bought all that I could:
What's impressive is that the paintjobs are easily recognizable... well, mostly. The top car is clearly the
Toyota livery
. The middle is the
pre-Glare with Wheels-era McLaren
, but I'm having problems identifying the bottom one. My first thought was late
Ligier
, but the blue is wrong and the flames are pure fantasy. Of course, it's possible that it's just a made-up color scheme, but considering the other two being based on real liveries, I'm assuming that it's from
some
thing!
I'm stumped... any thoughts from the audience?
Posted by: Wonderduck at 09:11 PM | Comments (1) | Add Comment
Post contains 462 words, total size 3 kb.
1
That picture of the course at Abu Dhabi is rendered, of course. But it'll be interesting to see if they really have that much green lawn at the site.
If so, and considering that nearly all the fresh water there comes from desalinization plants, it'll be a major example of conspicuous consumption. The amount of fresh water it would take to keep that much lawn green would cost a fortune!
Posted by: Steven Den Beste at October 07, 2009 11:53 PM (+rSRq)
Comments are disabled. Post is locked.
21kb generated in CPU 0.03, elapsed 0.1207 seconds.
53 queries taking 0.0997 seconds, 219 records returned.
Powered by Minx 1.1.6c-pink.