October 31, 2020
Random Anime Pictures #149: A Witch On Halloween
Every now and again you trip over a show that you had no expectations for... indeed, may not have even planned on watching... and discover you've got a gem on your hands. For me,
Maho no Tabitabi,
or "The Traveling Witch" in English translations, is one of those shows. As you can guess from the title, it's a story about Elaina, a newly-minted witch, and her travels around a world where magic is a thing, witches are respected, and life is interesting.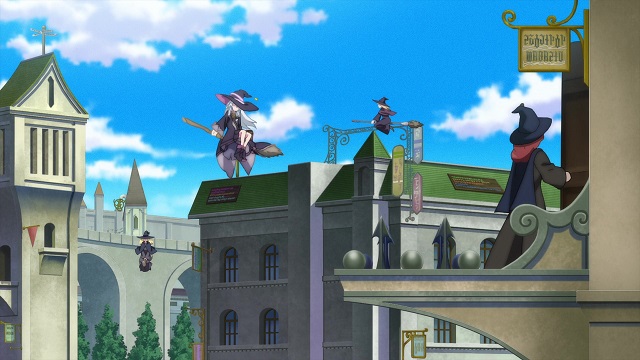 At this point you'd be excused if you thought "Oh, it's another one of Wonderduck's pleasant and nice slice-of-life shows, like
Yuru Camp
or
ARIA
or
Flying Witch
," and in a way you'd be right. It is a slice-of-life, and it is a pleasant and nice show. But it's got a little more behind it than just fluffy-happy-warm-and-fuzzy.
Topics this fluffy show has touched upon thus far include man-eating plants (and not the funny ones), suicide, slavery, regicide, and snobbery. Oh, and a dragon gets flat-out curbstomped. Taken as a whole, it's a relaxed series, but it's definitely not without its edgy side. It's that taste of darkness that makes it stand out from your standard laid-back fare.
Which is great, because when you combine all that with frankly beautiful animation, you get a really winning package indeed. All of which can be undone if you have a terrible main character of course. Fortunately Elaina is no perfect girl in whose mouth butter would not melt.. She's immensely talented... "the youngest to pass the magic tests, when she was 14"... and knows it. She's beautiful, and knows it. She's prideful, she's got a temper, and the ability to dispense violence is absolutely present.
She hasn't done it yet... maybe she won't ever do so in the series... but in the screenshot above she holds herself back only by the slimmest of margins. But while she's remarkably talented, she's also shown to be a hard worker, who doesn't just assume her talent is enough. There is effort to improve
everywhere
in the show thus far, even if it's just in interpersonal relations. But it's those little character flaws that have kept her interesting, and me coming back for more.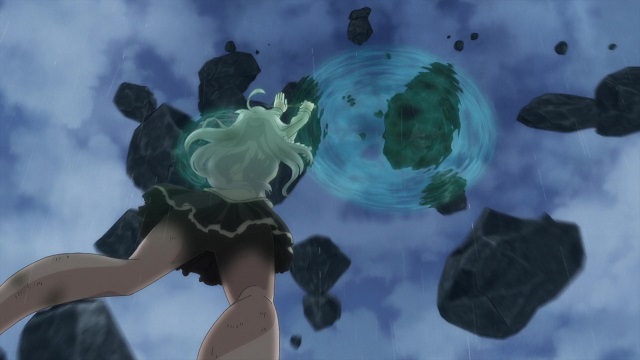 There is no traditional fanservice in the series. I mean, none. The author of the light novel series the show is based on made it perfectly clear that
he wanted nothing of the sort to appear
and the production team took that to heart. The above scene is the closest we've come thus far, and there's an appropriate shadow. I think this decision was a good one, honestly. The show doesn't really need it, any more than
Yuru Camp
or
ARIA
did. Is it as good as those series? Not yet, but there's still seven episodes to come. Not every show has to be a 10/10, and this one is better than most. That's good enough for me to recommend it.
And, y'know... happy halloween and all that jazz.
Posted by: Wonderduck at 02:28 PM | Comments (2) | Add Comment
Post contains 511 words, total size 4 kb.
1
It's a lovely show, for certain. That first episode is structured specifically to mess with your expectations a bit, in a better way than something like Talentless Nana did (ugh,
that
show, nope!). The deal between the parents and the witch is... a heck of a thing to do to a kid, but you kind of see the how & why of it, and I don't think I've seen anything quite like that in a show setup before.
Posted by: GreyDuck at November 01, 2020 08:06 AM (rKFiU)
2
Yup! It's on my list as the best of the season.
Posted by: Mauser at November 03, 2020 10:46 PM (Ix1l6)
28kb generated in CPU 0.0177, elapsed 0.3969 seconds.
49 queries taking 0.3883 seconds, 280 records returned.
Powered by Minx 1.1.6c-pink.