February 13, 2018
Random Anime Pictures #145: Stadium
-Kizumonogatari III
movie
I'm not much of a fan of the
Monogatari
series. Oh, I watched the first one, sure, but now that there's... what? Two dozen of them? I lost track of what was next in the order and didn't enjoy the first one enough to bother. After that, I didn't much care. Until the
Kizumonogatari
series of films which I watched recently, and therein lies a tale.
As you may or may not be aware of, I have a job that requires mental distraction lest I go completely insane. I started out listening to music, graduated to a weekly podcast or two, and then matriculated to audio books (which my mind
still
calls "books on tape"). Recently, I've begun listening to endurance races via
Radio LeMans and their archived broadcasts
. A 24 hour race lasts me a good three or four days, depending on how hard I hit it... but I digress. Back to
books on tape
audio books. At one point, I wondered if any of the
Haruhi Suzumiya
light novels were available on Audible, so I went a-searchin'.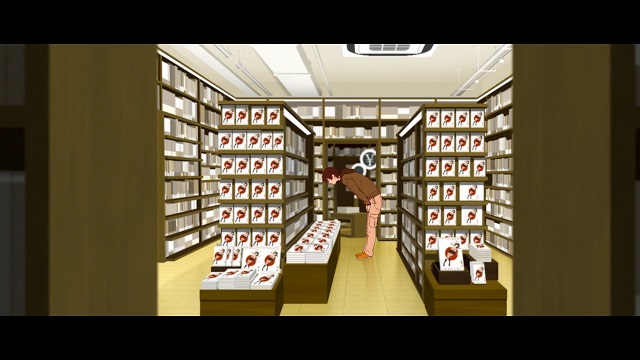 While the answer was "nope", I did find something vaguely interesting... there was an audio version of the chronologically first, but released... what, 254th?... book of NisiOisiN's
Monogatari
series, entitled
Kizumonogatari
. Now, I would not call myself a fan of this franchise... I watched most of the first season, realized I was spending more time reading the show than watching it, and just sort of... let it peter away. I basically watched it until I didn't anymore. Eh, it happens. However, I was incredibly bored so I picked up the audio book. It's only nine or 10 hours long, so it took me two days to listen to it. Decent enough, read and performed by three voice actors that I'm pretty sure worked on the English dub of one or another of the silver platter releases.
When I remembered that there was a movie release of
Kizu
, I tracked it down, discovered it was in three parts and nearly four hours in length, and settled in to watch it. And... I dunno how I feel about the thing. It's awful durn purty at times, like most of the SHAFT adaptations of the franchise, but it's also... um... well... it made me feel kinda greasy.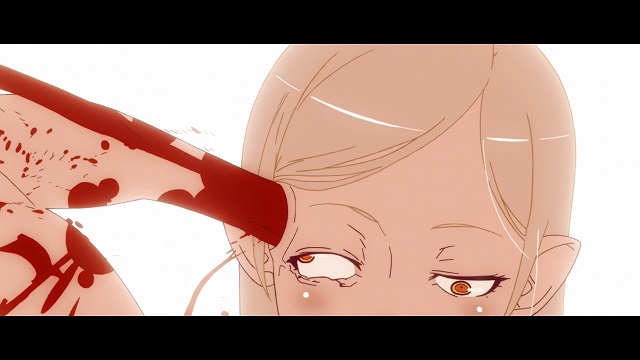 It's bloody, it comes close to hentai, violence is common, and in-between all that are characters that are, essentially, unlikable. Having said all that, or perhaps more because of it, the thing is actually rather brilliant more times than not. But I couldn't shake the feeling that it's one of those things you like because you're supposed to like it because that's what people say you're supposed to do.
So what does all this mean in the end? Well, I won't be recommending it to anybody that isn't already a fan of the
Monogatari
franchise, that's for darn sure. It's an art film, really, with all that moniker entails and suggests. But as I've written this post, I've actually rewatched the whole thing twice and not just because I was choosing screenshots. It just kept me watching.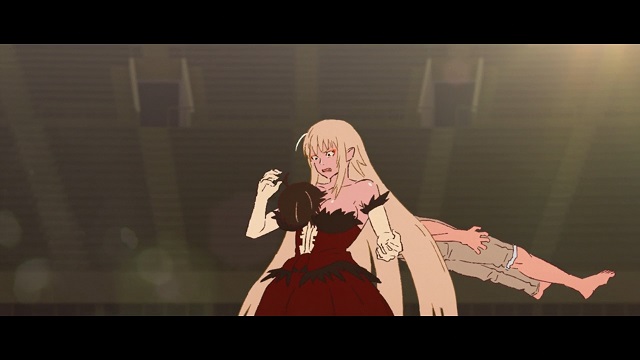 Take that for what it's worth.
Posted by: Wonderduck at 07:56 PM | Comments (7) | Add Comment
Post contains 534 words, total size 4 kb.
1
"reading more than watching..."

Nailed it. It's great stuff, if you take the time to follow it...but if you can't really follow Japanese and have to dig and dig to understand the wordplay and the mile-a-second references, you just get tired.
And there's the size of the media universe now. I'm pretty sure the latest series was Gogogadgetmonogatori.
Posted by: Ben at February 13, 2018 08:18 PM (h8yX6)
2
Okay, WHEW, I'm glad I'm not the only one who went from "this is brilliant" to "this is... getting out of hand" to "this... can wait for another day" to "this is no longer my jam."
Everyone "with taste" is supposed to love this franchise and I just couldn't bring myself to keep going, for many of the reasons you covered. Ah well. We're just more wired for fluffy feel-good stuff like that camping show or whatever. (Also, they're not releasing Food Cook/Show episodes nearly fast enough.)
Posted by: GreyDuck at February 13, 2018 10:07 PM (h8yX6)
3
The Monogatari series have always struck me as a much nicer concept than execution. Just trying to read the Wikipedia article about it was enough to cause my head to spin.
I went to Audible to take a look and see that Cristina Valenzuela (AKA Cristina Vee.) does provide voice-work for it. It is nice to see a fan gone professional (Anyone who use to read the Anime on DVD forums might remember her from when she was the member who was doing covers of anime songs.).
And then I stumbled onto the Legend of Galactic Heroes audiobook (Which I had known about.), which led to the audiobook for Crusade by David Weber and Steven White (Which was a complete surprise.). Wonder what else I will find?
Posted by: cxt217 at February 13, 2018 11:51 PM (h8yX6)
4
CXT, I recommend the audio version of
The Moon is a Harsh Mistress
. Apart from being an outstanding novel, one of Heinlein's best, the performer is
excellent
.
In fact, he even managed to clear up one line that I never understood... late in the book, Our Hero is being harangued by a waste of space on the ruling council of Free Luna. Some minor insults are hurled back and forth, and then Our Hero, Manuel Garcia O'Kelly-Davis, says "Yammer... Prof, get this idiot off my back!" or something like that.
I never understood what that "Yammer..." was doing there. It made no sense... until the audiobook made it obvious. Earlier, I mentioned the minor insults... Our Hero was calling the Waste of Space a "yammerhead." When asked to refrain from saying that, he does.... but only by stopping himself in mid-word. "Yammer..." was just him saying "Yammerhead" and remembering that he's not supposed to do that.
It's good. You'll like it.
Posted by: Wonderduck at February 14, 2018 02:19 AM (h8yX6)
5
Monogatari is a pretty generic name for a novel or series, I wonder why it didn't acquire something more distinctive. On the other hand, I suspect quite a few people would have associated Tom Cruise with Ridley Scott's
Legend
.
Posted by: Katle at February 15, 2018 12:16 AM (h8yX6)
6
My approach was to watch an episode and refuse to pause it. Then I could go back a second time and read all the cards. Getting interrupted the first time through ruins the flow.
That said, I sure wish I could find the original movie, where the protagonist first meets the vampire, because I have this stupid urge to watch things in order, and they pile up if I can't.
Posted by: Mauser at February 15, 2018 07:42 PM (h8yX6)
7
I wonder why it didn't acquire something more distinctive.
Well, the first two series were more distinctive, in that they were portmanteaus. And they would have worked as portmanteaus in an English translation as well, except they didn't translate the titles for release here.
Bakemonogatari is "bakemono" plus "monogatari", sharing the "mono" kanji between the words. So "Monster Story", written as something like "MonStory".
Nisemonogatari was the same; "Imposter Story" written as something like "ImpoStory".
After that, not so much, but the series name was set by then, so it just started looking like chutzpah. "Yes, this is The Story". Kind of like when Prince decided he should be called "The Artist".
Posted by: mikeski at February 15, 2018 11:28 PM (h8yX6)
31kb generated in CPU 0.26, elapsed 0.3781 seconds.
49 queries taking 0.319 seconds, 249 records returned.
Powered by Minx 1.1.6c-pink.