January 07, 2018
Random Anime Pictures #144: Camping Witch
Let me ask you a question: does the idea of spending 10 minutes watching a girl dressed like your grandmother demonstrate the correct way to assemble a camp site, complete with a simply
adorable
talking pine cone, sound like something you'd go out of your way to see? Then, my friend, have I got a show for you! It's called
Yuru Camp
, and most of the first half of Ep01 was exactly what I just described. And it was
wonderful
.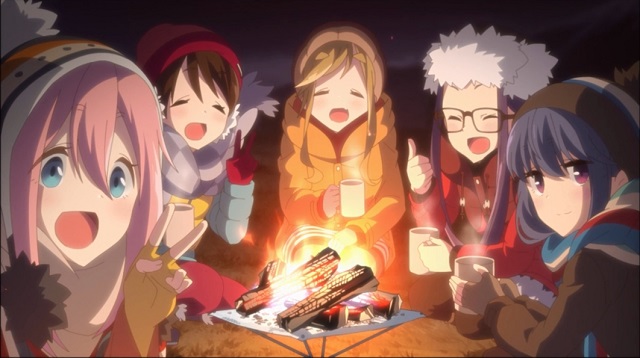 This shot is from the OP. We've only officially met the girls on the ends, Pinky and The Quiet One. The other three are apparently the members of the Outdoor Living Club (or whatever they call it) that appeared only briefly. It's quite easy to see that Pinky will be the linchpin of the entire show. This may not be a good thing.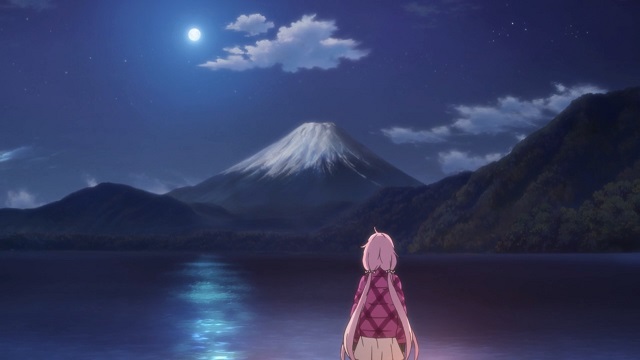 She's loud, dumb as a box of hair, has probably never been camping before, and it's clear she'll be the viewer insert. If she stays loud and dumb as a box of hair, this is going to suck. This has the opportunity to be this year's version of
Flying Witch
, all contemplative and comfy as hell, but if Pinky doesn't snap to, the whole thing is doomed.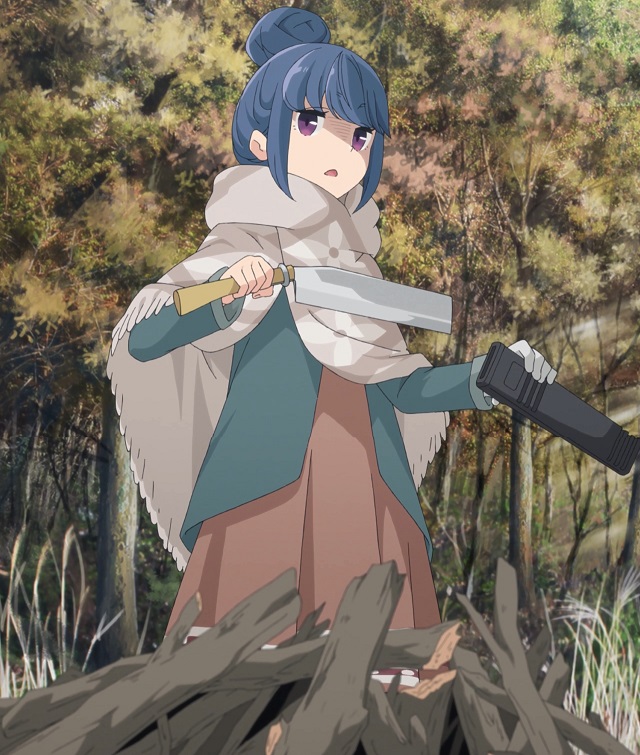 ...and then the axe/saw/shaving tool will come out, and it'll become a whole different sort of show.
Posted by: Wonderduck at 11:59 PM | Comments (7) | Add Comment
Post contains 236 words, total size 2 kb.
1
Although watching Pinky slurp cup ramen
in time to the background music
, which has a lovely Scottish highlands feel, was amazing. And that shot of moonlit Fuji-san...
Maybe this series has peaked already. But I hope it can continue with at least half of what ep. 1 had to show.
Posted by: Ben at January 07, 2018 09:04 AM (h8yX6)
2
I think I'll await later judgement before picking this one up.
Hopefully there's more than just CCS to keep me interested this year, but. *shrug*
Posted by: GreyDuck at January 07, 2018 02:13 PM (h8yX6)
3
This looks fantastic. I found the soundtrack evocative of Aria... and even heard an "are, are!" at one point.
Very high hopes.
Posted by: Clayton Barnett at January 07, 2018 02:13 PM (h8yX6)
4
The very beginning of the OP... The Jackson Five called. They want "ABC" returned to the garage after the camping trip.
Posted by: Suburbanbanshee at January 10, 2018 08:32 AM (h8yX6)
5
I liked the show. Very realistic about winter camping!
Wallyworld has self-inflating sleeping bag pads for something like twenty bucks. Warmer, easy to pack, and generally a great invention. But you still need a groundcloth if you don't want to be damp!
That was the one thing I did not believe about camping by a lake. It was not damp enough.
Posted by: Suburbanbanshee at January 10, 2018 11:40 AM (mX3O4)
6
Grandma did put down a base of some sort before she put up the tent, and let me tell you something... it's been a long time since I last went tent camping, and the way that tent went up in the show was like black magic to me. But there was a base... maybe that counts as the groundcloth?
But I'll betcha there was a good layer of dew/moisture over everything in the morning!
Posted by: Wonderduck at January 11, 2018 01:24 AM (h8yX6)
7
Yes, a lot of tents now have a floor that is sorta layered inside, or they are doing weird polymer magic. And even I can put up tents these days, as long as it isn't too tall to handle.
Technology like that is awesome.
Posted by: Suburbanbanshee at January 12, 2018 03:34 PM (h8yX6)
27kb generated in CPU 0.03, elapsed 0.1808 seconds.
49 queries taking 0.1581 seconds, 250 records returned.
Powered by Minx 1.1.6c-pink.