November 19, 2017
Random Anime Pictures #140: I Did NOT Expect That
As I've gotten more interested in the past months about anime-based figures, I've seen a bunch based on characters from something called "To Love-Ru." They've mostly been very good-looking, and there's a series of figures that are probably the best-looking I've ever seen... ridiculously expensive, waaaaaay out of my price range, but the best-looking. But I knew nothing about the series except that one pink-haired character wears a weird hat. So with so little to look at this season, I decided to give it a shot.
-To Love-Ru Darkness
, Ep01
Never mind the zombies being attacked by giant plants. A careful eye will notice that the pink-haired schoolgirl is... um... crouched in an interesting location. This is not by accident.
TLRD
is perhaps the single-most ecchi anime I've ever seen that isn't flat-out hentai. And it was broadcast! "But Wonderduck," I hear you say and really, are you using whitening strips, your teeth look great, "if that picture is representative, it isn't
that
over-the-top, right?"
No. It's even more than that. Remember the
High School of the Dead OVA
? That was nothing in comparison to this show. Now, nothing I've shown you here is out-of-the-ordinary... or even particularly worth commenting on. That's because I don't dare put the NSFW stuff on the front page. I warn you again: if you click "more", you're going into NSFW-land.
Last warning: beyond here is NSFW.
In case you change your mind, here's a picture of a rubber duck before the NSFW stuff begins.
.
.
.
...and here's a picture of two more rubber duckies: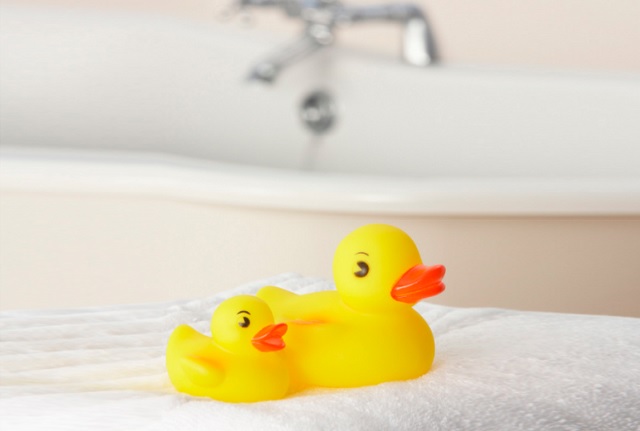 .
.
.
.
.
.
Right. Here we go.
Nudity happens every episode and is anatomically correct, at least above the waist... and only the smallest of figleafing usually keeps it from being full-frontal. There are more pantyshots than
Najica Blitz Tactics
for heaven's sake.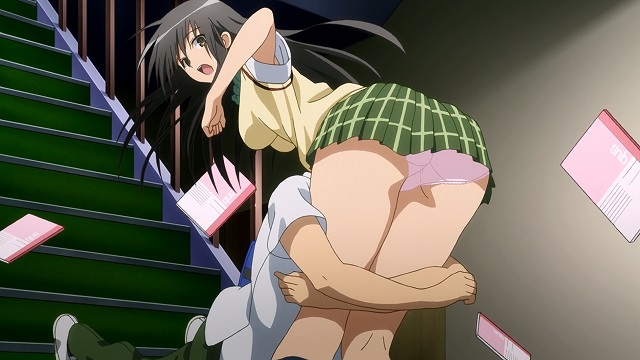 And there's been at least one bath scene in each episode thus far, but steam does NOT block the view as it often does. Seriously guys, this show is far over the top for a BROADCAST SERIES. Know what? It's been a fun couple of episodes, too. I wouldn't recommend it to anybody, just because of the fanservice, but I've enjoyed what I've seen so far.
So to speak.
Now for the bad news... it's a harem comedy, and the main character is the usual "freak-out-at-any-female-attention" type. Unfortunately, the entire female cast is in love with the guy so there's a lot of attention given. This may be a deal-breaker down the line if he doesn't snap to. Also, I can't help but see Fate from
Nanoha
whenever "Golden Darkness" (the blonde) is on-screen. That she's actually an alien assassin doesn't help much.
So the show is a trifle to be sure, but... well, who needs True Broadcasting Excellence all the time?
Posted by: Wonderduck at 11:31 PM | Comments (6) | Add Comment
Post contains 479 words, total size 4 kb.
1
I vaguely recall watching the first
To Love-Ru
series. Harem fluff, wasn't the worst thing I watched back then, nor was it the best.
I'm guessing you've got shiny-platter rips there, since (IIRC) the version that hit CR was heavily light-beamed.
Posted by: GreyDuck at November 20, 2017 06:18 PM (rKFiU)
2
Everything I've read suggests that, when originally broadcast in Japan, it was totally uncensored. What CR did with it after, I cannot say.
I mean, there was a whole legal fooferraw about it apparently. Tokyo had just passed a "decency and morals" thingy, and went after TLRD. It eventually wound up in court, with a judge saying "yes, there's nipples. No, it doesn't violate the decency and morals thingy."
I'm paraphrasing.
So they were clear to do whatever with the anime. And they clearly did.
Posted by: Wonderduck at November 20, 2017 08:39 PM (EVb8m)
3
To Love Ru Darkness is the sequel to the first series, that ran two seasons IIRC. And the hero is a total zero in the show. Aside from him, it's Urusei Yatsura with the serial numbers filed off, and all the quality sandblasted away.
Posted by: Mauser at November 20, 2017 08:40 PM (Ix1l6)
4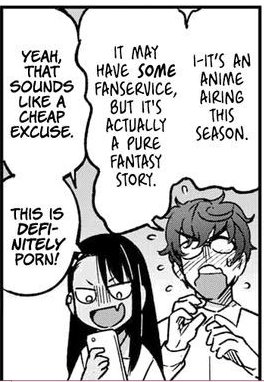 Posted by: Pixy Misa at November 22, 2017 12:06 AM (2yngH)
5
Wonderduck, IIRC, the satellite version of the show was less censored than the broadcast version, so depending on which raws a group used while it was airing, you saw nipples or censorbeams. And of course they all went back and used the less-censored version when the discs came out.
-j
Posted by: J Greely at November 23, 2017 06:52 PM (tgyIO)
6
Way late to this party. Rito (the doofus male) has a cosmic-level power to land in a compromising position with cute females, no matter how unlikely. Even the Deviluke girls' mother (the queen - she finds it hilarious. Al Franken, your publicist is calling....). No, seriously, it's a power. He actually has to suppress it once in order to deliberately molest Darkness (the blonde assassin's boss) in the manga.
Posted by: ubu at December 13, 2017 10:46 AM (SlLGE)
30kb generated in CPU 0.08, elapsed 0.3063 seconds.
49 queries taking 0.2608 seconds, 271 records returned.
Powered by Minx 1.1.6c-pink.