July 12, 2008
Random Anime Picture #23: World Destruction!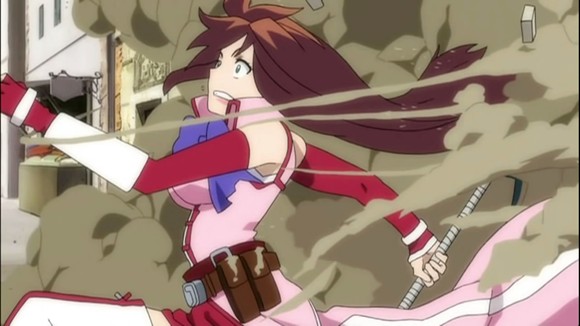 -
World Destruction
, ep01
Okay, so lets look at this. We've got a show where the main character is a hawt swordsbabe with the apparent ability to literally destroy the world, and she's not afraid to threaten to use it. The powers that be are trying to stop her, hijinks occur.
All right, not a bad setup, why wouldn't anybody enjoy that?
That's why. Dear god, why hast thou forsaken me? It's a piratical teddybear named, and I'm not making this up, Kuma.
Why else wouldn't people like it?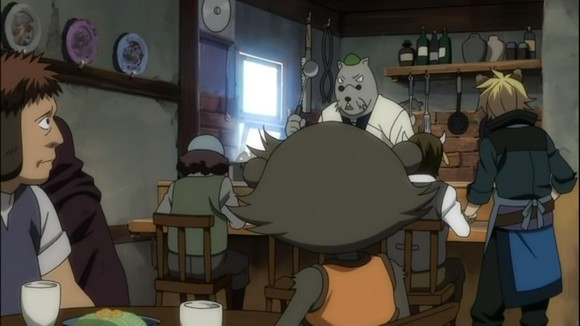 Furries. Oh sure, the translator calls them "Otherkin", but we all know they're really furries. You don't even want to see the military rulers of the region. But I'm gonna show 'em to you anyway, because I'm in a foul mood.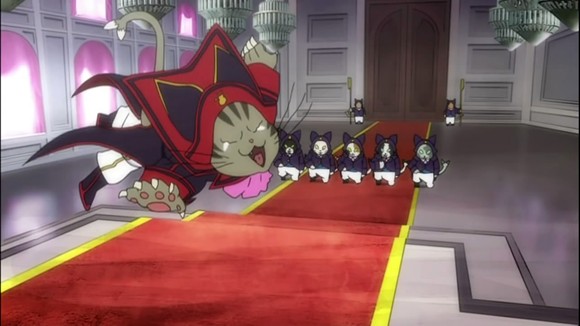 Yep.
I'm just going to nip off and shoot myself now.
(for the record: I actually really liked ep01 of World Destruction!, but there are a few rough patches to be ironed out. Unfortunately, it doesn't look like they intend to do so, since Kuma is a major character. Well, we'll see how it goes...)
Posted by: Wonderduck at 10:56 PM | Comments (6) | Add Comment
Post contains 191 words, total size 2 kb.
1
Dude, "otherkin" is a big honking warning sign in five-thousand-point-type, in flashing neon orange and blue: not just furry, but fanatical delusional lunatic furry. "Otherkin" is full-on fur-suit facial-tattoo nutbar-talk.
OK, unless we're talking about the people who think they're
elves
. I knew a guy who used to say this sort of thing. He insisted we call him "the Elf" instead of his given name. He got banned from Penn State's University Park campus for stalking the football front office people. He supposedly once held a roommate by one foot off of an apartment balcony. There was a story going around that he once held some girls hostage at gun-point. This guy used to visit my <i>apartment</i>.
Otherkin is seriously
bad news
.
Posted by: Mitch H. at July 14, 2008 11:18 AM (jwKxK)
2
Well, by all appearances, they're mostly the bad guys in
World Destruction!
, so take that for what it's worth. Humans appear to be the minority race in the show, too.
Of course, that's just what it looks like after one episode. For all I know, the furries are actually nice and friendly folk, and the humans are plotting to drop them into a giant blender and have furry smoothies for breakfast.
But I doubt it.
Posted by: Wonderduck at July 14, 2008 05:14 PM (AW3EJ)
3
Otherkin are a subculture of people, primarily Internet-based, who identify in some way as other than human.
Is it OK for me to pretend I'm a saiyajin?
Posted by: Steven Den Beste at July 14, 2008 05:53 PM (+rSRq)
4
Heck, I pretend I'm a human, so why not?
Posted by: Wonderduck at July 14, 2008 08:53 PM (AW3EJ)
5
<i>Is it OK for me to pretend I'm a saiyajin?</i>
You're not a saiyajin?!?
Posted by: Ed at July 16, 2008 02:02 AM (dFCdt)
6
Well, we're not really supposed to admit it, you know.
Posted by: Steven Den Beste at July 16, 2008 01:24 PM (+rSRq)
Comments are disabled. Post is locked.
25kb generated in CPU 0.0168, elapsed 0.1597 seconds.
47 queries taking 0.1496 seconds, 282 records returned.
Powered by Minx 1.1.6c-pink.