March 25, 2008
Random Anime Picture #15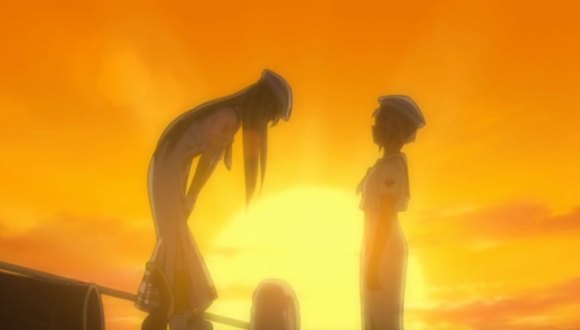 -

ARIA the Origination
, ep09
Possibly one of the finest anime episodes I've ever seen. I went back and watched it again, as I'm feeling a little glum tonight. The first time I watched it, I had no idea what was coming, so it was as much a surprise to me as it was to Alice. This time, however, I knew what was about to happen... and I
still
got a goofy grin on my face.
That's good storytelling.
I find that I really don't want
ARIA
to end. After 49 episodes (to date) and one OVA, you'd think that the show would start to feel like it was dragging on, but it has stayed fresh for me. Even
Kanon
didn't give me that feeling... when it ended, it was time for it to end.
In fact, only one other series has evoked the "don't be over yet!" feeling from me:
Azumanga Daioh
, my favorite show of all time.
I believe that, with episode 09,
ARIA
has joined
Azumanga
and
Kanon
as My Favorites. Nobody is more surprised than me.
Posted by: Wonderduck at 11:45 PM | Comments (8) | Add Comment
Post contains 183 words, total size 1 kb.
1
I wouldn't mind if ARIA became the Everlasting Gobstopper of anime. If shows like Doraemon could do it, why not the continuing adventures of Akari and co?
Posted by: TheBigN at March 26, 2008 01:43 PM (CYfIP)
2
I am sure that you appreciated the duck in the hot spring under the ruined mansion episode (Aria the Animation 10). No strategic steam, but alas, too many large towels.
Posted by: conrad at March 26, 2008 08:57 PM (MDfbw)
Posted by: Wonderduck at March 26, 2008 09:53 PM (DcSb+)
4
Wow, that's weird. The link above is supposed to take you to the December 11th, 2007 entry ("The Long-Anticipated Return of Ducks in Anime"), but instead you just get the "Ducks In Anime" category.
And I have no idea why...
Posted by: Wonderduck at March 26, 2008 09:59 PM (AW3EJ)
5
Clicking on pretty much anything in the
Ducks in Anime
category (with the exception of the most recent entry) brings up the full category. I'll hazard a guess that it has something to do with the category being created before the switch to Minx.
Do permalinks work in any of your other categories?
Posted by: Will at March 26, 2008 11:02 PM (ZhN+Z)
6
You know what it is? When you use the category list to find the post you're looking for, Minx (rightly or wrongly, I'm not sure) inserts the category path into the middle of the URL for all the permalinks on that page. That causes Minx to bring up the whole category regardless of the post.
I browsed down the mainpage to the post in question, clicked the permalink, and it worked just fine.
Posted by: Will at March 26, 2008 11:10 PM (ZhN+Z)
7
Will, you seem to be right. I checked a few permalinks, and all of 'em in "old" categories (such as Anime and F1 Updates) work fine, but in the newer categories (like F1 Pr0n and 12 Ducks of Xmas) the links go to the category entry.
Of course, I doubled the number of categories a few months ago... *sigh*
Posted by: Wonderduck at March 26, 2008 11:32 PM (AW3EJ)
8
There's a bug in the category assignment thingy, that causes items to show up in category lists but not show up when you go the the permalink inside a category. (More specifically, there are two ways to assign categories; both should work, but one doesn't, quite.)
It's fixed in 1.2 (due out mid-April), but I'll also need to run a script to fix the existing errors.
Posted by: Pixy Misa at March 27, 2008 06:05 AM (PiXy!)
Comments are disabled. Post is locked.
25kb generated in CPU 0.06, elapsed 0.1207 seconds.
53 queries taking 0.0968 seconds, 277 records returned.
Powered by Minx 1.1.6c-pink.