August 06, 2017
On The 'L'
So a few nights ago I get a steam message from friend Ben from the mysteriously named
Midnite Tease
, who really needs to blog some more. "I'm working on a modeling project," the aforementioned Ben says, "do you know anything interesting about Chicago's El?" After sending him a few links that I knew of, I did a little bit of digging myself... just for the 'L' of it.
Yes, I'm sorry. And yes, 'L' is the correct abbreviation, including the little quote marks. Leastwise, that's how the CTA does it, and if anybody knows, it's them. Anyway, since "anything interesting" covers a lot of ground, here's some cool pictures I've found along the way.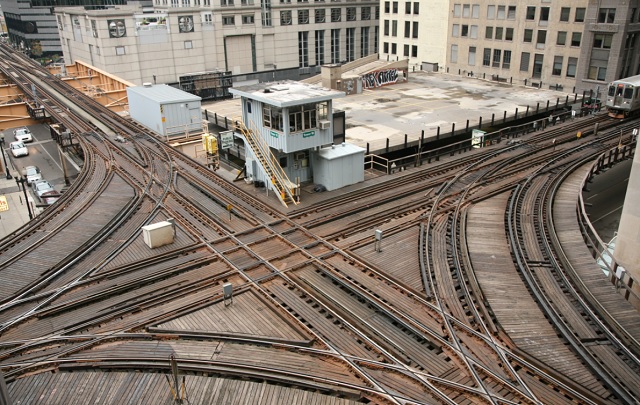 Down in the Loop, Tower 18 is the control point for the confluence of five different routes, or "lines" as they're called in Chicago: the North-South running Brown and Purple lines, the East-West Pink and Green, and the Orange line, which runs to Midway Airport. Railroad diamonds scare me... they seem like magic. Solid tracks crossing each other without the trains derailing? I don't see it.
1908, and what would eventually be called the 'L' has been in use in one form or another for nearly 20 years. Mostly it was ground-level rail then, and it pretty much didn't go downtown at all due to obtuse trackage rights problems, but once those got figured out (i.e., enough bribes were passed around) some bright spark had the idea to not clog the streets. So they called out the heavy machinery, which I really hope was called "The Spider", because c'mon look at it, and began building. Chicago can really build things, y'know that?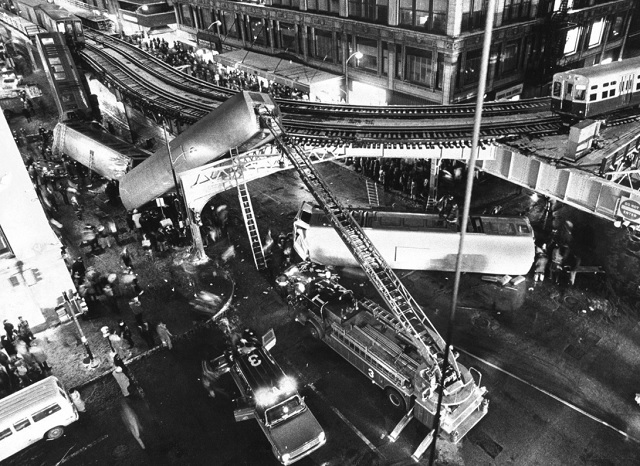 February 4th, 1977. Due to a routing problem and an engineer smoking weed on the job, one 'L' train bumped into the back of another at low speed. The engineer, sitting at the other end of the train, continued to apply power until, inevitably, some of the cars jackknifed and derailed. One of the special problems you get with elevated tracks is that when you get a derailment, it's generally a Very Bad Thing. Two cars ended up on the ground, a third stopped only by a support, and a fourth (in the upper left-hand corner) dangling from the station at Randolph and Washington. Two died, something like 177 were injured. I vaguely remember this happening, as Momzerduck and I had only just moved from the Chicago area to Duckford. It scared me as a young waterfowl... "trains that I rode on crashed! It could have been me!" I was a simple duck back then. A different angle of the aftermath
can be found here
.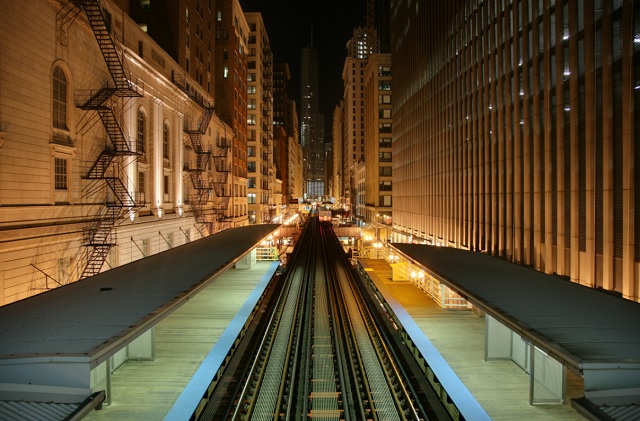 Sometimes utilitarian objects can be beautiful with the right lighting. Adams and Wabash Station, butting right up against buildings on either side, looking north to one of Chicago's ubiquitous skyscrapers. I'm sure it's ugly most of the time, but the photographer got it right here.
That's it. Nothing special, just some cool photos. Carry on.
Posted by: Wonderduck at 10:50 PM | Comments (6) | Add Comment
Post contains 513 words, total size 4 kb.
Posted by: Ben at August 06, 2017 10:54 PM (B1bvu)
Posted by: Pixy Misa at August 07, 2017 04:47 AM (2yngH)
Posted by: GreyDuck at August 07, 2017 07:43 AM (rKFiU)
Posted by: Mrs. Will at August 07, 2017 08:10 AM (UFwiA)
Posted by: Karl Drexler at August 07, 2017 07:21 PM (f2hU9)
Posted by: Wonderduck at August 07, 2017 08:31 PM (0VN87)
29kb generated in CPU 0.04, elapsed 0.1139 seconds.
55 queries taking 0.0918 seconds, 277 records returned.
Powered by Minx 1.1.6c-pink.