October 04, 2017
Of Two Minds
It was announced earlier today
that ESPN has won the rights to carry Formula 1 races here in the US, beginning in 2018. And by "won", I mean "they were probably the only bidders."
That's not snark. The powers that be at NBCSN came out and said "we chose not to enter into a new agreement in which the rights holders itself competes with us and our distribution partners." This is widely assumed to mean that Liberty Media / FOM will be launching a worldwide streaming service next year.
It looks like ESPN will be using the World Feed announcers, instead of bringing in the Legendary Announce Team to provide commentary. I am...
displeased
... by this development.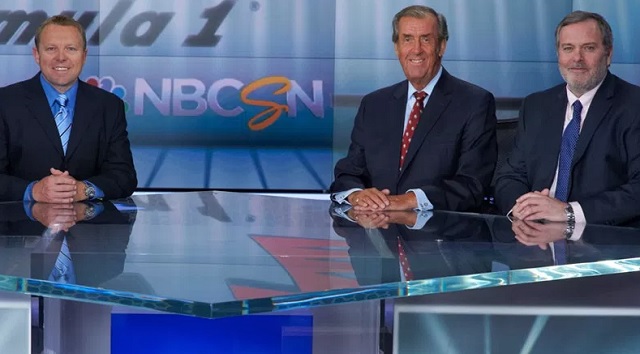 While I'm still not overly fond of Leigh Diffey (L), preferring instead the dulcet tones of The Varsha, losing David Hobbs (C) and Steve Matchett (R) will
hurt
. For me, they are the voice of Formula 1. They've been there for almost every race of my F1 fandom (save for
a painful few races that were shown on CBS
... "they're CRASHING over the curbs" will haunt me forever), and I will miss them if they're gone.
On the other hand, it just became a LOT easier for people to watch Formula 1 in the US. Most of the races will be on ESPN2, three will be on ESPN proper, and two will be first-run on ABC (Monaco will be shown live on ESPN, then tape-delayed on ABC as well). More visibility is better than less in my book.
Stay tuned, friends. A new world is coming to our fandom.
Posted by: Wonderduck at 08:59 PM | Comments (3) | Add Comment
Post contains 269 words, total size 2 kb.
1
And yet, considering I can't watch ESPN, and will therefore have to make a secondary market decision; somehow I will continue to find a way to watch the Sky Sports HD coverage (now that I even know what that is).
Posted by: Ben at October 04, 2017 09:21 PM (ee6LA)
2
Yeah, I refuse to watch ESPN, so I'm hoping there will be streaming and it won't be exclusive (if an Ags game is on ESPN, there is no other legal way to watch it - it will be blocked out on every service. I'm missing the Bama game this weekend because of this, although that may be a blessing in disguise considering our QB is very green).
Posted by: Mrs. Will at October 05, 2017 05:27 AM (JPRju)
3
I'm interested to see what Liberty Media does with their streaming service. I hope it's good, and I hope it's reasonably priced. Knowing F1 it'll probably be stupidly expensive. But if it's priced competitively to WRC+ (which is 50 euros for 13 events per year... so let's say $80 for a 21-race F1 season), then it might be worth it to me. ESPN can bite me.
Posted by: flatdarkmars at October 05, 2017 04:38 PM (bJ1ay)
26kb generated in CPU 0.5, elapsed 0.7272 seconds.
49 queries taking 0.5761 seconds, 270 records returned.
Powered by Minx 1.1.6c-pink.