October 10, 2013
Nori Is Improved
So the only problem I had with my new computer, Nori, was that the keyboard that came with her was absolutely terrible. Oh, don't get me wrong, it worked fine, and the wirelessness of it was a pleasant experience... but it was a chicklet. That is, the keyboard is of chicklet-style, little square keys, like a laptop's keyboard except slightly less pleasurable to use. You're expecting something comfortable to type upon when you have a desktop computer, after all. However, all my keyboards still had PS/2 connectors, and Nori only had USB... so I had to use the terribad keyboard for a while.
Until today.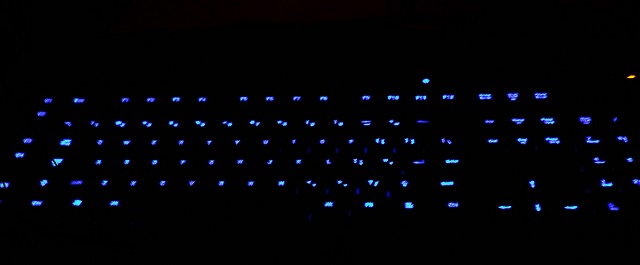 Not only is it a full size, full key keyboard with keys that actually CLICK! when you press down on them, but the
Logitech G105
has LED backlighting as well! It's lovely, particularly when you look at it through the viewfinder of my camera and it looks like the LEDs look like they're pulsing right-to-left due to what I assume is a weird frequency thingy between the LEDs and my camera.
I happily packed away the wireless keyboard and laughed when it gave a quiet *beep* when it was taken out of range of the computer. I'm a cruel duck.
Posted by: Wonderduck at 08:18 PM | Comments (7) | Add Comment
Post contains 208 words, total size 1 kb.
Posted by: Max at October 10, 2013 08:45 PM (9p6/L)
Posted by: Wonderduck at October 10, 2013 09:32 PM (GE6XS)
Posted by: Mauser at October 11, 2013 02:31 AM (TJ7ih)
Posted by: Greyduck at October 11, 2013 04:12 AM (X7PrW)
Posted by: Ed Hering at October 11, 2013 02:13 PM (aEOAA)
Posted by: Kayle at October 11, 2013 10:25 PM (g0P/T)
Posted by: RickC at October 12, 2013 01:46 PM (swpgw)
Comments are disabled. Post is locked.
25kb generated in CPU 0.02, elapsed 0.1028 seconds.
53 queries taking 0.084 seconds, 282 records returned.
Powered by Minx 1.1.6c-pink.