December 07, 2013
Mystery Ship XXVI: Not Much Of A Mystery
No prize for this one, not today (it's not much of a mystery, after all)... but here's the Mystery Ship for y'all!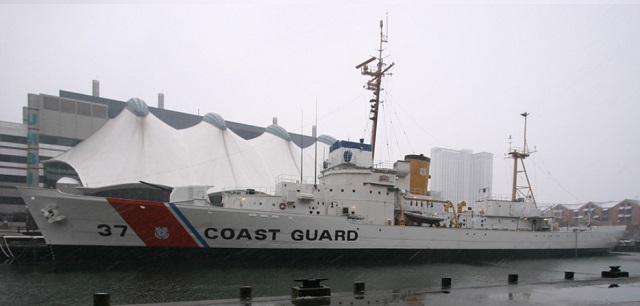 Brickmuppet, this one's for you. Why am I showing this Coastie as a mystery ship? What's so important?
Remember folks, no cheating!
Posted by: Wonderduck at 07:41 PM | Comments (8) | Add Comment
Post contains 52 words, total size 1 kb.
1
WD, I think you should do a mystery-ship feature on
/r/warshipporn.
Oh, and given the date I suspect this is that cutter which participated in That Fateful Battle©.
Posted by: dziban303 at December 07, 2013 07:52 PM (wwAQ5)
2
dz, I've used most of my past mystery ships over there already, but if you want me to make it a weekly special, I can!
Posted by: Wonderduck at December 07, 2013 07:54 PM (Izt1u)
3
USCGC Taney was one of the 327 foot high endurance cutters which were built in the 1930s. They were also known as the "Treasury" or "Secretary class" because they were named for Secretaries of the Treasury (the Coast Guard was part of the Treasury Dept until the late 1960s). These cutters were strengthened and otherwise modivied versions of the USN's Erie class gunboats, which were themselves built to cruiser standards of hull strength. The design was modified to take a Grumman "Duck" seaplane and was ice strengthened. The ships were also fitted for ASW as the Coast Guard was expected to assist with convoy escort in the event of a war.
For the US, the war did not begin until the first Sunday in December 1941. On that day the USCGC Taney, was present across from 'Battleship Row'. Like many other US vessels that day, Taney fought back aganst the surprise attack, and being fitted with salvage and rescue equipment assisted other ships that had been stricken and personnel in the water. Taney is unique in one respect though, after a long war in three oceans and four subsequent decades of service saving lives and fighting in twomore wars, the Coast Guard Cutter Taney is today the only vessel still afloat that was present during the Attack on Pearl Harbor, December 7, 1941.
She can bee seen today as a museum ship at Inner Harbor, Baltimore Maryland.
Posted by: The Brickmuppet at December 07, 2013 08:12 PM (DnAJl)
4
...and that's why she's posted here today. While the USS
Hoga
(YT-146), which was also at Pearl Harbor on Dec 7th, is still around, she's 1) a non-combatant and b) actually "drydocked" while undergoing a total refurbishment for museum duty.
The
Taney
is the final combatant from Pearl still afloat.
Posted by: Wonderduck at December 07, 2013 08:21 PM (Izt1u)
5
I was always a bit more partial to USCGC Ingham of all the Treasury cutters, in no small part due to her participation in HX229/SC122, but all the Treasury-class had long, full, and active careers.
Posted by: cxt217 at December 07, 2013 10:31 PM (jaUpB)
6
That is an impressive story, and I'm very grateful for being enlightened. Most cool.
Posted by: Mauser at December 08, 2013 03:21 AM (TJ7ih)
7
CXT, you're missing the point. I have no particular preference or love for the
Taney
, except that it was December 7th and she was involved with the Pearl Harbor attack.
Posted by: Wonderduck at December 08, 2013 09:38 AM (Izt1u)
8
My apologies. I did understand why you posted a photo of the
Taney
- the date of the post was a dead give-away - my comment about the
Ingham
was a personal observation.
Posted by: cxt217 at December 08, 2013 11:06 AM (rbGpK)
Comments are disabled. Post is locked.
25kb generated in CPU 0.03, elapsed 0.1099 seconds.
53 queries taking 0.0882 seconds, 280 records returned.
Powered by Minx 1.1.6c-pink.