July 18, 2019
Kyoto Animation Arson (updates at bottom)
Around about 10pm Wednesday, Pond Central Time, some maniac walked into Kyoto Animation's Studio 1 building, poured gasoline around, and set it on fire.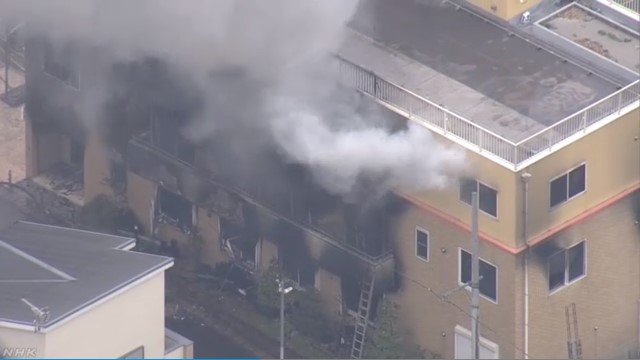 As I type this at about 1am Thursday morning, some solid information has come in. First, the arsonist is a 41 year old male, and is in custody. Second, there has been one confirmed death (
edit
: police are now saying ten dead), and many injuries... the most common number seems to be right around 30. There are also 20 "missing". NHK is reporting that at least ten of those were found lying on the floor of the second level... and left there are the search for survivors went on.
There are reports that the arsonist said "Let's see if this burns" as he poured the gasoline.
KyoAni has a number of different office locations around Kyoto. Studio 2 is where their offices and their retail store is located, for example. None of those other locations have been targeted. Some 70 animators reportedly worked at Studio 1.
I'm hoping this wasn't some crazed otaku's way of "getting back" at KyoAni... "I hated Endless 8, blah blah blah..." Reportedly, they're one of the best studios in Japan to work for, so maybe a fired employee? We'll find out soon enough, I expect, but no matter the reason, this is horrible.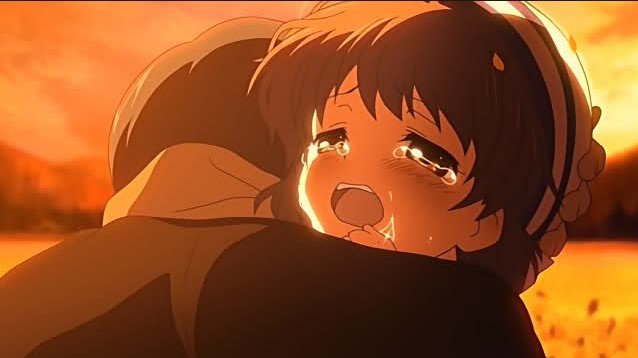 Update: 241am
- According to one report, among the missing are Tatsuya Ishihara who directed
AIR
, the
Haruhi Suzumiya
series,
Kanon 2006
,
Clannad
, and
Hibiki Euphonium
. Or, in other words, all of my favorite KyoAni shows (and
Air
, which I'm not fond of). Other directors missing are Ishidate Taichi (
Violet Evergarden
), and Takemoto Yasuhiro (
The Disappearance of Haruhi Suzumiya
movie), and others.
Update: 855am
- The death toll is now up to 33. I've seen unconfirmed reports that Takemoto is among the dead. Of the 70 people known to have been working in Studio 1 at the time of the arson, 69 of them are dead or in hospital for injuries of various severity. Many of the dead were reportedly found in a stairwell leading up to the roof, felled by smoke. It's important to note that this building was in a residential neighborhood; there were no fire escapes, only one stairwell, and only one way in, the main entrance. Oof.
Reportedly, the arsonist was yelling something that might translate out to "you plagiarized me." As KyoAni has only done two original works,
Munto
and
Tamako Market
, this seems unlikely. He had purchased 40 liters of gasoline in two containers just a half-hour before, and apparently brought them on a cart to the building. He reportedly told the people at the gas station that the fuel was for his generator. The president of Kyoto Animation has said that they've been receiving threatening e-mails for a few years... no idea if they're connected to this case.
This is now the largest mass murder in post-WWII Japanese history, displacing the Sagamihara massacre.
Update: 1009am
- Sentai Filmworks, the American distributor that has done much work with KyoAni (either currently or in the ADV era), has begun
a GoFundMe campaign
to help those affected.
Posted by: Wonderduck at 12:26 AM | Comments (3) | Add Comment
Post contains 529 words, total size 4 kb.
1
I woke up over an hour early from a horrible nightmare and the first thing I saw on Twitter was this news.
This is an utterly horrible loss on multiple levels. I'm a bundle of cuss words and tears right now.
Posted by: GreyDuck at July 18, 2019 07:18 AM (rKFiU)
2
Praying. All the news seems to be very bad.
Bl. Fra Angelico, pray for us! Martyrs of Kyoto, pray for us!
Posted by: Suburbanbanshee at July 19, 2019 07:43 AM (sF8WE)
3
Apparent confirmation from Kyoto police that the arsonist
A) Has some unspecified mental illness
B) Has in the recent past been arrested for theft
C) Told police that KyoAni stole material or ideas from his own work. He seemed to indicate or allege multiple or ongoing acts of intellectual property theft.
He lives in Tokyo, and KyoAni have an office in Tokyo...so this definitely seems to be an issue of some kind of unhealthy fixation. He traveled to Kyoto to harm KyoAni because Kyoto Animation is in Kyoto. Right? Attacking the idea, rather than a logical, thought-out attempt to cause some specific damage to KyoAni. Or maybe I'm over-analyzing it.
Short of just saying "mental illness", I just can't grasp what would cause someone to do this.
Posted by: Ben at July 19, 2019 11:04 AM (osxtX)
29kb generated in CPU 0.0158, elapsed 0.4988 seconds.
49 queries taking 0.4898 seconds, 281 records returned.
Powered by Minx 1.1.6c-pink.