February 10, 2011
Kubica Update (And Other News, Too)
As the second round of testing began at Jerez today, something rather cool took place. First there was Renault:
...then Sauber...
...McLaren...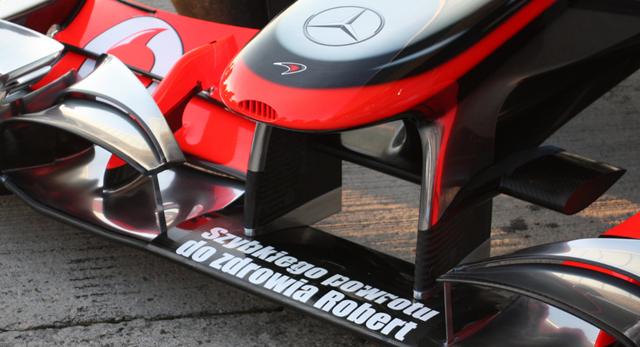 ...and all the rest of the teams, too. In case you don't understand Polish, the stickers all read "Get well soon, Robert!" While it often seems like the F1 teams despise each other and care only about winning no matter the costs, in truth everybody in the sport considers it something of a small fraternity. When one of their own is injured like Kubica was, or Felipe Massa two years ago, you see the teams tighten their ranks in support. Sure, on the track they'd slit each others throats to finish one spot closer to the top of the podium, but that's different; that's racing.
In more substantial news, Koobs left intensive care and was moved to a trauma ward at Santa Corona di Pietra Ligure hospital. He reportedly can move the fingers of his partially severed hand, and is doing well enough that the doctors have him scheduled for two surgeries on Friday. One is to fix the broken bones in his leg and ankle, then another on his right shoulder. Monday will see the docs go in to repair his shattered right elbow. Doctors are confident that he'll keep the hand, though they caution that such things are always in doubt. Good news indeed.
Renault has scheduled a mano y mano duel between Nick Heidfeld and Bruno Senna during this weekend's testing sessions to see who'll replace Koobs for the year. Senna, of course, drove for HRT last year... and drove down to the car's capabilities. Heidfeld drove for Sauber at the end of the 2010 season, but has 172 total starts under his belt. My money is on Grizzly Nick.
Finally, it appears that the old Ford/Ferrari enmity has burst back to the surface. It seems that the American auto maker didn't take too kindly to the Italian team's use of the "F150" name for their 2011 challenger. The name was chosen to celebrate the 150th anniversary of the unification of Italy, says Ferrari. Ford said "we don't care" and filed a lawsuit to protect their copyrighted "F-150" truck's branding, seeking for Ferrari to stop using the name and unspecified damages. The Prancing Horse immediately changed the name of the car to "F150th Italia."
Uh-huh. Yeah, that'll work. Nobody'll notice that.
Posted by: Wonderduck at 09:37 PM | Comments (2) | Add Comment
Post contains 402 words, total size 3 kb.
1
That is certainly a nice gesture of the teams to wish Kubica well. (Glad you translated.) Hope his surgeries go well and he continues to be on the mend.
Ford ought to put a prancing horse on their truck and see how Ferrari likes it. Heehee.
Posted by: Mallory at February 11, 2011 12:37 PM (WJ2qy)
2
Galloping is more fun than prancing, right?
Posted by: Kayle at February 11, 2011 10:34 PM (gpi2V)
Comments are disabled. Post is locked.
24kb generated in CPU 0.03, elapsed 0.105 seconds.
53 queries taking 0.0856 seconds, 271 records returned.
Powered by Minx 1.1.6c-pink.