April 06, 2015
It's An Amazing Day
Okay, first it's Opening Day with a full slate of baseball games on TV and radio. That always makes it a good day. But even better is the appearance of this:
This PV for the upcoming
ARIA the Avvenire
answers many questions about the upcoming series. Specifically it lists the cast members and the news on that front is good: the VAs that made their characters who they are will all be coming back. The PV does list Tomoko Kawakami as Athena, which on the face of it seems impossible since she passed away in 2011 from cancer. Maybe flashbacks, or dialogue snipped from past episodes? They can do remarkable things with technology! The presence of Ai and Akari's hair style suggests that
Avvenire
will be continuing on from
Origination
... which means Athena and Alicia would both be retired gondolieri, but they're shown in their respective company uniforms. Which means who knows?
Here's what I
can
tell you for sure: I desperately need this show in my life. Like, right
now
. Instead, we'll have to look forward to September.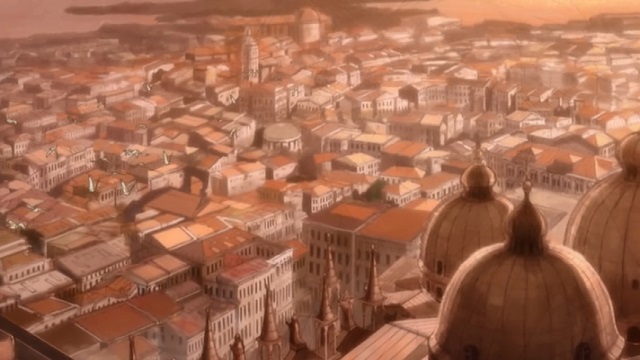 Posted by: Wonderduck at 02:29 PM | Comments (4) | Add Comment
Post contains 183 words, total size 1 kb.
1
What does
avvenire
mean?
Posted by: Steven Den Beste at April 06, 2015 03:26 PM (+rSRq)
2
Google Translate suggests as a noun, "future".
Wikitonary says "to arrive" as a verb and "future" as both a noun and an adjective.
So, maybe "
ARIA the Future
"?
ANN says the title is "
ARIA the Arrived
", which misses the whole future bit, both in word and in feel. In their version, "
Arrival
" would be closer.
Posted by: Wonderduck at April 06, 2015 04:32 PM (jGQR+)
3
Now I've a reason to stay alive until the Fall. Dang. Ah, well...I'm sure it will be just a little beyond awesome.
Posted by: Clayton Barnett at April 06, 2015 06:37 PM (lU4ZJ)
4
Oooooh.
Considering that the spring season looks to be more desert than oasis, I guess looking forward to later in the year is the best we can do...
Posted by: GreyDuck at April 07, 2015 07:21 AM (AQ0bN)
26kb generated in CPU 0.013, elapsed 0.255 seconds.
49 queries taking 0.2466 seconds, 282 records returned.
Powered by Minx 1.1.6c-pink.