February 08, 2017
Interview With A Vampire
Hopefully all of you regular (or irregular, I don't judge) anime viewers are watching the show of the season,
Interviews With Monster Girls
. It's light-hearted, with a surprising amount of depth to it as well. While I'm not a huge fan of the yuki onna (yet... she basically was just introduced in last week's Ep05), everybody else in the show is delightful. Even the normie teacher.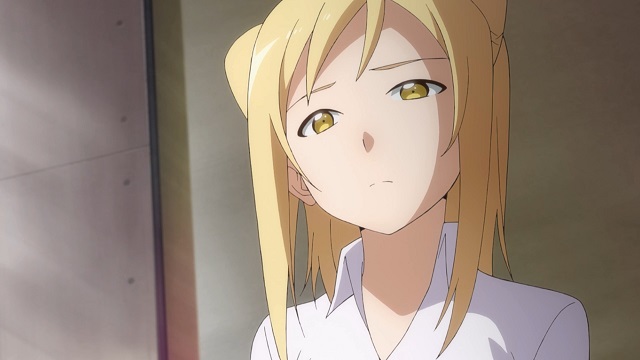 There is no doubt, however, that the true breakout star of the series is Hikari, the vampire. She's basically the most realistic high school girl I've ever seen in an anime series. I mean, other than the whole "vampire" thing, of course. I don't know if I've ever mentioned this, but not too terribly long after I returned from grad school in ignominious defeat, my old theatre teacher from high school called and hired me to do the lighting design for a play the theatre department at his new school was doing. He had a lot of expectations of this one, because it was being entered into the All-State Theatre Festival... there were something like 900 shows being considered, but only six would be chosen. The name of that play?
Dracula
. A fairly faithful retelling of the original vampire story, in fact. And o, did I go wild on that design! Easily the best of my 200+ lighting designs, in fact. Anyway, we did go downstate, where I got to take a custom light design run via computer and turn it into something using a generic light plot run via a manual control board. That only took four hours to do. I digress. They say that there isn't a competition between the "full-length feature presentations" at All-State; officially, they're right. Unofficially, however, that's a bunch of hooey and everybody attending knows it. I saw four of the five other plays downstate, and the fifth I saw when it ran here in Duckford at a private high school. Not only were we the best of the bunch, it wasn't even close. I'm honestly not bragging about that, it's just a simple fact. We had a good bunch of kids... which brings me back to my original point: Hikari reminds me of, like, three of my students rolled into one. Good kids, all of 'em. If you've been watching the show, you undoubtedly remember the laugh-out-loud moment from the most recent episode: when Hikari needs to chew on someone because "her teeth itch." Relative to that scene, I found this:
For everybody that ISN'T watching the show, hopefully that just convinced you to do so. You're seriously missing out.
Posted by: Wonderduck at 10:36 PM | Comments (8) | Add Comment
Post contains 437 words, total size 3 kb.
1
Every time you think the show's about to cross a line too far, they turn it into something silly/adorable/fluffy. And then there was the "nom nom nom" bit taking it to a whole new unexpected level. Pure delight.
I'm enjoying
Miss Kobayashi's Dragon Maid
. I'm ADORING
Interviews with Monster Girls
.
Posted by: GreyDuck at February 09, 2017 08:40 AM (rKFiU)
2
When I asked for recommendations for this season, this came up, and I've been enjoying it too.
Posted by: Mauser at February 09, 2017 08:37 PM (5Ktpu)
3
If they don't explain how succubus-sensei made it through high school, I'm going to be very put out.
-j
Posted by: J Greely at February 09, 2017 09:12 PM (CLiR9)
4
J, what's more baffling is that she got herself a teaching degree...
(Honestly I'm glad that the "potentially sex-crazed" one is an actual adult character. That would've been way way too skeevy otherwise, and this show already dances along that line.)
Posted by: GreyDuck at February 10, 2017 08:35 AM (rKFiU)
5
J, I'm betting homeschooling. GD, night and online classes, maybe.
Posted by: Wonderduck at February 10, 2017 08:41 AM (UDOXQ)
6
I was half-kidding, because there are still single-sex junior and high schools in Japan, as well as
women's colleges
, and her powers apparently only affect men. It's the sort of fridge question that wouldn't really come up for the native audience, but that might get asked once the two grown-ups are a little more comfortable around each other (and, yes, I'm glad the succubus is not only an adult, but is not using her powers on schoolboys; we've got plenty of shows stuck in that "rut").
(homeschooling is mostly illegal, by the way, although a quick search suggests there's a small community of activists fighting for it)
-j
Posted by: J Greely at February 10, 2017 12:05 PM (tgyIO)
7
I was a bit worried about where it was headed too, but heard from people who'd followed it in Japan that it actually backs away from that; no teacher/student predation (possibly excepting Hikari noms?)
Posted by: Avatar_exADV at February 10, 2017 11:59 PM (/lg1c)
8
Okay, they delivered.
-j
Posted by: J Greely at February 25, 2017 02:57 PM (tgyIO)
30kb generated in CPU 0.0128, elapsed 0.0872 seconds.
49 queries taking 0.0781 seconds, 286 records returned.
Powered by Minx 1.1.6c-pink.