October 20, 2015
Insanity Averted, Thanks To Friends
Around 1pm this afternoon, Jack, the hulking front desk guy, loomed over my cubicle wall. The single word "Package" rumbled from his mouth and he handed me a box that looked tiny in his massive mitts, but in reality was just small-ish. I thanked him, and reminded him that I could have run up to the front of the building to pick it up. "Nah. Cubs ducks are here." He then turned and massived his way back towards his office.
See, Jack's a big (in both common usages of the term) Cubs fan, and I have
a pair
of Cubs
rubber duckies
on the top of my cubewall. Guess he likes them. Anyway, he left me with a box, which I promptly put to one side so I could finish up a series of claims I was working on. This diligence lasted for roughly thirty seconds before I reached into my Magic Desk of Holding for a pair of scissors. Screw the claims, I needed to open the box! And what was inside?
The gift of music... and sanity.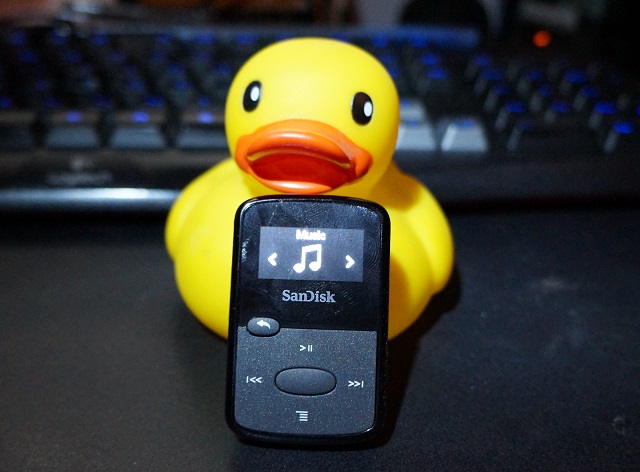 I mean that quite literally. I'll actually be able to concentrate on work now, as opposed to the tappity-tappity-tap-click-click-click-tap of ambient noise in the production room. Throw in the ridiculously chatty ladies who sit just beyond my cube's front wall, and music will be a blessed relief, similar to that experienced when the morphine kicks in.
"But Wonderduck," I hear you ask quizzically and I've got to do something about that microphone, its directional feature is misaimed, "what happened to the iPond reader ReallyBored sent you?" Funny story! It arrived here quite promptly, it had enough juice in the battery for me to even turn it on at work, and everything worked quite well. Got home that night, plugged it in to charge, installed iTunes, all that jazz. When it was fully charged, I copied music over... and all hell broke loose. There was a quiet screech sound from the iPond, the screen reset, and a rhythmic "tic" sound began to emanate from it... and I couldn't break out of anything. I couldn't even do a hard reset. Probably not a huge surprise... it was a 2006 edition, meaning it was pushing 10 years old. RB apologized, which I immediately turned around... he shipped me an iPond, for heaven's sake.
When I mentioned this in online conversation with Pixy, he immediately said he'd ship me one of his. From Australia. Surprisingly, it isn't as expensive as you'd think, about $12 US or so for seven day shipping. It's a
big world
, but it's getting smaller all the time.
It's tangent time! That link will take you to the title song of Joe Jackson's album
Big World
. Indeed, the video was shot during the recording of that very track. "Wonderduck, that's a concert video," you say disbelievingly. And indeed, that too is true.
Big World
was JJ's attempt at capturing the immediacy and energy of a live performance without all the noise from an excited audience. The crowd was told they were cutting an album, and they could only cheer at the end of songs. Anybody violating this rule would be kicked out. It says a lot about JJ fans that I have found nothing about anybody being ejected. Anyway, it was an interesting experiment, and it turned out one of my
all-time favorite JJ tracks
, but on the whole I'd druther clap. End digression, back to the original point.
Pixy took the sacrifical iPod to Australian Post where, he told me later, the lady behind the counter was very nice and cheerful and helpful, which immediately tells me that he wasn't in a US post office. They had everything all set, and then she said that due to the US Department of Homeland Security rules, he had to demonstrate that the battery was removable.
Ah. Yes. Quite
. And y'know what? That was the first time that I've ever been affected by the so-called draconian Homeland Security rules, save for having to remove my shoes at the airport. Curse them! Curse them all!
Cut to two weeks ago. I'm on Steam when I notice my brother in feathers GreyDuck is also online. We chat for a while about nothing in particular, although I congratulated him on
his time-lapse video
when he asks if the iPond had helped me at all. So I explain the Great iPond Saga, and I can tell he's laughing on the other end of the (metaphorical) line. I then mention that I had to borrow money from the folks to buy food this month (it was, and still is, a little tight around here, though it's getting better) and that a mp3 player was probably going to the only thing on my Xmas list this year (not that there's ever more than a couple of things in toto). GD asked what I was looking at, and I threw him a link to the
SanDisk Clip Jam
. It's not fancy, but I don't need fancy... I needed something that'll shuffle-play music and I'd be happy. At which point, GD said "done."
Huh? "Something good happened at work. Gimme a week or two." Wait, no! "Shut up, WD. Do something nice for someone else when you can." But... but.... "Just say yes."
So that's how I now have a surprisingly small mp3 player, and I can't thank GD enough. And one of these days, something will happen here at The Pond to pay it forward.
Now if you'll excuse me, it looks like it's done charging. I can load songs onto it for tomorrow!
Posted by: Wonderduck at 05:35 PM | Comments (4) | Add Comment
Post contains 939 words, total size 7 kb.
Posted by: GreyDuck at October 20, 2015 08:51 PM (rKFiU)
Posted by: ReallyBored at October 21, 2015 08:53 AM (ulGxe)
Posted by: Pixy Misa at October 23, 2015 10:19 AM (PiXy!)
Posted by: Wonderduck at October 23, 2015 06:20 PM (a12rG)
31kb generated in CPU 0.0113, elapsed 0.1125 seconds.
49 queries taking 0.105 seconds, 282 records returned.
Powered by Minx 1.1.6c-pink.