April 30, 2008
Ikkitousen: Great Guardians!
This might be one of the greatest moments
EVER
here at The Pond...
Yes!!!

The third of the
Ikkitousen
series is scheduled to hit the airwaves this summer, but a preview clip on DVD was recently released in Japan. Thenceforth, it made its way to way to the 'net, and from there, to my computer.
And now, to you!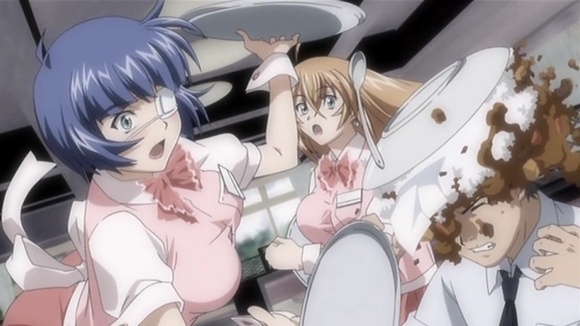 MY Mou-chan?

Clumsy

? Oh, h*ll no!
From the looks of it, it'll be picking up pretty much from where
Ikkitousen: Dragon Destiny
ended, though Mou-chan and Hakufu were working in a cosplay cafe at that time.
There's not much else you can tell from the preview, but it's entertaining to watch all the same!
Mou-chan commands you to click below!

NSFW past the click...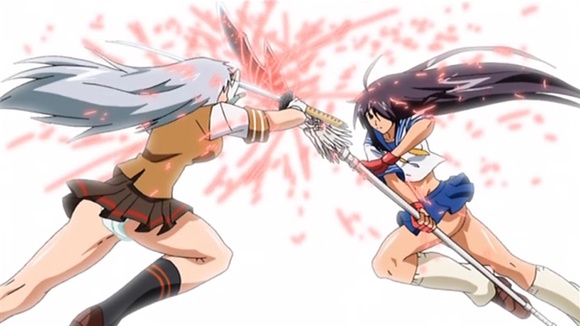 Just how does Kan-u expect to get any leverage with that cross-armed stance?
If anything, the animation quality has gone up from
I-DD
, which was pretty good to begin with. No, we're not talking KyoAni here, but it's still darn good lookin'.
This being
Ikkitousen
, of COURSE there's copious amounts of fanservice: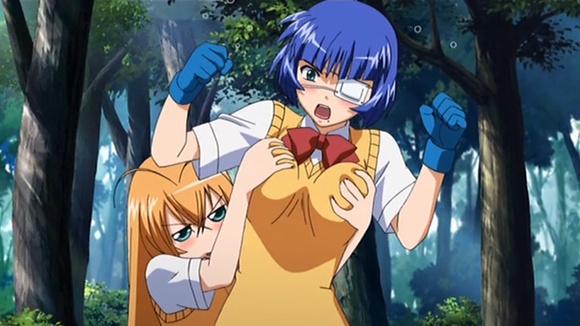 Ah-OOOOO-gah!
...and the attendant high-kicks:
How could anybody NOT like this show?
...and onsen episodes: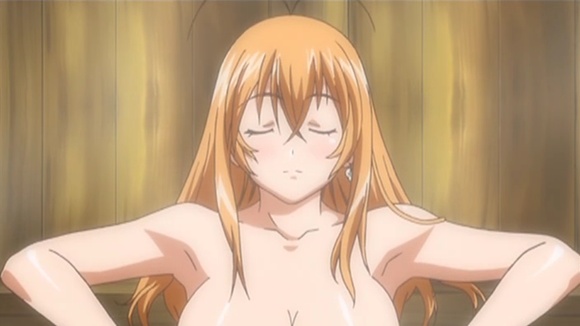 You should see what the pan-up showed.
...and yuri, both implied:
Wasn't the green-haired one killed once?
...and realized: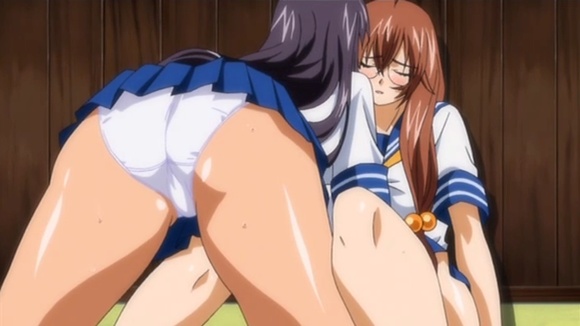 Not that this is a surprise, but...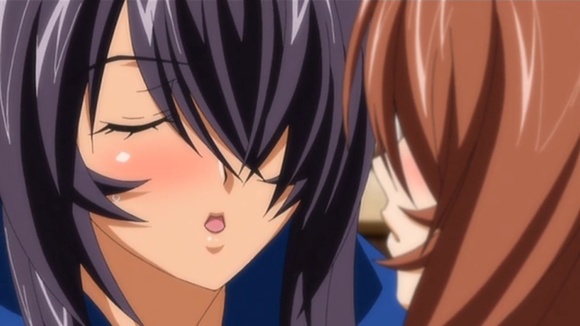 ...yowza.

Understand something here: I've left out the
REALLY
ecchi shots. And I
mean
ecchi-nearing-hentai-ecchi. As it is, I can't imagine how they intend to broadcast this show. I can only assume that the preview has most of the "objectionable" stuff on it... I'll tell you, the preview makes the
I-DD
omakes look tame.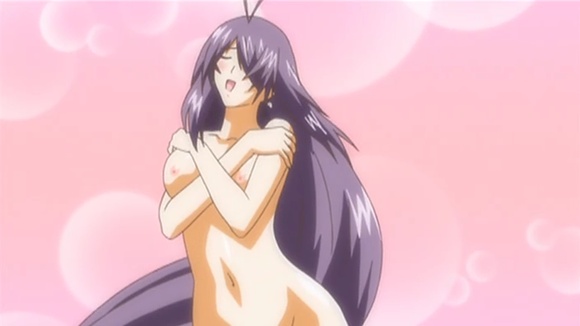 This one's for you, Steven.

Okay, I'll admit it: I'm as giddy as a schoolduck right now. The rest of you can have your highbrow shows... I'll take
I:GG
every time. At the very least, it'll be "fun-bad", and it might just be pretty decent. I won't even call it my "secret shame" anymore. I'm going to revel in this one.
Never fear, The Pond will bring every episode to you in detail!
Posted by: Wonderduck at 09:31 PM | Comments (6) | Add Comment
Post contains 346 words, total size 6 kb.
Posted by: Will at April 30, 2008 11:02 PM (ZhN+Z)
Posted by: Steven Den Beste at April 30, 2008 11:07 PM (+rSRq)
Posted by: Ed at May 01, 2008 06:04 AM (t12k+)
Posted by: Ed at May 01, 2008 06:11 AM (t12k+)
Posted by: Steven Den Beste at May 01, 2008 12:21 PM (+rSRq)
Posted by: Wonderduck at May 01, 2008 05:40 PM (AW3EJ)
Comments are disabled. Post is locked.
28kb generated in CPU 0.0107, elapsed 0.1257 seconds.
47 queries taking 0.1181 seconds, 282 records returned.
Powered by Minx 1.1.6c-pink.