September 25, 2015
If I Had Other Options...
My internet connection died around 6pm on Thursday. It didn't come back until sometime Friday afternoon.
If I had
any
other options, I'd leave this provider in a heartbeat. I'll go a month or six weeks with zero problems, but then *bam*, their feed to Pond Central will go to hell. During one ten minute call to tech support, my connection died and reconnected seven times. And mind you, this is a hard-wired cable modem we're talking about, not wireless. The tech guy I was working with that time set up a... let's call it a "recording program" on my connection, just to see how often that up-down-up cycle occurred in 24 hours. When I called back the next night, he said he couldn't tell me how often it had occurred, because the program was only able to count to 200 and it had reached that point in six hours.
However, the service is provided through the Pond Central's apartment complex, and they won't let any other providers in. So the storage company across the street from the complex has their choice of AT&T and Comcast, but us? Pfft. So my only other option is to go with satellite internet, which has the advantages of being both slower AND more expensive. So I'm stuck. I hope to be able to bring coverage of Japan's Grand Prix this weekend, but who knows what'll happen to my connection?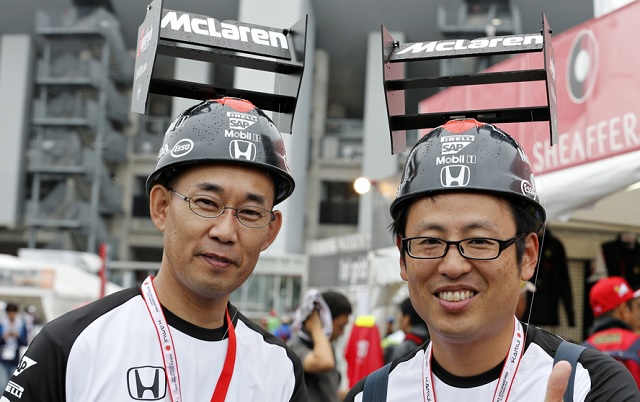 While I'm up and running though, I'll mention a couple of bits of information that have come down the pike recently. First, Haas F1, the American team taking the grid in 2016, will be announcing their driver lineup on Tuesday. It's already being reported that Lettuce Grosjean will be one of the drivers, a fantastic pickup if true. This seems likely, particularly in light of the
second
bit of information: Lotus is in serious financial trouble. I mean, this isn't exactly news, but it's gotten worse of late. How bad? The promoters at Suzuka never set up the team's hospitality center, which among other things is where the mechanics eat when they're at the circuit... and they're usually at the circuit during race weekend. Seems Lotus couldn't pay that part of their fees. Bernie Ecclestone is apparently footing their food bill to some extent. The purchase of the team by Renault is still supposed to happen, but it's taking a lot longer than most expected.
Right. Quals are in a few hours, I dunno if I'll have a report up immediately afterwards, or if it'll happen in the morning. Until then, everybody back on your heads.
Posted by: Wonderduck at 06:23 PM | Comments (2) | Add Comment
Post contains 437 words, total size 3 kb.
1
LOVE the reference in your last sentence. Until/unless it refers to your new gig...
Posted by: The Old Man at September 26, 2015 07:02 AM (duGaw)
2
LOVE the reference in your last sentence.
Thank you, thank you, I try to sneak it in every now and again.
Until/unless it refers to your new gig...
It's a job. Every job has its share of head stands, y'know?
Posted by: Wonderduck at September 26, 2015 08:50 AM (a12rG)
27kb generated in CPU 0.0434, elapsed 0.1012 seconds.
49 queries taking 0.0937 seconds, 280 records returned.
Powered by Minx 1.1.6c-pink.