December 12, 2012
Gashapon In The Post
There are days where I love blogging, and days that I hate it. Then there are days like today, where I'm terribly, terribly conflicted about the whole thing. Sometime last week, I got an e-mail from fellow blogginator Ben from the mysteriously monikered
Midnight Tease
, saying that he's got something to send me and asking for my shipping address. Being the trusting duck I am, I provided it, and a few days later I got another e-mail saying that he'd sent me a package and that he was "sorry".
As one can imagine, I was both perplexed and terrified by this, and when a small box at the Duck U Bookstore with my name on it, I contemplated calling the campus bomb squad. Saner heads prevailed, however, as it was pointed out to me that Duck U doesn't actually
have
a bomb squad. Resigned to a box full of spring-loaded custard pie, I retreated to my office and opened it.
What was inside was worse than I imagined.
He had sent me
Rio Rainbow Gate!
gashapon figures.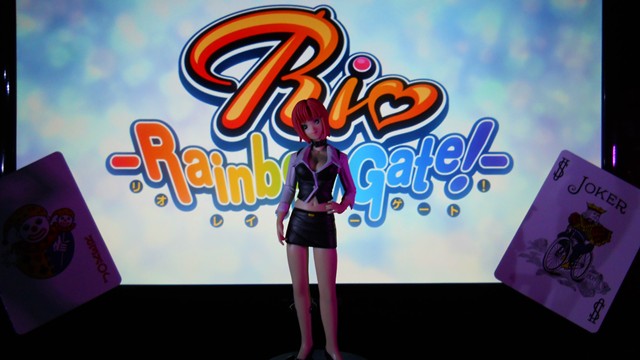 Technically, they're really
Super Blackjack
figures, but that's not why he sent them to me, and we all know it. I guess I'm really known for my love/hate relationship with
Rio Rainbow Gate!
, and it's an honor to perhaps be thought of as the go-to blogger for
any
show... it's just a shame it's one about a character from a line of pachinko machines.
It's hard to believe that it's been over a year since
I last did a writeup for a

RRG!

episode
, as I still suffer from flashbacks and very bad dreams from the show. Even now, the thought of Rio in the
shrimp costume
makes my blood run cold.
If one wished, one could click for a larger picture
And that's one of the GOOD memories... it only terrifies me. We don't want to talk about the nightmares I've had about the holographic space sharks... or knowing that somewhere in Japan, there was an entire production staff laughing at me. The horror... the
horror
...
I'd be remiss if I didn't thank Ben profusely for his kindness. It was remarkably cool of him to send these figures to me, and as much as I act like
RRG!
is my own personal Hell, I really did enjoy it. Mostly. Oddly, my favorite of the figures is the smallest one, the one on the stack of poker chips. The others are no slouches, though!
So there you have it... something worse than a custard pie in the face.
Posted by: Wonderduck at 10:27 PM | Comments (5) | Add Comment
Post contains 431 words, total size 4 kb.
1
I think you have the wrong angle on that figure with the poker chips
Posted by: David at December 12, 2012 11:12 PM (vyRm+)
Posted by: Wonderduck at December 12, 2012 11:33 PM (LbiZL)
3
Could be worse, someone could be offering a vial of saliva in honor of Mysterious Girlfriend X.
Or would that be a Vile? :-)
Posted by: Mauser at December 13, 2012 04:09 AM (cZPoz)
Posted by: Steven Den Beste at December 13, 2012 08:07 AM (+rSRq)
5
Oh dear, good luck collecting THAT one.
Posted by: Mauser at December 15, 2012 08:21 PM (cZPoz)
Comments are disabled. Post is locked.
25kb generated in CPU 0.031, elapsed 0.1348 seconds.
47 queries taking 0.1155 seconds, 281 records returned.
Powered by Minx 1.1.6c-pink.