April 29, 2011
Ga-Rei Zero ep04: How Could I Have Missed That Joke?
Last night, Pond Central had a visit from The Librarian for our not-quite-weekly night of Chinese food and Japanese animation. Instead of carrying on with
Bamboo Blade
(which we'll resume later), I kinda insisted that we watch a different series, one that we can finish in three or four sessions. That series?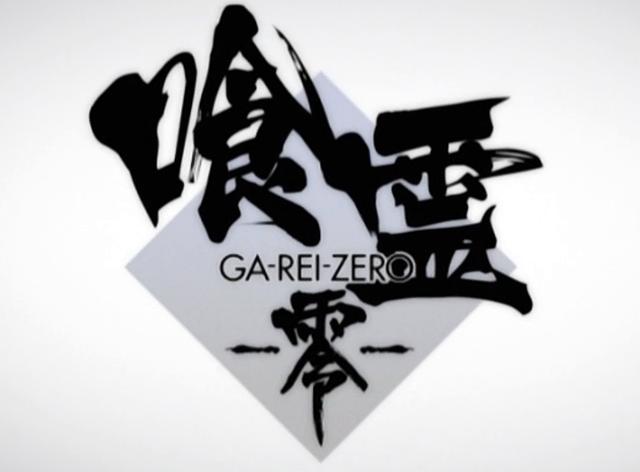 Oh heck yeah! The Schoolgirl In Black, the Schoolgirl in White, the Rocket-powered Wheelchair of Awesome, Laser Weasels, Pocky, the works! It's finally out on DVD and Blu-Ray, and of course it joined my collection as soon as it was available. High art it's not, but it
is
a fun show.
What was really enjoyable was watching The Librarian watch it. From her questions before I hit play, it was clear that she hadn't read the episodic review I did last year (actually, she doesn't come 'round The Pond very often), so I was understandably curious what her reaction would be to
Episode 01
. For those of you who don't remember, that's the one where they introduce the cast, put them into two harrowing situations, have them work through the problems in a calm and professional manner, gets you to like them... then the Schoolgirl in Black kills them all off in about thirty seconds. The Production Staff for
Ga-ReiZero
even went as far as to make all their pre-airing promotional material focus entirely on the cast of Ep01, so to make their deaths even more of a shock. The Librarian's reaction when Ep01 faded to black? "Wait, that's it? That's the whole show? It's over?" I didn't get to have that experience the first time I saw the show as I knew that there was more show coming... if the Production Staff is reading, rest assured that your efforts did not go to waste. You done good.
Now understand... when Anime Night comes around, The Librarian and I usually watch two or three episodes of whatever show is on our docket, then we call it a night. This time though, when we hit the end of Ep03, she asked how many episodes were on the DVD. I said "six," and she replied "I've got time." We wound up watching all six episodes, which ties a record for us (we saw six episodes of
Kanon '06
a few years back) and I suspect we'll finish up next week. Definitely a hit.
As we watched
Ep04
, it dawned on me that I had completely missed a gag in the show...
A quick refresher. This is Michael Kohara:
He's a relatively minor character in
GRZ
, which is fortunate considering his choice of wardrobe. Anyway, he serves as the weaponsmith for Our Heroes, performing maintainence on the magical weapons used to combat the demons and creating new ones for that purpose. After his first appearance he takes the Schoolgirl in Black's sword, Shishio, away for resharpening.
As the demons/spirits/whatever are still attacking, Yomi will need something to fight with. What follows is a progression of some of the silliest things ever to be called "weapons."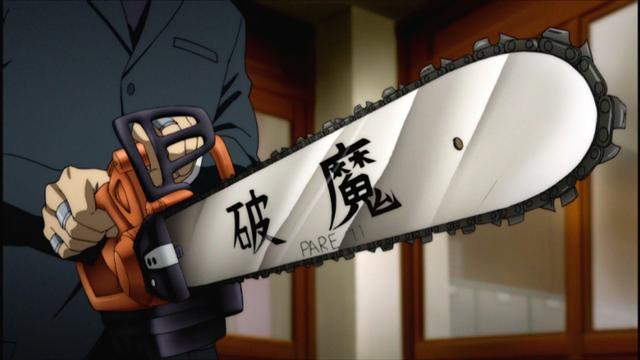 "Exorcist Chainsaw Pare 11."
"Exorcist Jackhammer Jackson 33."
"Exorcist Knuckle Douglas 28."
"Exorcist Boiler J. Fox 55." His eccentricities are tolerated because, as Yomi says, "Master Michael
is
an artist."
And then it hit me... I had been missing the joke. Look at the names of all those things:
Pare
.
Jackson
.
Douglas
.
J Fox
. Then remember that their creator's name is Michael...
Oy. Yeah, I feel really dumb right now.
Posted by: Wonderduck at 07:14 PM | Comments (1) | Add Comment
Post contains 584 words, total size 5 kb.
1
I bought the DVDs as well, but haven't watched them yet It'll be good to enjoy a well-made anime again, and forget all about
That which must not be named
. I wonder if the DVD extras include the producers explained their surprise first episode...
Posted by: Siergen at April 30, 2011 11:43 AM (6c1Mp)
Comments are disabled. Post is locked.
25kb generated in CPU 0.0176, elapsed 0.5065 seconds.
47 queries taking 0.4992 seconds, 277 records returned.
Powered by Minx 1.1.6c-pink.