July 11, 2008
Fun With Weather!
So Thursday night's weather here at The Pond was... oh, let's call it
exciting
, shall we? Around 6pm, it went from being bright and sunny in Pond Central's living room to dark and surly, like someone threw a switch on the sun.
I opened the door to the balcony, and got hit in the face with a bucket of water. It was POURING out there, and the clouds were moving every which way... but just a few miles away, there was blue sky. A very definite cloudline... and I was on the wrong side of it.
Lots of lightning, both the traditional air-to-ground ZOT! (for a genuine Pond No-Prize, what comic strip used to use that descriptor?) type and the kind that makes it look like the Mothership from
Close Encounters of the Third Kind
is hiding behind the clouds. Very neat, very cool... and more than a little terrifying, to be honest. Anyway, I've heard that some parts of Duckford got up to three inches of rain in a couple of hours... just what we need after the flooding of a couple of weeks ago.
Somewhere around 815pm, I noticed something weird... the light from outside seemed to be orange through the curtains. I stepped outside, and saw that the stormline had just as neatly organized back to it as it did a front... the sun had been revealed! Since it was almost time for it to set, though, it looked orange, and that color was being reflected off the clouds. Very weird look to everything... and then I saw it.
A horizon-to-horizon, sharp-edged, DOUBLE RAINBOW! I'd never seen such a thing before... and particularly not one that looked like it had been drawn with a marker! I went out to The Pond's parking lot to get a better view of the whole thing...
...meanwhile, The Librarian was in Wal-Mart's parking lot, frantically calling my cellphone to tell me to look out my balcony to see the doublerainbowitsgreatandhugeandwow!
More importantly, though, she had the presence of mind to take a photograph of it with her cellphone's camera: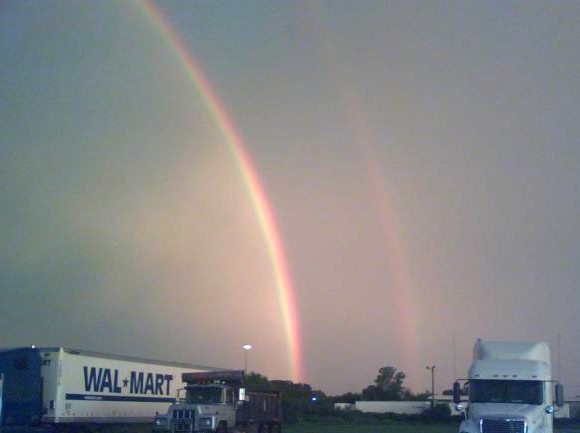 They're after me Lucky Charms! Both of 'em!

So, not a bad way to end a stormy day, eh?
Posted by: Wonderduck at 05:21 PM | Comments (4) | Add Comment
Post contains 370 words, total size 2 kb.
1
"Zot!" That's easy! BC!
I wonder if those tags work for you.
Posted by: Steven Den Beste at July 11, 2008 06:03 PM (+rSRq)
2
As dry as everyone thinks it is in Arizona, we get quite a few of those full double-arcs. If not for the dust clouds that often proceed the thunderstorms, we'd probably see even more.
Posted by: Will at July 11, 2008 06:41 PM (oj5wx)
3
I've only seen a full double rainbow once in my life. It was in Maine, when I was on vacation at a resort near Acadia National Park.
Posted by: Steven Den Beste at July 11, 2008 09:05 PM (+rSRq)
4
It's been a long time since I've seen any rainbow at all; maybe even before Pond Central moved to its current location (going on eight years now), so having this one show up was quite special. I'm just glad that The Librarian was able to get a picture... AND send it to me... AND let me post it.
She's great, she is.
Posted by: Wonderduck at July 11, 2008 09:41 PM (AW3EJ)
Comments are disabled. Post is locked.
24kb generated in CPU 0.03, elapsed 0.1366 seconds.
47 queries taking 0.1187 seconds, 263 records returned.
Powered by Minx 1.1.6c-pink.