August 21, 2017
Failclipse
Duckford had a little problem today. It was overcast and cloudy... at least, it was overcast and cloudy when it wasn't overcast, cloudy and
raining
. In fact, when I took my camera and tripod outside, it was dripping a bit. I wouldn't go so far as to call it "rain", but there was water coming from the sky. The upshot of all of this is that instead of the sun being a visible disk, it was instead a diffused blob of light. Still, I gave it my best shot... but most of the pictures turned out like this:
Don't fool yourself into thinking there's a bit of moon arc visible there at the bottom; this picture was taken around 130pm, less than 15 minutes past the most occluded time. We were supposed to get about 86% coverage. At 116pm, the sun was still casting clear shadows. Feh. Still, the shots weren't
all
bad.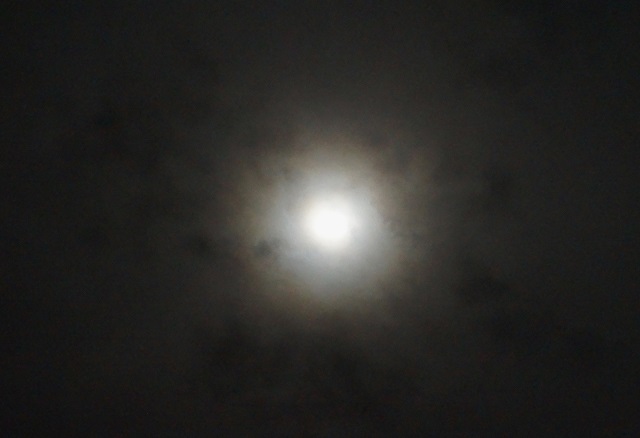 I call this one "Accidental Hubble." Particularly in its larger form, it reminded me of dozens of Hubble shots with
dust clouds occluding something bright in the center
, y'know? Just not as pretty. So I have that going for me. Which was nice. And then, scrolling through the pictures I came across this one:
By whatever quirk of optics you may care to name, I somehow managed to catch what I assume is a reflection of the eclipse as seen inside the camera lens. Maybe it's a trick of the mirrorless camera I use. Maybe it's bouncing off the sun filter. Maybe it's Maybelline. All I know is that it's upside down from what we were supposed to be seeing here in Duckford. And blue. I have no idea what that's all about. So there you have it... the best picture of the Great American Eclipse I was able to take.
Pbbbbth.
Posted by: Wonderduck at 08:02 PM | Comments (2) | Add Comment
Post contains 306 words, total size 2 kb.
1
As my daughter said, it was a "failpoceclipse". The eclipse didn't meet expectations, and the world didn't end.
Posted by: Ben at August 22, 2017 06:16 PM (S4UJw)
2
I drove up to South Carolina to see totality. First couple of pictures I took with my cell phone, as the eclipse were forming, were blurry, fuzzy nothings. Then I remembered my phone's camera has a manual mode. Simply turning that on and changing the shutter speed to it's largest value/shortest interval, 1/3200, let me get recognizable, if somewhat blurry, pictures.
Being able to look up at the midday sun and see the ring of light was really cool.
Posted by: Rick C at August 23, 2017 11:33 AM (ITnFO)
26kb generated in CPU 0.04, elapsed 0.1217 seconds.
55 queries taking 0.1008 seconds, 273 records returned.
Powered by Minx 1.1.6c-pink.