August 07, 2008
F1 UPDATE!'s Mid-Season Awards: 2008!
We find ourselves in the middle of the F1 Circus' Summer Vacation, and there's nothing going on to write about. So we've gotten together, argued over everything, and finally came to a consensus on a bunch of categories, both serious and... um... not so serious. Let's get right to F1 UPDATE!'s inaugural edition of our Mid-Season Awards!
*MOVE OF THE SEASON SO FAR
: Grizzly Nick Heidfeld, Britain. Twice in seven laps, on a very wet track, Heidfeld passed two cars in one turn. First it was Glock (to the outside) and HWMNBN (to the inside), then later it was Koveleinninninnie and Raikkonen. He went from sixth to second in these two passes, in nigh impossible conditions. Bravo, Grizzly!
*MOOOOOO-OOOVE OF THE SEASON TO DATE
: Lewis Hamilton, Canada.
IN THE FREAKIN' PITLANE!!!



*DRIVER OF THE SEASON THUS FAR
: Robert Kubica, BMW. Last year, we thought he was dead in the crash at Montreal. A year later, he was winning that same race, and bringing BMW-Sauber their first ever victory to boot. Throw in the team's first pole (and Pole), and leading the Driver's Championship until just recently, and you've got a sure-fire recipe for Driver of the Half-Season. He has almost no shot to win the DC this year, but he's served notice that he'll be a force to be reckoned with for years to come.
*TEAM OF THE SEASON UNTIL THIS POINT IN TIME
: BMW-Sauber. Three seasons ago, they were a new start-up (though with the experience of longtime team Sauber-Petronas behind them). This year? A win, a pole (and a Pole), a handful of podiums, and promotion to the upper tier of teams (though not quite as good as The Big Two). You expect McLaren and Ferrari to be good. Nobody expected BMW-Sauber to be this good this fast.
*BEST RACE OF THE SEMI-SEASON
:
Monaco Grand Prix
. Rain on the cramped streets of Monte Carlo? Suddenly a boring race becomes exciting! Hamilton brushes the wall, blows a tire, and drops far back, then is saved by a safety car, then has a big lead taken AWAY by another safety car, then the rain holds off just long enough to keep everybody guessing? Throw in the most heartbreaking moment of this or any other F1 season, and you've got a race for the ages.
*MOST HEARTBREAKING MOMENT OF THE DEMI-SCHEDULE
: Monaco Grand Prix. Force India's Adrian Sutil had the entire world cheering him on. He was fourth, with a solid shot at a podium late in the wet race. He'd shown astonishing skill at dragging his rather poor car around the street circuit, avoiding the problems and astonishing fans everywhere. However, he had Ferrari's Kimi Raikkonen, the reigning Driver's Champion, breathing down his neck as the Safety Car pulled off the track. Through the tunnel, Sutil managed to get some breathing room on Kimi, but then Raikkonen lost it on the wet pavement. Showing remarkable car control, Kimi kept his fishtailing car off the armco... but he then rammed the rear end of the Force India. Both cars came into the pits, but only the Ferrari exited, Sutil's race ended by a broken... well, rear end. Sutil was later caught by the FIA's cameras in the back of Force India's pit box, inconsolable. And the world weeped with him.
*BEST CRASH OF THE INCOMPLETE YEAR
: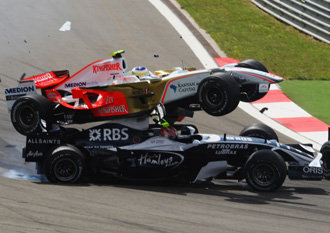 Giancarlo Fisichella nails Kazoo Nakajima, Turkish Grand Prix.
*MOST LIKELY TO LOSE HIS SEAT BEFORE SEASON'S END
: Giancarlo Fisichella, Force India. Renault thought he'd be able to lead a team... and they were right, only it was Force India he's leading, and the results show it. Yeesh.
*BEST QUOTE TO DATE
: Malaysian Grand Prix. When asked about taking a blast of champagne to the eyes on the podium, Kimi Raikkonen answered
'Yeah we should put it in the mouth, not the eye. Things go wrong sometimes.'
*MIAOTY
:
Requiat en pace
, SuperAguri.
Posted by: Wonderduck at 09:58 PM | Comments (3) | Add Comment
Post contains 651 words, total size 5 kb.
1
I fully agree on Kubica. He's been truly awesome.
Posted by: Steven Den Beste at August 08, 2008 10:54 AM (+rSRq)
2
By the way, I think that Raikkonen really deserves notice for "best sportsmanship" for how he responded to being totaled by Hamilton in Canada. A lesser man would have punched Hamilton out for that, or at least yelled at him.
Posted by: Steven Den Beste at August 08, 2008 02:07 PM (+rSRq)
3
Bravo! Great job on the awards.
I also agree on Kubica as Driver of the Half Season. He's done an amazing job!
Posted by: Mallory at August 09, 2008 05:03 PM (WJ2qy)
Comments are disabled. Post is locked.
26kb generated in CPU 0.0187, elapsed 0.4404 seconds.
47 queries taking 0.4325 seconds, 279 records returned.
Powered by Minx 1.1.6c-pink.