May 11, 2008
F1 UPDATE!: TURKEY 2008!
A terrible bit of driving, an excellent bit of driving, a risky fuel strategy and a broken record... this is the F1 UPDATE! for the fifth round of the Championship!
*

TURKISH DELIGHT
: Michael Schumacher was the last driver to win the same race three years running; now Felipe Massa has matched that, with an extra filip. Not only has Massa won the Turkish Grand Prix three years in a row, he's also had the pole for all three of those races and nearly led every lap of all three to boot. Think Mr. Massa likes the Istanbul Otodrom?
*

TUMBLIN' DICE
: There are times in any season when a team has to gamble on a strategy if they want a chance to improve themselves. Today, McLaren knew their cars were going to run badly on the soft compound tires. They also knew that the Ferraris were faster when the cars had equal fuel on board. So they rolled the dice on a three-stop strategy. This would give them the ability to run light on fuel the entire race, as well as limit the amount of time they'd spend on the soft tires (remember, FIA regs say the teams have to run both hard and soft tires during a race). The result of this gamble was clear: Lewis Hamilton wound up 2nd and was charging down hard on Massa. Heikki Kovaleinninninnie suffered a puncture in the first complex of turns and wound up 12th, so we can't really judge the strategy on the basis of his run.
*

DRIVER OF THE RACE
: On the face of it, Massa should win today, but instead, we here at F1 UPDATE! are going to give the award to someone else:
Congratulations to Honda's Rubens Barrichello for breaking Ricardo Patresse's record for most F1 starts all-time! Even though you finished 14th on the day, you're still the DotR!
*

TEAM OF THE RACE
: Ferrari. Obviously the class of the field, though perhaps not by as much as was expected. Still, 1-3, pole and fast lap by Kimi Raikkonen is pretty darn good.
*

MOVE OF THE RACE
: Thanks to the removal of traction control, this exciting track has become even better. We had passing going on all over the place all day long, and most of them were contenders for the MotR. However, a pass for the
lead
trumps them all. On lap 24, Lewis Hamilton had a lighter fuel load than Felipe Massa and had to get past the Ferrari to have any chance to make the three-stop strategy work. Hamilton got a tow down the straight and ate up the space between the two cars in great chunks, then moved inside of Massa. Both braked late into the turn, Massa tried to close the door on the McLaren, but Lewis was having none of it. Massa had to jerk his car outside and Hamilton got past... then ran away in a hurry. Hamilton only had the lead for a few more laps before he had to hit the pits again, it was still a great pass, and well deserves the Move of the Race.
*

MOOOOOO-OOOVE OF THE RACE
: The glitz and the pagentry of the F1 Circus can never completely mask the taurean aspect of some of the drivers. For that, we created the Mooooo-oove. Today, the award was decided before all the cars were through the first turn on the first lap. Giancarlo Fisichella was, apparently, distracted by something bright and sparkly, and completely neglected to slow down as he rocketed into turn one. Meanwhile, Kaz Nakajima was just trying to make a left turn, doing nothing wrong at all. The result?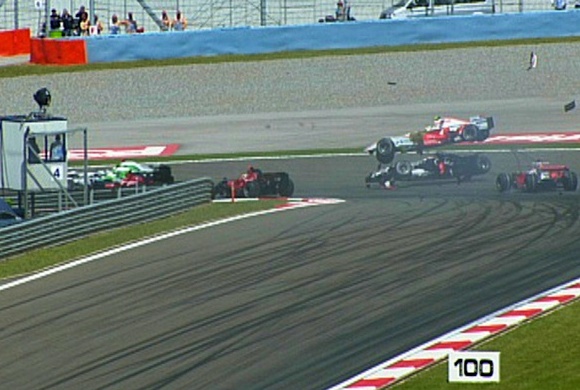 Believe it or not, that picture just doesn't do the incident justice. Here's a look from another angle: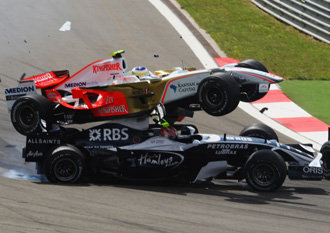 Yeesh. Neither driver was hurt, though the Force India was out of the race immediately. How about Nakajima's Williams? What sort of shape was it in?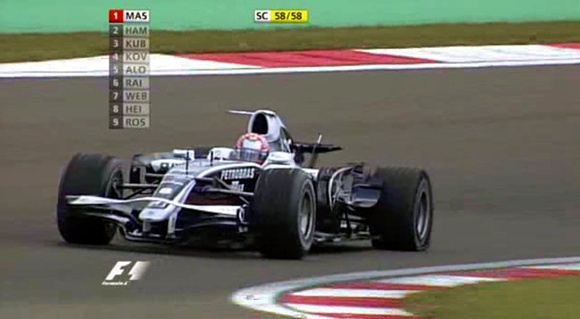 No rear wing, at least one flat tire, and one of the wings on the airbox ripped off? Yep, that's pretty impressive! Congratulations, Giancarlo Fisichella, you just won a Moooooo-ooove, and you're beginning to invite comparisons to the infamous "Fast" Yuji Ide!
*

DRIVER QUOTES OF THE RACE
:
"Hat trick! Hi, Mom!" - Felipe Massa
"I would have been happy with fifth today! Best. Race. EVAR! Oh, and hi, mom!" - Lewis Hamilton
"Mrmmmrmbl mrbllmblbl mrmmblmb, mrhimombblmblm." - Kimi Raikkonen
"Felt a little like last year out there: not as good as the big two, much better than the rest. Hi, matka!" - Robert Kubica
"Yup, another lonely race." - Grizzly Nick Heidfeld
"I'm not saying anything that isn't blowing smoke up your collective behinds." - HWMNBN
"Okay, it feels like my season sucks, but I now have as many points as I had all last season." - Mark Webber
"Next race for sure! It's a slow, slow track, and that'll be perfect for Williams!" - Nico Rosberg
"I just missed out on points today, which is frustrating, but I've looked around my car and there's no damage, so at least we finished a race without colliding with anyone!" - David Coulthard's Chin (
note: real quote
)
This next one requires a bit of setup. With just a few laps left in the race, a Toyota engineer got on the radio and said, in effect, "you're eight seconds behind Coulthard, catch him!" The reply?
"I'm pushing as hard as hell!!!" - Jarno Trulli (
note: real quote
)
"Well, THAT blew chunks." - Jenson Button
"I passed more people than you'll see in five years' worth of races at Magny-Cours, and I
still
ended up 12th. Well, it's better than being dead... which was possible, considering last week. I'll take it, I suppose." - Heikki Kovelainninninnie
"I was passed for position by a McLaren. For some reason, it felt good." - Timo Glock
"257... see Schumacher beat THAT. He'll probably try to come out of retirement so I can't have the record, won't he? Bastard." - Rubens Barrichello
"Don't call me Junior, dammit." - Nelson Piquet Junior
"I'm embarrassed that Giancarlo is my teammate." - Adrian Sutil
"So THIS is what it's like to finish a race... huh. Seems like less than I expected, somehow." - Sebastian Vettel (note:
in the past four races, Vettel has been in accidents and DNF'd on the first lap three times. The fourth, he retired after 17 laps
)
"Car broke. Kitty litter." - SeaBass
"I'm turning left, I'm turning left, I'm turning left, I'm turniWHATTHEBLOODYHELLWAS THAT?!?!?" - Kaz Nakajima (note:
real quote
)
"AIEEEEEEEEEEEEEEEEEEEE!" - Giancarlo Fisichella
"Wasn't I supposed to be in there somewhere?" - Takuma Sato
In two weeks, the race will be the crown jewel of the F1 calendar: Monaco! The most prized victory in F1, and one of the three biggest races in motorsports (along with the Indy 500 and the 24 Hours of LeMans)... and one of the best cures for insomnia.
And F1 UPDATE! will be here for all the (alleged) action! See you then!
Posted by: Wonderduck at 05:56 PM | Comments (8) | Add Comment
Post contains 1166 words, total size 8 kb.
1
I feel sorry for people like Nakajima who get taken out of a race because someone else made a stupid mistake. I assume that with that amount of damage he couldn't keep going, right? Even though the power train was still working?
It happens in nearly every race, of course, and every time it's got to be damned frustrating for the innocent victim. Even worse to have it happen in the opening seconds, and to have to spend the rest of the day watching everyone else.
Did he limp all the way around the track to reach the pits? Or did he bag it and head for the infield?
Sounds like Hamilton is beginning to get his groove back.
How did Kubica finish? (Did he?)
Posted by: Steven Den Beste at May 11, 2008 06:22 PM (+rSRq)
2
OK, I just looked it up and Kubica came in fourth, which is pretty darned good. BMW Sauber got fourth and fifth place, which means they're the real thing this season. About damned time someone gave McLaren and Ferrarri a bit of a challenge.
Posted by: Steven Den Beste at May 11, 2008 06:32 PM (+rSRq)
3
Steven, Nakajima made it back to the pits, where he was then retired. It's not impossible to replace a missing rear wing, but it's a lot more difficult than replacing the front wing... difficult and time-consuming. I'm not even sure if they CAN replace the airbox wing under race conditions (and note that the camera T-pod is missing, too... I'd LOVE to see
that
shot).
Those are bad enough, but I'm betting there was some suspension damage that would, ultimately, be the cause of the retirement. There's something about the angle of the right-rear tire in the smaller picture that makes me think something's broken...
You may not have noticed (and I've not exactly explained it, ever), but the "Driver Quotes of the Race" are always in official order of finish, from first to last. So Kubica finished behind Raikkonen and ahead of Heidfeld...
It just points out the origins of F1 UPDATE! as an e-mail sent to Official First Reader Mallory, back in 2004. Knowing she'd watched the race, I just took some things as read...
Posted by: Wonderduck at May 11, 2008 09:48 PM (AW3EJ)
4
Considering the stress it must have put on the suspension of Nakajima's ride to have the other car land on it, I can well believe that it caused enough damage to end the race for him.
Good thing his airscoop is as strong as it is. (I'm assuming that the rules require that, since it's the only thing that sticks up above the driver's head, so it must be part of the roll cage, right?)
Posted by: Steven Den Beste at May 11, 2008 10:41 PM (+rSRq)
5
Right. Somewhere around Pond Central, I've a series of pics of a RedBull flipping over during a race, and a couple of them show the car upside-down on the airbox, with no other part of the car touching the ground.
I made it into a "motivational poster", but it does a good job of showing just how strong it is...
Posted by: Wonderduck at May 11, 2008 11:12 PM (AW3EJ)
6
Excellent F1 Update as always.
At least Sato is still in the opening graphics for the Speed Channel coverage.
Posted by: Mallory at May 12, 2008 07:08 AM (3sife)
7
A great drive by Heikki, also it's great to see the leading teams on different pit strategies again. It seems like everyone is just defaulting to a two stop these days, with some of the backfield occasionally taking a chance on a one stopper.
It's nice to see the Red Bull's up there again, but I think it may be time for the Chin to call it quits.
Trulli's radio message made my day.
Fisicella's bovenity aside, I believe the MOOOOve should go to Piquet. He was doing a decent job holding of Heikki until he out braked himself and let him walk right up the inside.
Posted by: Buttons at May 14, 2008 08:12 AM (VjS5e)
8
Buttons, there's a definite heirarchy in the Mooooo-oove. Anything stupid that destroys more than one car beats a one-car accident beats "driver error".
No question that Junior's peeing the turn down the leg of his firesuit qualifies, but it was definitely trumped by 200-races-started Giancarlo Fisichella FORGETTING TO BRAKE.
Posted by: Wonderduck at May 14, 2008 08:48 AM (DcSb+)
Comments are disabled. Post is locked.
33kb generated in CPU 0.03, elapsed 0.1848 seconds.
47 queries taking 0.1559 seconds, 260 records returned.
Powered by Minx 1.1.6c-pink.