May 12, 2013
F1 Update!: Spain 2013
Simply a beautiful day greeted the Thundering Herd as it mad its way to the grid behind the gleaming Silver Arrow of Nico Rosberg. Around the pit lane, however, dark clouds rumbled above the heads of the Pirelli representatives as complaints about their tires had reached "shrieking weasel" levels. So how would the rubber react when the lights went out? THIS is
your
F1 Update! for the 2013 Grand Prix of Spain!
*RACIN'
: "We have to drive slowly to protect our tires." "We're not racing, we're conserving tires." These and other statements like them have been heard for weeks around the F1 paddock. Very quickly today, however, it very quickly became obvious that one team had
finally
gotten tired of whining and decided to make the best of the tire situation. Scuderia Ferrari had told their drivers "we've got six sets of tires, let's use them." This may have meant another pit stop in relation to their competition, but the tradeoff was that they'd be going faster than the teams "protecting" their tires. It pains us to say this, but
BRAVO
, Ferrari,
bravo
.
*EVEN BETTER
: It worked. Right from the beginning, Ferrari had planned to do a four-stop race, while everybody else were suspected of committing to three-stoppers. By the end of the first round of pitstops, Ferrari's HWMNBN had all the advantages, and very soon thereafter, the lead. Meanwhile, his teammate Felipe Massa was shadowing him just a few positions behind.
*SCRAMBLING:
At one point in the race, Hannibal Vettel's chief mechanic "Rocky" Rocquelin called to his driver. "Relax, it's the last five laps that'll be decisive." This came after HWMNBN had made the three-time World Driver's Champion look slow and bad and awful. Shortly thereafter, though, Red Bull came to the realization that they were going to lose, and lose badly, if they didn't mirror the four-stop strategy. Alas, they made that decision too late, and Vettel was never a real threat during the race. Such a shame.
*GENTLE LOTUS
: In contrast to all the teams reacting to Ferrari's novel concept of "going racin'," Lotus driver Kimi Raikkonen kept on his three-stop strategy, comfortable in the knowledge that he could drive smoothly and quickly while being gentle on his tires. It used to be that Jenson Button was the king of tire kindness... no more. While he wasn't quite able to dice with HWMNBN for the lead, he was able to lock down second place ahead of Massa.
*MERC MASSACRE
: As expected, from the moment the lights went out to the time the race ended, the Mercedes chassis drove like crap. You know times are bad when the pit wall is telling their drivers to
slow down
in the middle of a race. Shiv Hamilton, who began the race in second place, finished up 12th with tires that refused to warm up and fell apart when he pushed. "I can't drive any slower" he replied to the pit lane. Pole sitter Nico Rosberg finished in 6th, having managed to keep the lead until the first round of tire changes.

*DRIVER OF THE RACE
: HWMNBN. From the start of the race, it was clear that The Spaniard had come to his home track to win. A brilliant pass through Turn 3 served notice that he was feeling his oats, and that he was going to be dangerous. That proved to be accurate as he won by nine seconds. Just an outstanding performance.
*TEAM OF THE RACE
: Ferrari. They had both drivers on the podium and forced everybody else to adjust to their strategy. Yep, that's the way to do it all right. The church bells are ringing in Maranello tonight.
*MOVE OF THE RACE
: One of the standing rules of F1Update! is that nothing that occurs during the first lap of the race is eligible for either the Move or the Mooooooo-ooove of the Race awards. We are breaking that rule today. As soon as the lights went out and the field began to move, it was clear that HWMNBN had a wild hair going today. Heading into Turn 3 he was on the outside, with Kimi Raikkonen, Shiv Hamilton, Hannibal Vettel and, ultimately, Nico Rosberg ahead of him.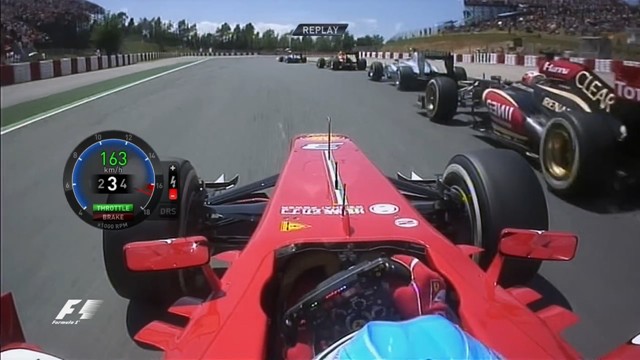 Secure in the knowledge that he could run his tires into the ground without penalty, he charged into the long, fast 180° Turn 3 with blood in his eye.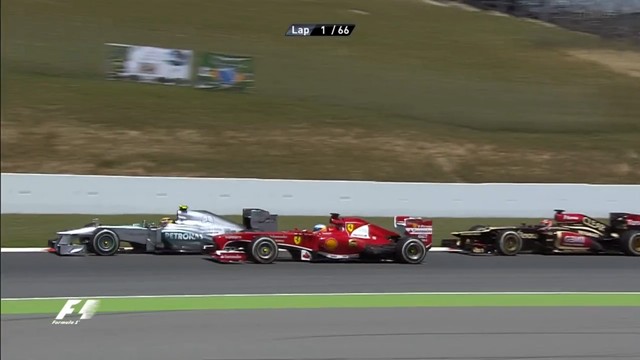 Raikkonen didn't fight HWMNBN, but Shiv Hamilton was less accommodating, making sure that the Ferrari driver had to take the
really
long way around.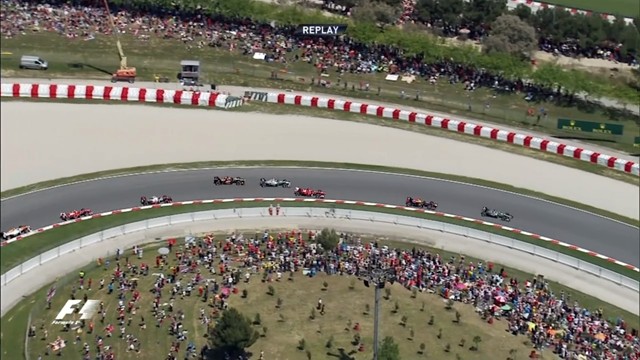 Undaunted, The Spaniard did just that, getting past the Mercedes and pulling himself back inside in the process. As it was, if Turn 3 had been longer, HWMNBN might have been able to track down Hannibal Vettel for 2nd. As is, he had picked up two places nearly before the race began. Just an astonishingly virtuoso performance, and worth us breaking our rules to give him the Move of the Race.
*MOOOOOOOO-OOOVE OF THE RACE
: On Lap 23, Geido van der Garde pitted his Caterham, emerged, drove half a lap and... his left-rear tire came off. Half-a-lap later, he managed to bring his car into the pit lane!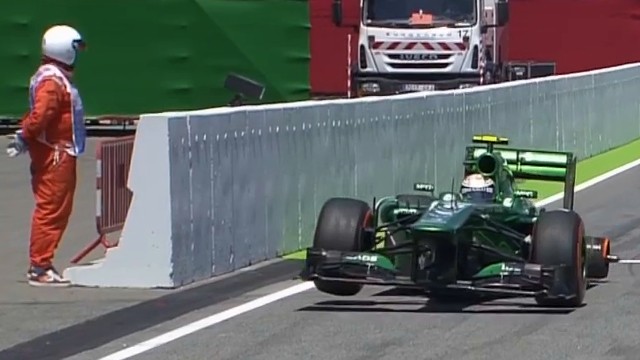 Impressive driving performance, but the team still got fined for an unsafe release fro the pit lane. Caterham, here's your Mooooo!

*SELECTED DRIVER'S QUOTES OF THE RACE
:
"I wonder if it's possible to be elected
King Of Spain
?" - HWMNBN
"mrmrmrblr mrlrbrlrnlrmrmrl mrmrlrblrrlrr mbrlmrlrnrmrlmrmrrrrrrr." - Kimi Raikkonen
"I haven't won a race since November 2nd, 2008. How much does
that
suck?" - Felipe Massa
"Tires bad tires bad tires bad tires bad tires bad tires bad..." - Hannibal Vettel
"Whatever." - Mark Webber
"Let's face it, we suck yak hair." - Nico Rosberg
"I like the sound of that. Keep up the negativity, Nico." - Paul di Resta
"That's not negativity. You want negativity? Listen to me for a while." - Jenson Button
"That's why the team is paying more attention to me these days, Jenson." - Sergio Perez
"I am living proof that you can't win the race on the first lap, but you sure as hell can lose it there." - Daniel Ricciardo
"No, I don't play the guitar." -
Esteban
Gutierrez
That's Spain. In two weeks, it's the crown jewel of the F1 Crown, Monaco. We'll see ya then!
Posted by: Wonderduck at 08:12 PM | No Comments | Add Comment
Post contains 1057 words, total size 8 kb.
Comments are disabled. Post is locked.
28kb generated in CPU 0.0133, elapsed 0.1274 seconds.
45 queries taking 0.1188 seconds, 275 records returned.
Powered by Minx 1.1.6c-pink.