September 18, 2017
F1 Update!: Singapore 2017
Sometimes we hate it when we're right.
THIS is
your
F1 Update! for the 2017 Grand Prix of Singapore!
*BEFORE
: While it always rains in Singapore in the afternoon, there's never actually been rain during the race. And up until about 20 minutes before race start, it looked like that was going to stay the case. But the clouds above the city-state suddenly began to flash with sheet lightning and the strategy wonks in the pit lane all started to cry in unison. The rain came shortly thereafter, building in intensity until the gazebos began to sprout on the pit straight. Teams waiting until the very last moment before they bolted on tires. It worked out about 50-50 between Intermediates and Wets, with all the serious runners on the lesser of the rain rubber. The recon lap showed that the front straight was the driest past of the circuit, with some parts looking like pontoons were needed more than tires. Worse still were the huge clouds of spray coming up from all the cars: only polesitter Seb Vettel had an unobstructed view. Everybody else could see between "almost nothing" and "completely blind."
*LIGHTS OUT
: When the race finally began, both the Ferrari of Vettel and the Red Bull of Embryo Verstappen made... um... meh starts. Not good, not bad, just there. As they charged down to the first turn, Vettel began to move to his left, squeezing in on the young Netherlander. Verstappen held his ground until the last moment, then drifted away from Vettel.... Behind those two, Kimi Raikkonen, the driver of the other Ferrari, had a better launch than either of them. This was something of a wonder, as the Finn hasn't been doing much of anything well of late. Today though... today he came charging up the left of Verstappen with plenty of room. Except that was the exact moment that the Red Bull driver began to evade Vettel's Ferrari.... Meanwhile, if Raikkonen had a good start, the McLaren of Fernando Alonso took off like it had rockets strapped to the sides. Starting in eighth, he found heading towards the outside of Turn 1... but ahead of him, Bad Things were about to occur.
*BAD THINGS
: Events occurred very quickly now. Verstappen, moving away from Vettel,clearly never saw Raikkonen coming up on his other side. Firm contact was made, snapping the right-rear suspension on the Ferrari like a twig, and causing the red car to swing across the Dutchman's nose. Raikkonen then speared into the left sidepod of Vettel with a lot of oomph (technical term). The situation looked something like this: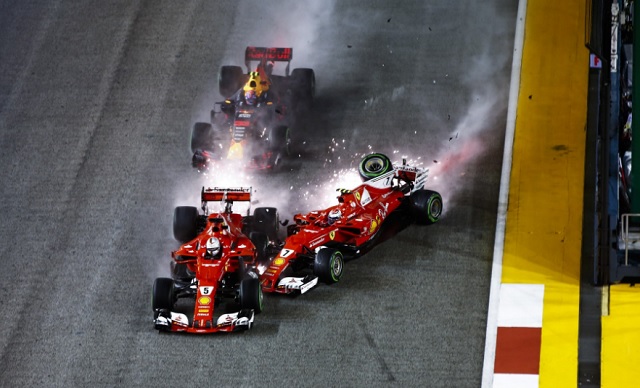 Vettel would continue on through Turn 1, while Raikkonen began waffling around the left side of the straight, out of control but slowing... but not quickly enough. Verstappen, for a wonder, appeared to be completely undamaged at this point, and was accelerating into Turn 1. Around the outside of Turn 1, Alonso's demon start continued. Raikkonen, still out of control, never turned at all. His slide took him directly into the side of Verstappen as he began to make Turn 1. The two cars, embraced in a mutual death dance, careened across Turn 1, slamming into Fernando Alonso, a victim in the wrong place at the wrong time. The McLaren would actually get airborne for a moment, but continued on, undoubtedly with a driver asking what the hell just happened. Raikkonen and Verstappen were out of the race.
*IT GETS WORSE
: A few moments later, we saw the OTHER Ferrari rolling backwards down the run from Turn 3 to Turn 5, missing its nose all the way back to the suspension mounts. It took a few minutes for what had happened to be revealed. Raikkonen had hit hard enough to punch a hole through a radiator, which promptly began dumping coolant... all over the rear tires. Soon enough traction was lost, and the Ferrari's control went away. It then hit the wall with the nose, and found itself coasting backwards.
*OH, BY THE WAY
: Before the race, Lewis Hamilton had said that it was going to take a miracle for him to make the podium, let alone win. When Vettel spun out, Hamilton's Mercedes was suddenly just handed the lead. It seems the racing gods were listening. Not only did he lead the race, but his closest challenger in the Driver's Championship had been knocked out of the race. It had to be a jubilant Brit in the Mercedes cockpit as the field circulated behind the Safety Car. The race was not over, though. Usually the Mercedes will dominate any race, but there was a reason Hamilton had been starting fifth. This car, on this track, with this team, just could not appear to take the fight to either the Ferraris or the Red Bulls. But at a single stroke, three of the four cars he had to be concerned about were out of the race, and the fourth, Smiley Ricciardo's Red Bull, was behind him, not in front... on a circuit that is nearly as hard to pass on as Monaco.
*RACING
: Once Berndt Maylander returned to his dark slumber, one could have been forgiven for thinking that Hamilton would gallop away into the... um... sunrise? It's a night race, so we can't say "gallop into the sunset". Anyway. He did nothing of the sort, at best opening up a five second lead over Ricciardo... until Lap 11, when the Toro Rosso of Kid Kvyat buried itself in the Tecpro barriers. Maylander was awoken from his eternal sleep and the field once again bunched up behind him.
*TIRE WHERE?
: This far into the race, with the rain easing off, it only made sense to pit for new Intermediates. The track was still wet, but drying nicely (if slowly: Singapore's high humidity saw to that), so Red Bull brought Smiley in for fresh Inters. Surprisingly, Mercedes did not, much to Hamilton's chagrin. When he began to complain about the call, the pit wall pointed out that Ricciardo likely would have done the opposite of Hamilton in any case. If the Merc came in, Smiley would have stayed out and taken the position boost. This would not be the last time this race that Lewis would complain incorrectly. Once the race restarted, he found himself at a point in his tire life that was absolutely golden. His worn Inters had enough tread to deal with the drying surface, but not enough to be damaged by overheating in the drier sections. By Lap 24, Hamilton had opened a 10 second lead on the curiously slower than expected Red Bull.
*TIRE THERE!
: Some of the backmarkers had decided to go for slicks by now, and as long as they didn't get too far off the (now nearly dry) racing line, they were working to an extent. Smiley took the plunge, on Lap 28 and took a massive amount of time out of Hamilton's lead in just the one lap he had before Mercedes brought in their guy. It didn't last, however. Once the silver car was on slicks, he again began to pull away from the Red Bull.
*...HOW IN THE WORLD?
: One could be forgiven for not being surprised when Berndt Maylander was summoned for a third time ("Ph'nglui mglw'nafh Maylander Pitlane wgah'nagl fhtagn"?). What was surprising was exactly why. Sony Ericcson dropped his Sauber as he passed over the Andersen Bridge between Turns 12 and 13, coming to rest pointing backwards at the narrowest point of the circuit. Worse yet, the location on the bridge meant that a mobile lifter had to be brought on circuit to recover the stricken Sauber. Hamilton immediately began complaining that the situation could have been handled with a Virtual Safety Car instead of throwing away his lead.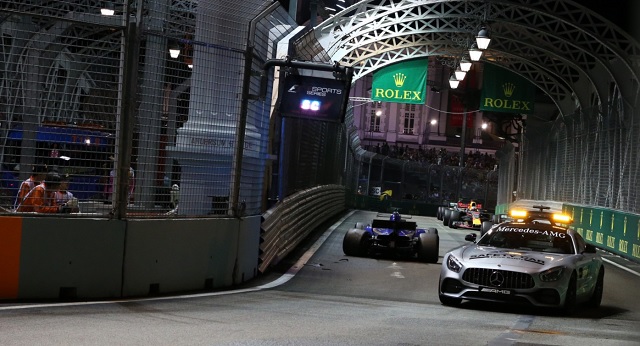 He changed his mind when he actually came across the accident site behind the Safety Car for the first time and was able to get a good look.
*THE END
: Once Maylander was allowed to return to his rest, the race continued much as it had before. But now, with an eye cocked to the skies and another expecting another wreck, the Merc pit wall had a strange request for the race leader. Specifically, they told him to slow down the pace and close up the field. The thinking was that if Hamilton got too far ahead, Ricciardo would get a "free" pit stop in the event of another safety car. See, it'd be quite possible that the SC would be called out after Hamilton had passed pit-in. With a big enough lead on the Red Bull, Smiley could possibly pit before Hamilton, who would have to trundle around the circuit slowly while the Red Bull was stopping for fresh tires. Hamilton would then have to pit himself while Ricciardo was right behind him, bunched behind Maylander. Perhaps unsurprisingly, Lewis came back on the radio and said "I'm not comfortable driving like this," to which the pit wall said "do what you want, then." He kept himself comfortably in the lead until the two-hour time limit was reached and the race ended three laps early, finishing 4.5 seconds ahead of the Red Bull, who was ahead of the other Mercedes of Valterri Bottas.
*OH THAT?
: Remember how we mentioned it seemed like the Red Bull was oddly slower than expected? It turned out that Ricciardo's gearbox was not working correctly and there was fear that it wouldn't make the finish line. While the driver has said that it hadn't made a difference, one suspects that he's not entirely telling the truth.
Next race, two weeks from now in Malaysia! See you then.
Posted by: Wonderduck at 08:34 PM | Comments (3) | Add Comment
Post contains 1613 words, total size 11 kb.
1
Hamilton is so predictable. He always complains that the race control didn't need to take whatever action didn't benefit him personally.
Max said (perhaps I should say claimed?) he DID know Kimi was there (he said he chose not to defend against Kimi's start) and just had nowhere to go when they both started squeezing him. (He also said...or maybe claimed...that he was trying to back off but couldn't. That picture does seem to support that part of his remarks as he's well behind Seb.) He may have known Kimi was generally there but not how close when he moved in response to Seb (and clearly Seb had no idea Kimi was on Max's other side).
The stewards did review and said no driver was predominantly at fault, so I guess there's that.
Posted by: Mrs. Will at September 19, 2017 04:42 AM (JPRju)
2
Wowza, what a mess of a race...
Posted by: GreyDuck at September 19, 2017 10:18 PM (rKFiU)
3
I been looking at some pictures, and I'll be darned if this year's cars aren't possibly the prettiest F1 cars in a long time. I hate bringing that up when all the pictures are of cars crashing, but it's still true.
Posted by: Ben at September 20, 2017 02:29 AM (VhsfT)
35kb generated in CPU 0.0126, elapsed 0.1085 seconds.
49 queries taking 0.1009 seconds, 281 records returned.
Powered by Minx 1.1.6c-pink.