June 08, 2008
F1 UPDATE!: Montreal 2008!
A historic race, a lucky break in the weather here at The Pond, and
this
is F1 UPDATE!
*A RACE FOR FIRSTS
: Robert Kubica, one year removed from a horrendous crash at this same track, won today's Canadian Grand Prix and in the process took over the lead in the Driver's Championship. This is not only his first win, but the first win for BMW as a Constructor to boot. And for the first time in F1 history, the Polish national anthem was played in the podium ceremony.
*A TRACK FOR ALL SEASONS (EXCEPT RACE SEASON)
: There's no denying that the Circuit Gilles Villeneuve has brought us some marvelous races in the past, but the condition of the track left a lot to be desired. The breakup of the surface, particularly in the hairpin, contributed to a number of unforced errors today. The worst part is, this has happened every race for the past three seasons. As much as we hate to say it, the FIA needs to wield some of its power to get this dealt with, and soon. We at F1 UPDATE! like the circuit a lot, but it's getting ridiculous.
*DRIVER OF THE RACE
: Is there any doubt?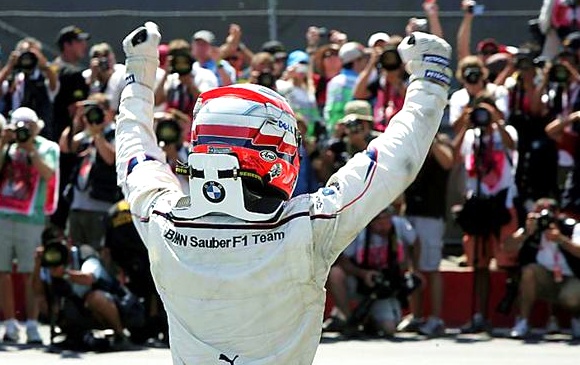 Robert Kubica has shown that he's a serious contender for the Driver's Championship and earned a pole, but hasn't quite won a race. Well, today he has, and is now leading Kimi Raikkonen in the points.
*TEAM OF THE RACE
: Is there any doubt? BMW-Sauber not only got their first ever win (not counting the handful of Sauber victories before BMW came in), but Grizzly Nick Heidfeld was second on the podium as well. To make things even better, the team has now jumped into second in the Constructor's Championship. The team got their 1-2 by doing everything right today, from calling their cars into the pits at the right time, following the rules and paying attention to the red light in the pits, to running their drivers under two different fuel strategies to make SURE they'd get the win, and some great work by the pit crew to get Kubica re-tired, refueled, and out before his teammate came around. A flat-out dominant performance by the now-confirmed newest member of the Grade-A teams.
*MOVE OF THE RACE
: Ferrari had a particularly poor race today, with Kimi being knocked out early (see the Moooo-ooove of the Race, below), and Massa's race being compromised by some miserable work in the pits, the MotR is small consolation. However, with the race beginning to wind down, Massa found himself behind both Rubens Barrichello and Heikki Kovaleinninninnie, faster than both, but unable to get past either. Heading down into the hairpin, both the McLaren and Honda drivers stayed high to avoid the crumbling inner line through the turn. Massa took a gamble and went low, into the gravel that used to be aspahlt, then even lower, actually getting a tire onto the grass.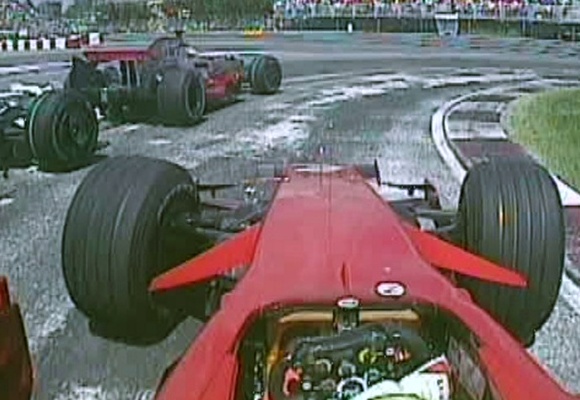 Nice to see the track's in good shape...
By the end of the turn, he had passed Barrichello and pulled even with Heikki. Heikki, seeing the Ferrari very close indeed to his right tires, twitched to the left just a hair, and Massa powered past. Two positions in one pass? Oh yeah, that's the Move of the Race right there.
*MOOOOOO-OOOVE OF THE RACE
: Even the best racers in the world can't be on all the time, and that's what the Mooooo-ooove celebrates (or denigrates, if you've won it). Adrian Sutil's race came to a premature end on lap 17, breaking his suspension after smacking the wall. After coming to a halt, his brakes caught fire. As his car came to a halt in a location that a crane couldn't get to, marshals had to go out and push his Force India behind the wall, which brought out the Safety Car. Once the pitlane opened, all the leaders dove in for fuel and tires. Kimi Raikkonen's Ferrari and Robert Kubica's BMW won the pit crew duel and began to exit. However, the red light signifying that the cars could not exit was still on, forcing both to stop at the end of the lane. Lewis Hamilton, distracted by something bright and shiny in his McLaren, didn't notice that they had stopped and continued to accelerate down the lane. When he next looked up, he swerved to avoid the two... and failed, ramming hard into the Ferrari. Kimi lost his rear wing, Lewis lost his front suspension.
Red means stop. Red light, red car... what more do you need?
He was then rear-ended by Williams' Nico Rosberg, but that was just icing on the cake. Hamilton had already won the Moooooo-ooove of the Race... and has been hit with a 10-grid spot penalty for the next race.
*DRIVER QUOTES OF THE RACE
:
"I'm bigger than Pope John Paul II! BRING ME YOUR FINEST KIELBASA AND PIEROGI! Oh, and thanks for not hitting me, Lewis." - Robert Kubica
"Well, I'm very happy for the team. This has been a long time coming, and while I'm thrilled for Robert, I have to admit I would have liked to have seen the boys in the pit lane take another second or two longer on his stop. Then I would have been the one asking for the finest braunschweiger and lager." - Grizzly Nick Heidfeld
"Bloody hell, it's good to be back on the podium. Funny enough, the car died in the pitlane, so I'm really glad it did it after the checkered flag." - David Coulthard's Chin
"See? I can
too
drive a Formula 1 car." - Timo Glock
"Another few laps and I would have caught that Toyota. Wow, I never thought I'd say that." - Felipe Massa
"Yeah, Timo, you can drive it so well you cost me fifth place. Good going." - Jarno Trulli (note:
Trulli was behind Glock when Timo blew a turn. Trulli had to jam on the brakes to avoid running over his teammate, and while Glock recovered well enough, Massa got past Jarno... a near Mooo-oove winner, that
.)
"It's been a good weekend in a bad season. I'll take seventh." - Rubens Barrichello
"I have nothing to say that is either relevant or true." - Sebastian Vettel
"My teammate did
what
?" - Heikki Kovaleinninninnie
"That Lewis sure can drive, can't he? Friggin' moron." - Nico Rosberg
"I STILL don't know how I broke one of my handlebars off." - Jenson Button (note:
for the last half of the race or so, Button only had half of his 'hood ornament'
)
"Well, The Chin's fine finish makes me look really, really good, doesn't it?" - Mark Webber
"I've won here three times in ChampCar. I'll be back." - SeaBass
"At least I finished, and I didn't run over anybody." - Giancarlo Fisichella
"I feel like I should say something, but since I was barely on-screen today, what's the point?" - Kaz Nakajima
"We had a bad strategy today, it's not my fault, you can't blame me, I blame the engineers and the track for my accident." - HWMNBN (note:
paraphrased
.)
"It's not easy to crash in the pit lane, but I managed it." - Nelson Piquet Jr
"mrmblmlbl mrlbmllbmlbr
friggin
' mrlblrbl rrlmklbl
red light not bright enough for you
? mrmblblmb rmmblblmrrlb mrmmrbl." - Kimi Raikkonen
"Wow, my car is bright and sparkly today. Look at all that chrome. Huh? AIEEEEEEEEEEE" - Lewis Hamilton
"Um... oops?" - Adrian Sutil
So, that's a wrap on Canada. Both Championships are now completely up for grabs, and McLaren looking like they're the third best team out there. Who would have expected that? Let's see what happens in France in two weeks!
Posted by: Wonderduck at 03:15 PM | Comments (6) | Add Comment
Post contains 1281 words, total size 9 kb.
1
I saw a news article that said that Kimi shook Hamilton's hand afterward. If so, he really shows himself to be a gentleman.
The news article also said that at one point Kubica's lead was 25 seconds over Heidfeld, who was way out in front of everyone else. BMW Sauber has to be overjoyed with their result today.
It's astounding that the highest finish for both McLaren and Ferrari was 5th place. I'm overjoyed, too; it's no longer a two-team sport.
You didn't mention the weather. Was it raining?
Posted by: Steven Den Beste at June 08, 2008 03:40 PM (+rSRq)
2
Steven, immediately after the incident (and I mean, immediately. As in, the broken cars were pretty much still sitting where the wreck happened), Kimi was patting Hamilton on the back.
Hamilton has said that it wasn't his fault, which is a load of hooey.
Kubica won by something like 15 seconds. Once he got out of the pits ahead of Heidfeld, he just ran away and hid.
It was NOT raining, as a matter of fact. If it had been, I can't imagine how confused the race would have been... it was bad enough as is.
Posted by: Wonderduck at June 08, 2008 04:22 PM (AW3EJ)
3
Why is there a red light at the end of the pit lane, anyway?
Posted by: Steven Den Beste at June 08, 2008 04:26 PM (+rSRq)
4
I hope this is the first of many wins for Kubica. It was refreshing to see new faces and/or different faces on the podium and to hear the Polish national anthem for the historic first time.
The only misfortune not present for this race was a marmot.
Posted by: Mallory at June 08, 2008 05:08 PM (WJ2qy)
5
Steven, during the race, it's there for safety. During a safety car period, when the pack is bunched up behind the safety car, having cars race out of the pit lane when the pack is in the vicinity of the pit out could be a disaster. So, when the bunch is near, the pit exit is closed until it passes by.
Otherwise, it's there to signal that the track is safe and open. During the various practices and qual sessions, the light is used to signal to the drivers and teams that the clock is running. When there's a red flag on the course, meaning that the session has been stopped for one reason or another (usually a serious accident), the red light comes on to prevent cars from jumping onto the track. All series (NASCAR, IndyCar, etc) have something similar.
Mal, I was actually quite surprised we didn't have a marmot sighting either during quals or the race itself. The furry speedbumps are usually omnipresent.
Posted by: Wonderduck at June 08, 2008 09:21 PM (AW3EJ)
6
Looks like the marmot relocation on the Ile Notre Dame was a bit more successful this year: http://www.theglobeandmail.com/servlet/story/RTGAM.20080604.wmarmot04/BNStory/National/home?cid=al_gam_mostemail
Posted by: Vaucanson's Duck at June 09, 2008 12:11 PM (XVJDy)
Comments are disabled. Post is locked.
32kb generated in CPU 0.05, elapsed 0.1862 seconds.
47 queries taking 0.1612 seconds, 270 records returned.
Powered by Minx 1.1.6c-pink.