October 30, 2016
F1 Update!: Mexico 2016
The weather at Mexico City's Autodromo Hermanos Rodriguez was basically perfect for a F1 race. Mix in the drama of a last-gasp championship fight between teammates, and you should have a recipe for a tense, dramatic race. What we got was an example of everything wrong with Formula 1. THIS is
your
F1 Update! for the 2016 Grand Prix of Mexico!
*CAVALCADE OF ERRORS
: The confusion began right at the beginning of the race. Polesitter Lewis Hamilton won the drag race to the first turn, mostly because his teammate Nico Rosberg was having to defend against the Red Bull of Embryo Verstappen. To do so, he wound up bumping wheels with the Dutchman and having to take evasive action. But that little action was overshadowed by the more obvious faux pas made by Hamilton. He locked up a tire trying to make the first turn... and failed. Instead of attempting to regain the track, he went ahead and kept right on going.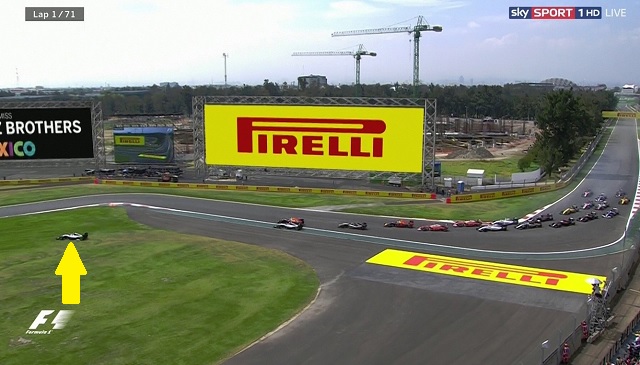 This is known in most circles as "blowing the turn." In some others, it's called "agricultural racing." In a tiny amount, it's known as "Susan", for reasons we do not wish to contemplate. In any case, when one blows a turn that dramatically, a driver is usually instructed to give up any advantage gained. For example, if by Susaning you actually pass an opponent, you have to give up the position. In this case, Hamilton was told no such thing. While he was in the lead approaching Turn 1, and thus gained no positions by his offroading, he did open quite the gap to second. Indeed, he didn't slow down until a Virtual Safety Car was called out for an unrelated incident. No penalty given, nor even considered.
*ERRORS (CONTINUED)
: The race settled down to the usual Mercedes - Mercedes - Red Bull format, in this case Hamilton, Rosberg, Verstappen, with Seb Vettel in fourth. Indeed, Hamilton was never in danger of being caught at any time and would go on to win the race with nary a worry. However, Rosberg, Verstappen, Vettel, and Smiley Ricciardo would not be quite so fortunate. At one point, Verstappen took advantage of traffic up ahead to make a move for second on Rosberg, but blew the turn and Rosberg took the position back. In effect, this allowed the Ferrari of Vettel to close the gap so
he
could attack Verstappen. Behind them, Ricciardo was in position to take advantage of any mistake, but not quite close enough to force a move. After the Ferrari driver had lined up Verstappen, he made a strong effort to take third as they raced down to Turn 1 with only a couple of laps to go. It looked like he had pulled it off when the Red Bull locked up and carried straight on.
Verstappen just kept on going, rejoining the track ahead of Vettel and keeping third place. Remember what we said about "relinquishing the position"? This was a textbook case of that principle, about as clear-cut as it could possibly be. A furious Vettel would take to the radio waves, screaming that he had to give up the spot. In fact, it went so far that the German took to swearing at Race Director Charlie Whiting via radio after the race was over. But that was still a couple of laps in the future.
*ERRORS (YUP ONE MORE)
: Only a few moments later Smiley Ricciardo tried his luck at passing Vettel. On one hand, both stayed on track. On the other hand, Vettel did some rather dodgy moving around in the braking zone, eventually interweaving tires with the Red Bull.
Mind you, this was
after
the two bumped wheel hubs. How one or the other didn't wind up launching into low-earth orbit through this sequence was beyond us. In the end, Vettel held the spot, Smiley backed off, probably in fear of his life, and the race ended Hamilton, Rosberg, Verstappen, Vettel, Ricciardo.
*HOLD IT RIGHT THERE
: But we're not finished yet! As the three podium drivers gathered in the green room before the ceremonies, a camera caught sight of Seb Vettel jogging from the garages to the podium area. Meanwhile, a FIA official said something in Verstappen's ear and led him from the room as the two McLaren drivers watched. Sure enough, Vettel ended up taking the third step on the podium. It turned out that Verstappen was given a five-second time penalty for not relinquishing the position after cutting Turn 1. This dropped him from third to fifth, behind Ricciardo. But wait, we're not done! Immediately after, both Vettel and Ricciardo were summoned to the steward's office to discuss
their
incident. Shortly thereafter, the FIA released a statement giving Vettel a
10
-second time penalty for his less-than-kosher activities defending against the Red Bull driver. After the penalty was applied,
RICCIARDO
moved into third place, Verstappen to fourth, and Vettel ended up in fifth.
*AWFUL
: So why was Verstappen penalized for doing the same thing Hamilton did? The general response has been "because Hamilton did it on the first lap." To be sure, first laps are hectic... back when F1U! did "Move of the Race", anything done on the first lap was not considered... but rules should be applied evenly. But there is one quick and easy solution to this sort of problem. Bring back gravel traps. Make going off-track actually cost something for the drivers. It won't happen, particularly after Alonso's wild ride back in Australia, but it'd solve everything.
Next race is Brazil, where a victory means that Rosberg clinches the championship. That'll be in two weeks! See ya then.
Posted by: Wonderduck at 10:33 PM | Comments (6) | Add Comment
Post contains 944 words, total size 7 kb.
Posted by: Suburbanbanshee at October 31, 2016 04:57 AM (S0Svy)
Posted by: Wonderduck at October 31, 2016 07:30 AM (vZvpB)
Posted by: GreyDuck at October 31, 2016 08:26 AM (rKFiU)
Posted by: Will at October 31, 2016 11:53 AM (IFtiv)
Posted by: Rick C at October 31, 2016 01:56 PM (ECH2/)
Posted by: Avatar_exADV at October 31, 2016 04:59 PM (/lg1c)
33kb generated in CPU 0.0132, elapsed 0.0831 seconds.
49 queries taking 0.0737 seconds, 284 records returned.
Powered by Minx 1.1.6c-pink.