October 12, 2008
F1 UPDATE!: JAPAN 2008!
A wacky race, and another wacky steward's decision have made the Driver's Championship closer than ever... THIS is your F1 UPDATE! for the 2008 Grand Prix of Japan!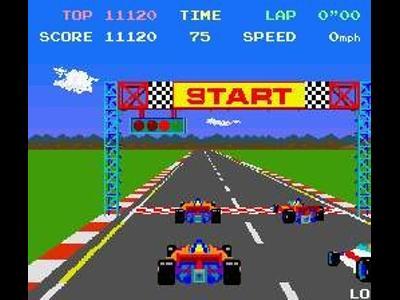 Pole Position

screenshots never get old...
*SELF-INFLICTED
: The situation was exactly what McLaren and Lewis Hamilton would have asked for going into the race. Lewis on pole, Massa a few rows back, Hamilton's teammate in between them both. All Hamilton had to do was get a good start and keep Kimi Raikkonen from wrecking the McLaren into turn one, and Lewis would be a near lock for the Driver's Championship. Hamilton then proceeded to empty his bladder down the leg of his firesuit, spinning his tires as the lights went out, allowing Kimi Raikkonen and Heikki Koveleininninnie to get past him off the grid. Even this wasn't truly a disaster, as Hamilton didn't need to actually race either of those worthies. He just needed to stay ahead of Felipe Massa and increase his lead in the Driver's Championship.
So of course, Hamilton raced down the straightaway in a banzai move inside of Kimi, locked his brakes so badly that he put huge flatspots on his front tires. He is later given a drive-through penalty for forcing Kimi off-track because of this move. Hamilton wound up losing the car going into turn two, going waaaaaay offline and letting HWMNBN and Robert Kubica get by. Somehow in the course of the next lap, Hamilton slips down to fifth... behind Massa, probably because of his ruined front tires. An attempt to pass the Ferrari into the Hairpin looks to be successful, but Massa aggressively rams the McLaren, sending it into a spin and letting the entire field go by before Lewis can get the pointy end of his car facing the right way and rejoining the race. He limps into the pits, and even though Massa is given a drive-through penalty for causing the spin, the damage is done and Lewis is never a threat for the rest of the day. He scores no points, and may God have mercy on his soul.
*SELF-GRATIFICATION
: Massa finishes the race in eighth, despite his drive-through penalty for spearing Lewis Hamilton. To be blunt, he shouldn't have been there. On lap 50, SeaBass made his last pitstop and rejoined the race, ahead of Massa by about half a carlength, more or less, but with a lower speed. Going into turn one, SeaBass didn't give an inch, and had the inside line to boot. Massa, apparently expecting the Toro Rosso to roll out a (Ferrari) red carpet and let him by despite the fact that they were racing for position, clumps into the side of SeaBass and spins. A few laps later, it's announced that the the incident will be reviewed after the race, and the Legendary Announce Team says that it's a sure thing that if a penalty is given, it'll be on Massa for running into the Toro Rosso. More cynical, the F1U! staff knew that the penalty would go the other way... and they were right. Instead of being given a 10-grid-spot penalty for the next race, Massa instead was given seventh place, as SeaBass was given a 25-second penalty for causing the accident. Does anybody need more proof that the stewards are in Ferrari's hip pocket... or someplace else a little closer to the centerline of the body?
*DRIVER OF THE RACE
: HWMNBN. In Singapore, the safety car came out at
just
the right time and put HWMNBN in first place, giving him the chance to win which he did not relinquish. Today, however, there was no safety car. HWMNBN, for all his personality issues, is an outstanding driver in a Renault that has (finally) come alive. Staying out of the mess at the first series of turns, he found himself in second place, and eventually took over during the pitstop sequences. After that, he drove a near-perfect race and earned a well deserved victory. We at F1U! still don't like him much, but he certainly was the Driver of the Race.
*TEAM OF THE RACE
: Renault. First-fourth, and they've probably locked up fourth in the constructor's championship. The resurgent French team is looking to make it a four team fight next year.
*MOVE OF THE RACE
: On lap 60, Massa was drafting behind the RedBull of Mark Webber as they came down the main straight. Generally, Webber is a hard man to get by, but he was on a one-stop strategy and his tires were completely shot; Massa had come from seven seconds behind Webber in three laps. Always game for a fight, the Aussie slid to the inside to make the Brazillian try to pass him on the outside of turn one. Massa, though, decided that he didn't want to do that and dipped inside of Webber, who kept moving over. Both cars kept drifting farther and farther inside until the Ferrari was racing in the pit-out area.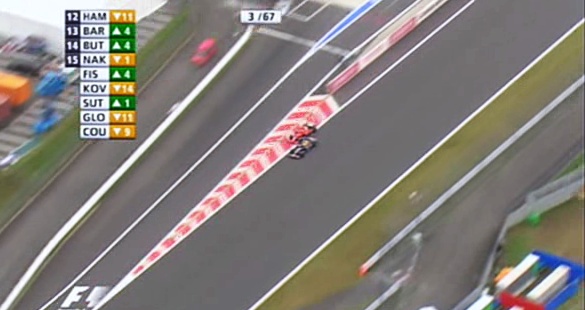 Eventually, the better tires on the Ferrari forced the RedBull to brake earlier, completing the pass. The
F
errari
I
nternational
A
ssistance program may be trying to give The Red Cars the titles, but this was a pretty gutsy pass, worthy of the MotR.
*MOOOOOOOO-OOOVE OF THE RACE
: Celebrating the bovine in the best drivers in the world, the Mooooooo-ooove is given to the worst driving job in any particular grand prix. Today, the prize is given to the man who is arguably the best driver in the sport, Lewis Hamilton. Blowing the start, then toasting his tires, then forcing a less-than-solid (but still valid) pass on Massa, resulting in the McLaren pointing the wrong way in traffic? Nice job, kiddo, if you wanted to give up the championship again, you've just gone a long way in doing so. Here's your Mooooooo-oove.
*DRIVER QUOTES OF THE RACE
:
"Ha ha! I ween again! Now we are the third-best team!" - HWMNBN (note:
he actually did say that Renault is the third-best team
)
"Um... actually, you're still the fourth best team, and you've got a lot of points to go to make it past us, dumb@$$." - Robert Kubica
"mrmmrb." - Kimi Raikkonen.
"Yeah, McDonalds? I'm gonna have to turn down the job offer... I think I'm keeping my current one. Can I call you back in a few weeks?" - Nelson Piquet Jr
"I kinda hoped for more out of this ra... ooh, is that sushi?" - Jarno Trulli
"I like the points, but can I win again, please?" - Sebastian Vettel
"As for the incident with Bourdais, I think there's little to say: I had already entered the turn and he hit me from behind, spinning me round, round, baby right round, like a record baby, right round round round." - Felipe Massa (
note: bonus points given to the first to name that song and group
)
editor's note
- Massa is on crack
:
Though it's hard to tell in this picture, the collision between the two has just occurred. Does it look like SeaBass is "behind" Massa here? We now return you to your regularly scheduled Driver Quotes.

"Doughnuts had more traction than my tires there at the end. Mmmmmm, doughnuts." - Mark Webber

"Maybe

I

should try McDonalds next year?" - Nick Heidfeld

"
The incident with Massa? I was coming out of the pits, he turned in, I was on the kerb and there was nowhere else I could go and I was racing him for position. Of COURSE I'm the one penalized." - SeaBass (
note: mostly real quote
)
"Meh. Pass." - Nico Rosberg
"SeaBass, believe me, I understand where you're coming from..." - Lewis Hamilton
"We were really limited by the poor performance and pace of the car this weekend." - Rubens Barrichello (
note: real quote
)
"Translated from PC-speak, that means 'we sucked'." - Jenson Button
"I didn't need that nosewing anyway." - Kazoo Nakajima
"Lump go boom." - Giancarlo Fisichella
"Lump go boom... except I had a chance to win when it happened." - Heikki Kovaleininninninnie
"Tire go boom." - Adrian Sutil (who had one of the better blowouts of all time)
"I broke the car." - Timo Glockenspiel
"AIEEEEEEEEEEEEEEEEEEEEEEEEEpantsEEEEEEEEEEEEEEEEEE!" - David Coulthard's Chin
So that's it for Japan. Next week, the penultimate race of the 2008 season, with Massa trailing Hamilton by five points. It could all be over in China. See you there!
Posted by: Wonderduck at 03:15 PM | Comments (4) | Add Comment
Post contains 1395 words, total size 10 kb.
Posted by: Steven Den Beste at October 12, 2008 04:22 PM (+rSRq)
Posted by: Mallory at October 12, 2008 04:53 PM (WJ2qy)
Posted by: Wonderduck at October 12, 2008 05:32 PM (AW3EJ)
Posted by: Buttons at October 15, 2008 12:07 AM (DSgje)
Comments are disabled. Post is locked.
32kb generated in CPU 0.0133, elapsed 0.0698 seconds.
47 queries taking 0.0599 seconds, 280 records returned.
Powered by Minx 1.1.6c-pink.